Written by BoKo, edited by Otaku Apologist.
Sunrider Academy is a visual novel, dating sim hybrid. Developed by Love in Space, published by Denpasoft in 2015 for PC Windows, Mac, and Linux. Sunrider Academy is an alternate universe spinoff of Sunrider: Liberation day. It takes place in high school. You don't need to play Sunrider to understand what's going on, but there are a lot of references and Easter eggs.
STORY
You play as Kayto Shields, a bumbling, somewhat passive high school protagonist. As vice president of the student council, you're responsible for building up three failing clubs (kendo, science, and swimming). You try to not only keep them open, but win a series of contests throughout the school year.
Out of the eight girls from the main Sunrider game, only four of the most important show up here. Ava is your strict, overbearing brunette of a student council president. Asaga is the redhead captain of the kendo club, bright but dim. Chigara is the blue-haired shy girl in charge of the science club, who prefers baking sweets to making lasers. And to cap off the cast, Sola is the near-expressionless silver-haired girl who doubles as captain of the swim team and priestess of the Ryuvian Shrine.
The only other character of importance is Maray, Kayto's younger sister. She appeared briefly in a flashback in the Sunrider MoA game, but was ultimately dead when Cera was attacked. Here, she's as annoying and cute as any younger sister, trying to drive Kayto nuts.
This game isn't really any different from other high school dating sim/visual novel you might have played. You go about your daily life, try to better yourself, and others, and go dating with your favorite girl. Each girl has a unique story route that takes a turn for the downright tragic. Like Sola is constantly at risk of being erased from existence due to being from a parallel dimension. Chigara on the other hand, is the superior clone of a minor character named Lynn, which leads the latter to have justified frustrations towards her.
The game gradually dips from a cheerful tone, into darkness.
GAMEPLAY

Sunrider Academy is set on the fantasy world called Cera. You have a strict time format of 10 hours per day, 10 days a week, 5 weeks a month, and 10 months in the whole school year you play.
You aren't just trying to nail a girlfriend, but help your club girls win contests by managing this time table. You have three stats to manage for the clubs; team members, readiness, and morale. They each play an important role in winning contests, so it is wise to switch it up and raise them all as best you can.
A lot of the standard conventions in other dating sims are changed up. You can train to raise up your stats, but you'll just as quickly lose some of them when you go to sleep. You are also forced to meet certain requirements to continue the game, like getting enough club members, or simply avoid your stress stat from getting too high. If you fail the meet the requirements, it's game over.
For better, or for worse, this game is long. There is plenty of time to build up your sports teams. It is also challenging to make sure you pass checkpoints, and you will likely fail a lot of stat building events.
GRAPHICS

Every girl has charm and beauty to them. Their sprites have a variety of expressions that give their character a unique feel, from Asaga's many comical faces to the small changes Sola, or Ava have when they break a rare smile. There is so much attention to detail to each girl, it's a little amazing. Even Kayto has a face to emote with, but you'll only see that in chibi animations, or certain CG pictures.
I found the backgrounds to be boring. There is a sort of alien-ness feel to them in that they're not only 3D but look like something from the real world. I get the point that Cera is an alternate Earth with a more futuristic feel, but it doesn't fit the anime art style of the characters.
HENTAI

Luckily with such engaging character art, the sex scenes look great. Personally, I found each of them endearing and charming, and their unique routes have fanservice preceding the sex. There's a scene for example of Asaga giving a daring footjob in the school cafeteria. And Chigara gets caught in a science experiment mishap that dissolves her clothes in a puff of smoke!
As a dating sim, Sunrider Aacdemy is mostly about building up to the love and affection, and it felt rewarding to first learn to know a girl intimately, and then fuck them in the pussy. I only wish there were more sex scenes, because the amount of build-up with the dating, wasn't really worth the payoff.
MUSIC

The music is very top notch. Not only is it extensive, but it changes DAILY in-game. The songs change from upbeat dancing jingles, to intense, like when there's an important contest. There's even some beautifully sad melodies played on a piano. There's also unique songs that play during important story scenes.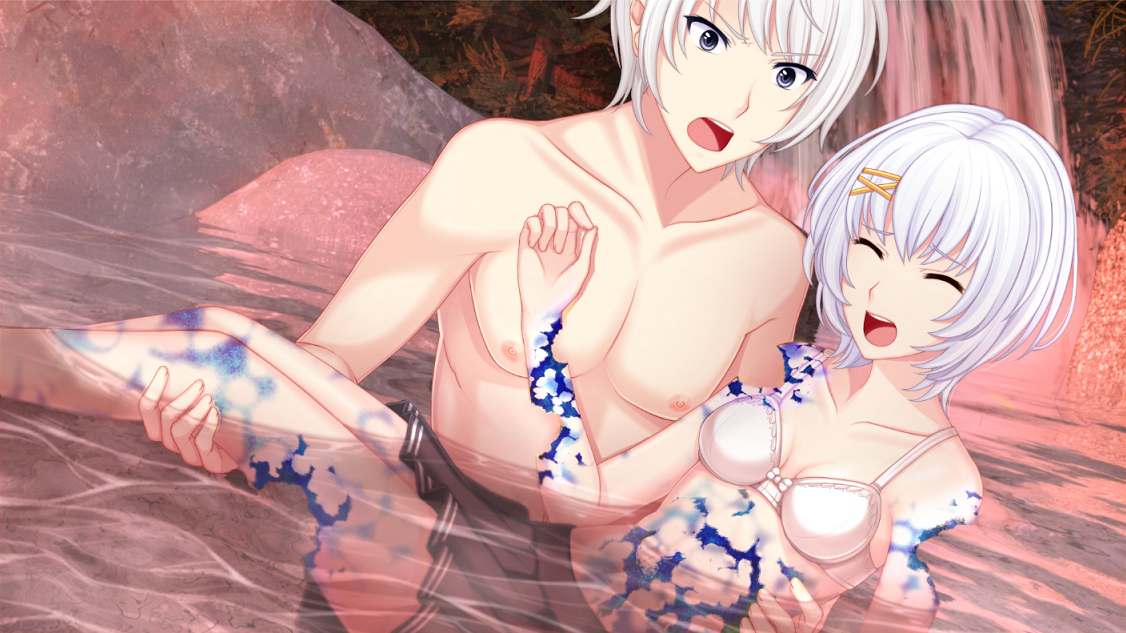 There's a song for every mood, from comical to dramatic. And you can play them all back on the music box from the main menu. The only downside is that you have to unlock them first by hearing them play, and some songs are exclusive to certain routes.
SOUND AND VOICE ACTING (SFX)

I'm bummed that there's no voice acting in this game, and there shouldn't be any reason why they didn't have any. The English voice actors for Sunrider: Mask of Arcadius were really good. You didn't hear them a lot outside of gameplay battles, but I could imagine each character sounding like that. They don't make a return at all in Sunrider Academy, which is jarring as the developers didn't even include one piece of stock dialogue.
Despite the small miss of no voices, the game makes use of a lot of unique sound effects. The metallic click of a button, the robotic beep as you hover over a button, and the sweet sound of a successful green O are all music to my ears. Even the failure X has a distinct feel to the game that is both crushing and aspiring you to do better. They fit the tone and atmosphere of the futuristic school setting and help give it a unique feel.
CONCLUDING WORDS

I enjoyed Sunrider Academy for what it was; a fun dating sim full of cute girls. Love In Space delivered a great experience for fans of this genre of games, and I heartily recommend you try it. All of its assets from art to music are great stuff. Sunrider Academy offers the characters of the studio's space opera series a better chance to get a happy ending.
I recommend this title to fans of hentai dating sims. Download Sunrider Academy.
Graphics

Gameplay

Story

Music

SFX

Hentai