Written by Soul Tsukino, edited by Otaku Apologist
Karma Sutra, a hentai RPG released by Top Hat Studios on July 28, 2017. Download at Nutaku.net for $15.00. For PC Windows, Mac OS, and Linux. No voice acting. Uncensored genitals.
An adventure game with a heavy influences from Hindu tradition emphasizing meditation, and peace. You pick a name for your player character, and wander the land of Tattva, looking to earn your way into Nirvana. Inspired by Dungeons and Dragons.
STORY
You're a generic male protagonist, that wakes up in the middle of the woods. A young girl named Kamala helps you up. She explains, that you are a wandering soul in between the living realm, and the bliss of Nirvana. There's no guarantee you will pass on, as you have to earn access to the afterlife with your deeds. You explore the lands, meeting beings of all shapes and sizes – all beautiful women.
GRAPHICS
The art is where the game really shines. You can tell that someone drew this by hand.
The background art is even more amazing. It seems to be painted on a canvas, like oil paintings. Far from having a single background for all the scenes, you get a different background for each location, and each part of the location as well! If you are in the waterfall location, you have backgrounds showing the top and the bottom of the falls, or even the caverns behind it.
GAMEPLAY
To move around, use your mouse to click on a connecting space. It's like playing a board game like Life, or Candyland. The different circles on the map have different signs on them that represent different things. Some circles show nothing, others show battles, some show collectibles, and so forth. If you move to a space with something on it, click "Explore" on the menu, to look into the space you clicked. Nothing is automatic when moving around on the map, but at the same token, you don't have any surprises either.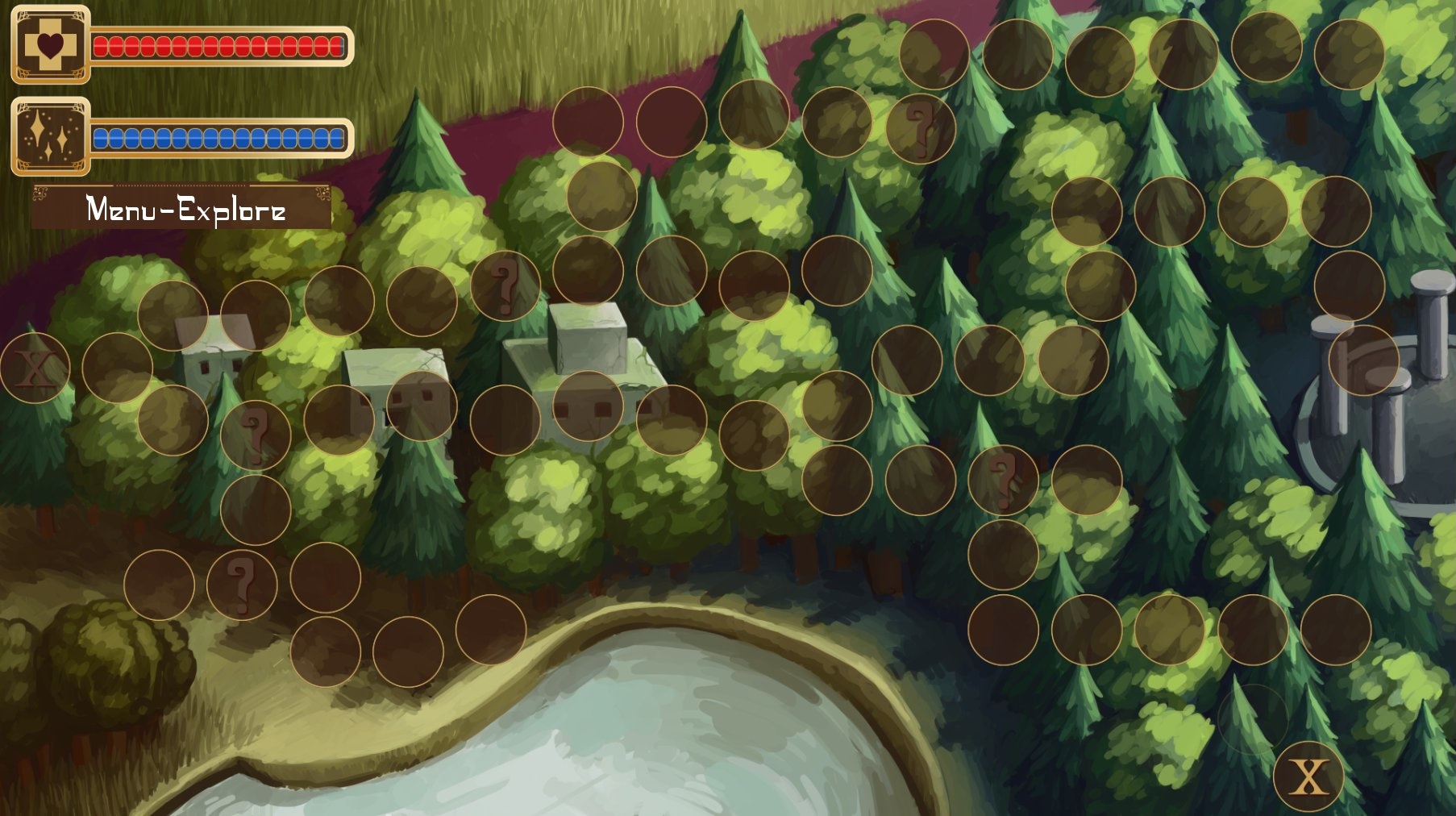 Health and character status work much like in any other games. You earn health points by winning battles, or by rest. You can gain spells, and charms as rewards for winning battles. It even matters how you win those battles!
This game is very interactive. Similar to Undertale, you don't actually have to fight many enemies. You can talk to them, seduce them, charm them, trick them, use all kinds of different solutions. During my play, I ran into ogres who didn't care for talk, but sure understood a fist in the face. I met bandits that were so scared that just talking to them made them run away. Fox girls just wanted to play with me, while my favorites, the catgirls, you can just head pat for the win. You get no rewards for avoiding killing and looting.
Along your travels you also find smaller quests, for random people you can help. For example, you'll meet wanderers that are lost, people looking for lost friends or items. To my surprise, I even ran into a shop in the middle of a dark cave.
This has something you don't always have in games of this genre: Replayability. As the game is based so much on choice and your actions, you'll want to play it over, and over again, to see if you can reach different outcomes.
MUSIC
The music is actually good. The vibe is almost tribal in nature. The main theme sounds ominous at first but picks up with more light-hearted drum beats and organs. You don't hear any rock guitars, or heavy metal screaming. It's all drums and flutes. The map theme uses a lot of flutes and soft organs while the heavily forested areas, or the locations in caves, feature heavy tribal drum music. This music isn't generic stuff either. It feels real, like you are whisked away to a temple in India. Very fitting with the theme of balance and peace.
VOICE ACTING AND SOUND EFFECTS (SFX)
Top Hat Studios apparently omitted to hire any voice actors. It's a real shame. I would have loved to hear the growl of an ogre, or the catgirls purring at me. Voice acting is always nice to have, assuming the actors are good.
The sound effects though are a step above the average hentai games I've played. The sounds aren't just generic computer-generated effects, but much more vivid and lifelike. Whe walking through, the forest you hear twigs snapping, leaves rustling. If you are by the water, you actually hear the water. When an enemy attacks you, you hear the sound of the weapons they use.
HENTAI
The hentai in this game is something you got to work for. Like in Demonmaster Chris, you can rip clothes from the enemies, exposing their breasts and vaginas. But if you want the real sex, you have to work for it. I had to fight one of the game's bosses, named Kali, for a real sex scene. This was only after my third day of playing the game. While characters often hint at sex, and Kamala openly mentions that lust is not evil, that doesn't mean the game is permitting you to just go around fucking everybody. When you unlock a sex scene, you get one single sexy drawing, and lots of words describing the action.
CONCLUDING WORDS
This game gets a recommendation from me. It's hand-drawn style in both the characters and backgrounds set this apart from the anime style stuff you'd get from Japan. The music, sounds, and atmosphere are so different than what you'd expect from a game like this it makes for a nice experience. There is so much choice in this adventure that you will want to play it more than once to get a different experience.
I recommend this game to everyone looking for a different experience. Download Karma Sutra.
Graphics

Gameplay

Story

Music

SFX

Hentai