Hentai Game Review: Cum on Bukkake Ranch!!
Hentai Reviews

>

Reviews

>

Hentai Game Review: Cum on Bukkake Ranch!!
Written by Nell-san, edited by Otaku Apologist
"Cum on Bukkake Ranch!" is a visual novel / RPG hybrid, developed by Softhouse-Seal, published by Mangagamer. You play as a ranch owner dabbling in the forbidden art of sex alchemy. Your life goes to shit when suddenly the loli succubus attacks. Available for PC Windows.
GAMEPLAY
Bukkake Ranch plays mostly like your basic visual novel: You click the screen to "turn the pages", and watch the tory unfold. When you want to turn off the dialog, to just oogle at the pretty pictures of porn, press ESC.
The actual play portion, where you interact with the game, is much like Harvest Moon. You craft items from materials collected from milking your girls. You start at day 1. Days are divided into morning, noon, and evening. At the end of each day, Demon Queen Muma pays you a visit, and you must make an offering. You must always give her something, or be greeted with a "Game Over" message.
Your farm has the following nodes: Home, breeding farm, ranch, and various courses. Your girls are penned in the breeding farm. There, you "train" them in three different sex methods: Pleasure, service and shame. The porn quickly escalates from normal intercouse to covering a plethora of kinks. You have orgies, enemas, deep penetration, oral, and more!
Play the scenes over a few times, you collect materials, and unlock new scenes with the girls! The ranch is where you craft items. Most items have more than one recipe, so you can make different items in different ways, saving some time gathering. The courses are another way to gather other types of material, there is no scenes or sex in this. You can choose a girl to go gather stuff with. You get about five tries. One of two things happen: you either get items, or your girl loses HP. If your girl's HP is reduced to zero, she must rest and the gathering phase ends. Going home to rest, heals about 50 points from 100 health points. There are two versions of each course. When you gather certain materials, you unlock the the other version. Because you need a variety of resources, you're going around enjoying the pussies of multiple different girls. This makes it so that you have plenty to do each day on your farm. Once you're done beating your meat, fast forward the action by pressing ENTER.
The items you craft, you offer to the loli succubus, and to trigger various endings for the game.
GRAPHICS
The art assets of Bukkake Ranch are drawn in anime style. The girls have nice designs that complement their personalities. Every girl has a chibi version that appears when you gather materials, or craft items. The backgrounds got a lot of attention. The BG art in locations sets the mood, and establishes where you are, without leaving things vague. You have shores, and forests, living rooms, and even a gigantic throne room. The areas include "Pussy Lake", "Boob Mountain", and even "Penis Woods". On the art side of things, the mountains are literal boobs on the ground, the penis woods are dicks with heads painted green. Most locations look kind of plain, despite the detail put in them.
Many items in the game are blatantly not drawn. I would've liked to see what a Cumstone, and Vagema look like.
Everything else except the map screen looks good. It seems like a less-skilled artist drew the map.
STORY
You are Erogelsius. You're an easy-going, don't give-a-fuck type of guy. The Demon Queen takes over rule of the country, and you think there is no harm to you coming, but then she comes over and makes you her bitch. She isn't just a thieving ruler however: Upon her visit, she gives you your first hentai scene! The Demon Queen Muma is after a magic artifact, called the "Slut's stone". The stone is supposed to give her the awesome succubus powers she lacks. To craft such a gem, you must engage in sex alchemy with monster girls. Much oppresion!
The game has three endings. Make good use of the "save game" feature, you'll quickly unlock everything! You can play legit too, but will you?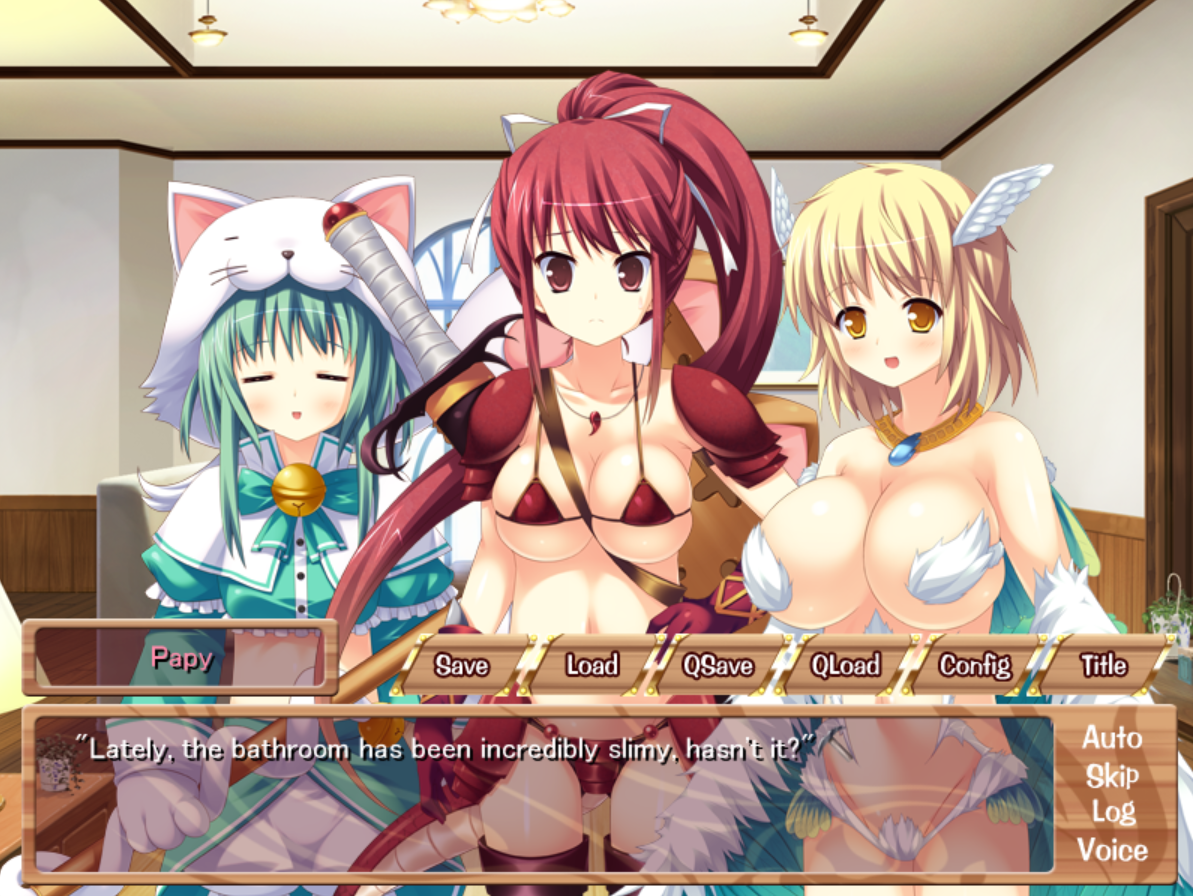 CHARACTERS
Sarah is a lizard girl, and fire elemental, she is your run-of-the-mill tsundere. She is lawful good, and focused on her job as your ranch's bouncer. She plays the part of "the only sane person on Earth". Despite being against the idea of sex in the beggining, she gets really lovey-dovey with time.
Milky is a slime girl, and a water elemental. Everyone calls her Myil-chan. She is shy, clumsy, and all around easily pushed around. She cooks quite well. With training, she gets more daring. She's always open to be taught new things. She oozes slime when aroused, which gets everything messy.
The wind elemental is a harpy called Papy. She is sassy and playful. She is the ranch's cleaning lady, and you'll get scolded a lot because of the constant messes and other schenanigans. Her kink is torture, and teasing, and being a peeping tom. She is the horniest of the girls.
Korin-san, is an earth elemental. She looks like a kobold, with fur, and a tail, and a dog hat!
MUSIC
The opening song is good, it sets the mood. Otherwise the music was the most forgettable part of Bukkake Ranch. The songs ranged from annoying, to insufferable. None of the girls have a theme, every song plays in similar situations. The only exception was Muma, whose theme music is rock and metal, well suited for her.
GLITCHES AND ISSUES
You can have the right amount of materials to craft items, but the game won't let you craft that. Quitting the game usually fixes it.
SOUND EFFECTS AND VOICE ACTING (SFX)
Every girl's lines are fully voice-acted. None of the sluts sound even remotely the same! Sarah is a pretty young lady, and speaks in a normal tone, Myil-chan stretches every last word in her sentences, and talks really smooth and slow. Korin-san is full of herself and giggles a lot. Papy likes to tease a lot, when not taking cock, never losing her childish mannerisms. During sex, the sighs and moans of each girl should be able to turn you on, though some of them shriek out high-pitched screams, that are less sexy.
The SFX for cumming and other stuff, like explosions. and people tripping don't bother me, and complemented the scenes well.
The main character is mute. and judging by his lines, it's better that not a penny was wasted on his voice actor. Muma talks like a senior, and is always mad. or unhappy, because her boobs are flat. I guess even devils can be self-conscious.
HENTAI
The hentai scenes of Bukkake Ranch are raunchy, and fully voice-acted. Each girl gets her dose of dick in several scenarios. There are four animated scenes. The sexytime plays out like you would expect; pick a girl, fuck her, read how the fucking plays out. Descriptions and dialog tag team the narration, while sexy hentai images grace the screen. I liked the slime girl's scenes best, while Papy's and Korin's fetishes didn't hit the spot for me, because of the sexual torture involved. There's normal vaginal sex, anal, all that. The special erotic scenarios you unlock in the endings, are the best part of the game. I came buckets.
CONCLUDING WORDS
I got my rocks off on Bukkake Ranch. It's not the most engaging eroge, as the pointless plot makes no sense. I played without sound, after losing my interest in the awful music, and repetitive voice acting. I tried hard to get all the endings, but I sucked too much to unlock them. Overall, this is a great release from Softhouse-Seal, and a good localization by Mangagamer.
Download Bukkake Ranch, enjoy your milky fapping sessions!
Graphics

Gameplay

Story

Music

SFX

Hentai