Written by Jin0uga, edited by Otaku Apologist
"Mutiny!!" hentai visual novel developed by LupieSoft, published by Mangagamer. Download on Nutaku.net for $10.00. For PC Windows and Mac operating systems. No voice acting. Uncensored genitals.
Fans of yuri and futa girls will find themselves delighted by this title. My genitals sure enjoyed themselves! You command a crew of sexy pirates, hunt loot, and have sex. It's a visual novel, which means you're mostly reading through dialog, learning to know the pasts of interesting characters in between having your genitals touch.
STORY
Grace spends her days working as a prostitute in a bar. She's damn good at her job and enjoys leaving her customers weak in the legs. Things take a turn for the weird, when a half-woman, half-dragon stumbles into the bar not long after Grace saw her latest client off with a kiss. Down on her luck and chased by the Navy, the futa dragon woman abruptly gives Grace her captain's hat and jacket after a short conversation filled with innuendos. She then runs off, ta-ta!
Grace decides to visit the woman's ship. There, she meets the crew of the former captain, made up of utterly helpless monster girls. After a brief period of trying to pass off the captain's hat to one of them, they cajole her into becoming the new captain. Ever the adventurous gal, Grace accepts. Now, she must find a way to clear the debt she inherited, lest the ship will be confiscated!
The game never explicitly reveals the past of your creditor, Jackie, but it's hinted to have been wild: She's missing an arm, and a leg. Jackie offers Grace a deal, to find treasure and repay the debt. In a stroke of convenience, she happens to have a bunch of treasure maps lying around. Mutiny!! progresses like an adventure story, where you visit mysterious places, solve puzzles, and get loot.
At a certain point, Grace is given a branching option to choose a first mate. In normal speak, it's basically the point where you create a save file in order to choose a different route after the first playthrough. Choosing a girl will lead Grace down her path, and to one of her three endings, bad, normal, and good. Choosing a first mate has no effect on the main story, it only affects who Grace spends time with to unlock yummy hentai scenes.
The first act allows you to choose between visiting the Cloud Ruins, or go underwater. I chose the Cloud Ruins, because finding treasure on a floating island-cloud is a goddamn cool idea. Grace docks the ship and drags several crew members to explore the ruins. Someone eventually stumbles upon a hidden area, where you need to solve a timed puzzle to successfully reach the treasure. If you fail to solve it, the risk of getting attacked by pirates is increased, along with exhausting your crew. I completed the puzzle in less than one minute, and everyone robbed the place dry – this is the story's formula, that repeats in every new destination you visit.
CHARACTERS
Grace will choose a first mate to spend time with. She learns about their pasts, their deep-seated insecurities, and how to get into their pants. The crew consists of eight attractive girls, most of them futa.
Foo is a dog girl. She's adorable and more puppy than dog. She's also clumsy, to maximize her cuteness factor.
Bree is a feminine horse girl, always sporting a pretty, white sundress. Her demeanour practically screams virgin, but she's got a mean kick in store to whoever pisses her off.
Alcina, is a muscular bear of a woman who's got bigger pecs than breasts. Despite looking like a body builder on steroids, she's a total introvert that's obsessed with reading books, and collecting them.
Nemui and Elizabeth Margeret, are treated as one character by the game. These two are my favourites, they're the most unique, both in personality and in looks. Nemui is a chameleon with a wickedly long tongue. Elizabeth is a moth, and has more than two arms that come in handy in more than just cooking!
Lastly, there's Lara the fairy and Lirdynrae the spider. Surpassing my expectations of interspecies relations, the two are in a romantic relationship despite one girl being small enough to squish the other underfoot.
Grace is not shy about her body and lives to fuck – she'll drag anything attractive to bed for a romp. Her happy-go-lucky personality makes the visual novel fun to read. Her brutal honesty also means there's no bullshit drama borne from miscommunication. You get to learn more about her whichever route you choose. I found this good incentive to replay the game, after finishing the main story, as each crew member brings out a different side in Grace. For example, Grace shows her vulnerable side in Lara and Lirdynrae's route, and they explore how she's emotionally affected by her previous job as a prostitute.
There are characters you can't romance unless you buy their routes via DLC. As of this review, there are three girls whose routes aren't included in the base game: Grozdana, Elizabeth Margaret, and Bree. Each DLC costs around three dollars. Only Grozdana and Elizabeth's routes are currently available for purchase, with Bree's DLC coming at a later date.
GRAPHICS
I was dazzled when the characters traveled to different areas. The amount of detail and texture in each set piece gives the game a sense of realism rarely seen in visual novels. It's one thing to know that the ship is made of wood, it's another feeling entirely to see the sheen of lacquer and grainy planking, or the thin bubbles of air coating the ship as it dives into the sea.
I liked how the background art resembles oil paintings more than digital art. It's still a little irksome that the background images and character sprites are drawn with different techniques, creating a notable clash of styles.
The shadows are subtle, or heavy depending on scene and character. The shadows complement the characters, it makes their curves seem natural and sexy. Mutiny!!'s palette consists of soft, chalky colors, mostly used for backgrounds, while characters are slightly darker. The sprites have a certain 'shine' to them; it is especially pronounced in their hairs and bodies.
The crew of Mutiny!! are mostly non-human characters. This gives each of them an ultra distinct look, contrasted with the hundreds of generic anime characters that look practically the same. As examples, the moth woman Elizabeth has feelers jutting out of her head and a pair of brown, patterned wings, while the other insect woman, Lirdynrae, has the bottom half of a spider. I looked up some of the creatures the women resemble, and it's ridiculous how accurate their traits are. I give the artist props for going the extra mile with their research.
The characters rarely change outfits, which is disappointing, but they make up for it by frequently strutting around in their sexy underwear like raging exhibitionists. The main character Grace spends most of the visual novel in her lingerie. Characters also get a good amount of facial expressions ranging from annoyed grimaces to lustful grins.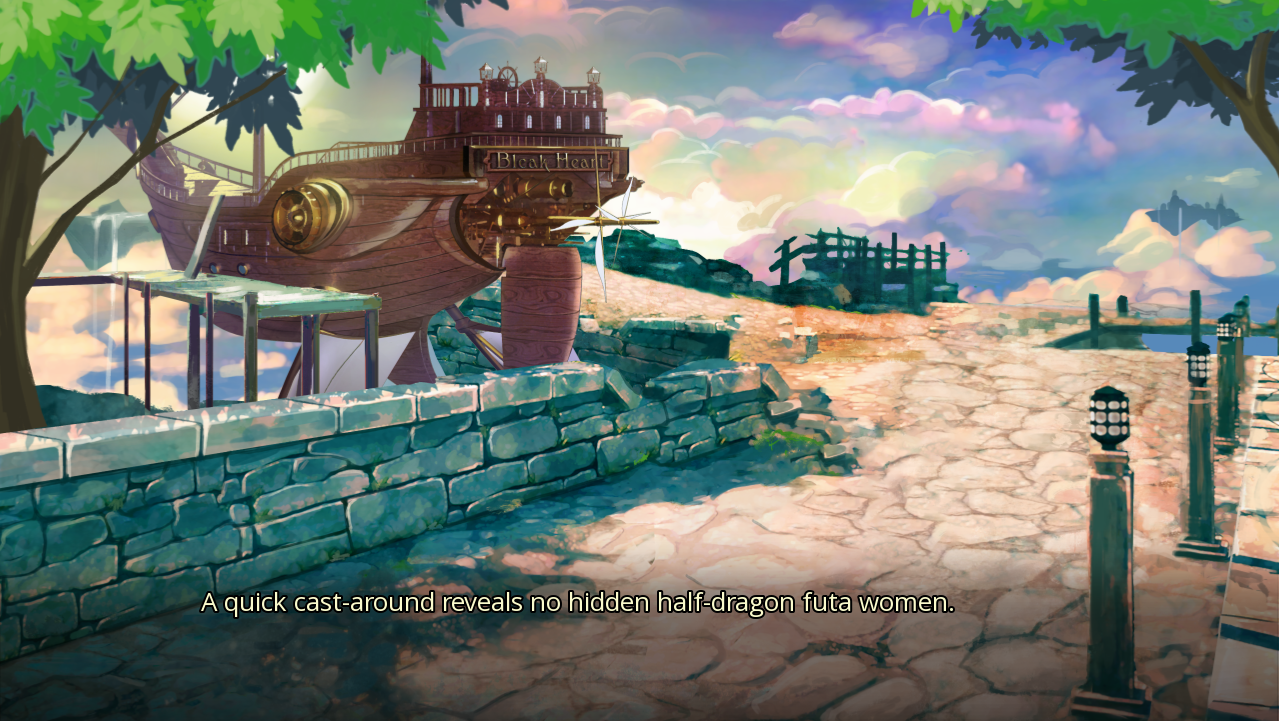 MUSIC
The soundtrack has a feeling of grandness to it. It's like someone stuffed an entire orchestra into the game. The variety of instruments for each in-game destination was an awesome surprise. Every track felt adventurous, and hype!
Early into the story, the crew of Mutiny!! descends into the sea. A bubbly, underwater theme starts playing, with pianos, violins, and harps step forward. As they dive deeper into the depths of the blue sea, the track changes again; this time combining the sound of bubbles, harps, and bells that create a mysterious atmosphere. There's a lot of scenes like this that left an impression on me, like when the ship arrives in a land of snow. The background transitions to show the ship in the middle of a blizzard, and the silence gradually gives way to sprightly triangle sounds, shimmery noises, and the crackle of shifting ice. The sheer amount of variation and quality of each song boggled my mind.
SOUND EFFECTS AND VOICE ACTING (SFX)
Mutiny!! has no voice acting. The sound effects however, are great stuff. For example, when you encounter pirates, you are presented with choices how to handle the situations, each option with their own sound. For example, 'shoot' invokes the ear-splitting sound of cannon fire, 'brace for impact' delivers ominous creaking noises, simulating an enemy ship ramming into yours. There's also a dense jungle area totally lacking in music, but with twice the amount of sound effects, like bird chirps, wind, and crickets. The audio was good, but not complete, and I was left wishing for more. It would have been nice to have smaller details like faint footsteps.
GAMEPLAY
Mutiny!! is a visual novel. Normally, that means the only interaction with the game comes from clicking the screen to "turn the page", and making the occasional choice from a list of dialogue options. Mutiny!! breaks the mold by having several puzzle mini-games, and ship combat. The puzzles aren't too difficult: Usually the goal is to light up the entire board by fitting all the pieces together.
The ship combat is more trial and error than a puzzle. Your goal is to prevent your health bar from dropping to zero. You're given several options to choose from like 'Evade', or 'Shoot'. It gets annoying because choosing a wrong option can mean instant death.
HENTAI
There are more hentai scenes than I have fingers. Anime fappers won't need to wait long for the first scene; twenty minutes into the game, Grace was having anal sex with one of the girls. The hentai is hot and steamy, Mutiny!! isn't shy about exploring more kinky fetishes like BDSM, and inter-species sexual relations.
The descriptions are vivid, and since most of the girls have dicks, Grace takes it in the ass, or vagina by some fat-boobed babes. There's also lesbian goodness; if the girl Grace chooses to romance isn't packing, you're in for a delightful pussy-eating scene.
Mutiny!! has a ton of CGs, with many variations of the same scene. For example, in a scene where Grace is giving a monster girl a rimjob, the follow-up CG will show the girl orgasming, and drenching Grace in cum.
CONCLUDING WORDS
This unique hentai visual novel, is extremely niche. How many fans of futa, are also fans of pirate stories? I guess if you like jacking off to One Piece doujins, you should be getting your masturbation fix from studio Lupiesoft's pirate porn game. My genitals definitely enjoyed themselves. Mutiny!! gets my personal recommendation. Download now!
Graphics

Gameplay

Story

Music

SFX

Hentai