Star Wars: The Last Jedi Sucks My Dick
Hentai Reviews

>

Reviews

>

Star Wars: The Last Jedi Sucks My Dick
Written by Otaku Apologist
George Lucas sold his intellectual property to Disney in 2012. Since then, new mediocre Star Wars movies have been shot, like it's a gang war in Hollywood. The corporate film factory is churning out shitty film after shitty film, lining up the pockets of fat old share holders. Many fans rightfully hate these cash grab movies for not living up to the franchise's epic legacy.
This new trilogy will go down in history, as another jab at recapturing the magic of Empire Strikes Back. They are far, far away from getting there, but eventually the studios will get it right again. It was a decade before they gave us good Spider-Man movies, it was just years ago that the first Avengers movie destroyed box offices. We need to criticize these new movies loudly, to get good Star Wars content again.
Directed by Rian Johnson, Star Wars: The Last Jedi has the plot of a brainless action flick. It's a drawn-out escape scenario, that defies logic. The Galactic Empire is winning, and the good guy rebels have been reduced to a pathetically tiny group, stuffed into a few space ships. The entire run of the film, Leia Organa, Admiral Ackbar, CP3O, and a bunch of new characters nobody cares about, are running from a handful of Star Destroyers on their tail. For reasons unknown, the Empire barely sent anybody to finish the most important battle of the war.
The rebels have always been brilliant at escape plans, but this time, they can't jump to hyper space. The Empire has discovered a way of keeping track of their prey. It falls to Finn, Poe, and some Asian slut named Rose, to save the day. They only have some hours before the rebel ships will be out of fuel. They steal a ship, and speed to a shady planet full of shady people, where they must find a guy, that can do a thing, that might not even work, but it's worth the insane risks, because free the galaxy and shit. As expected, this shitty plan gets wrecked by many dramatic complications, and it's only by dumb luck that the heroes don't just die. They don't use their wits, teamwork, or the power of love, to earn their happy ending. No, every problem the heroes face is solved by dumb luck, and ultra violence.
There's also a subplot involving the empowered female Jedi aspirant Rey, who is meeting Luke Skywalker on a planet that no-one cares about. Old man Mark Hamill looks the part, with his grizzly beard and all. His raspy voice sounds like he swallowed a cactus. The Skywalker reunion goes on longer than I personally enjoyed, and the scenes didn't hit the right tone for me. Grandpa Skywalker just doesn't have that air of mystery that characterizes old Jedi masters. He just seems bitter, disconnected, waiting to die.
The Skywalker sequence is a blatant replay from Empire Strikes Back; a young Jedi trainee meets hermit master, learns about the light and dark side of the force, then storms off to face her rival before finishing training. It's a recipe for an absolute dark side victory, but thank God violence solves all problems!
One of the most prominent issues with this new Star Wars trilogy, is the terribly written bad guys. Sith Lord Snoke looks like a grown-up Gollum. He's grossly malformed, like Palpatine, but they overdid his design, so he doesn't even look human anymore. Everything about Snoke was shrouded in mystery in The Force Awakens. If we take master Yoda's words from the prequels seriously, there's only ever two Siths. Vader and Sidious died as the last of the Sith, their knowledge of the dark side was never passed down. Where Snoke came from, is an extremely important question waiting to be answered.
I hated Adam Driver's performance as Kylo Ren in The Force Awakens. When I saw him take off his mask, I face-palmed: He looked like the nerdiest teenaged cosplayer. My awkward friends from 15 years ago wore that hair style. I felt insulted that Disney's marketing department had meddled with the casting, choosing the most stereotypical nerd bitch boy, even writing his character as a Darth Vader wanna-be. Thankfully Adam Driver was eating buckets of steroids for this film, and now looks like an actual fucking man. He looks so good, they featured him in a shirtless fan service scene.
Star Wars was never about tits and ultra violence, it was never about pleasing mass audiences who suffer from the attention span of a gold fish. In 2017, the franchise is reduced to pandering to feminists and gay people.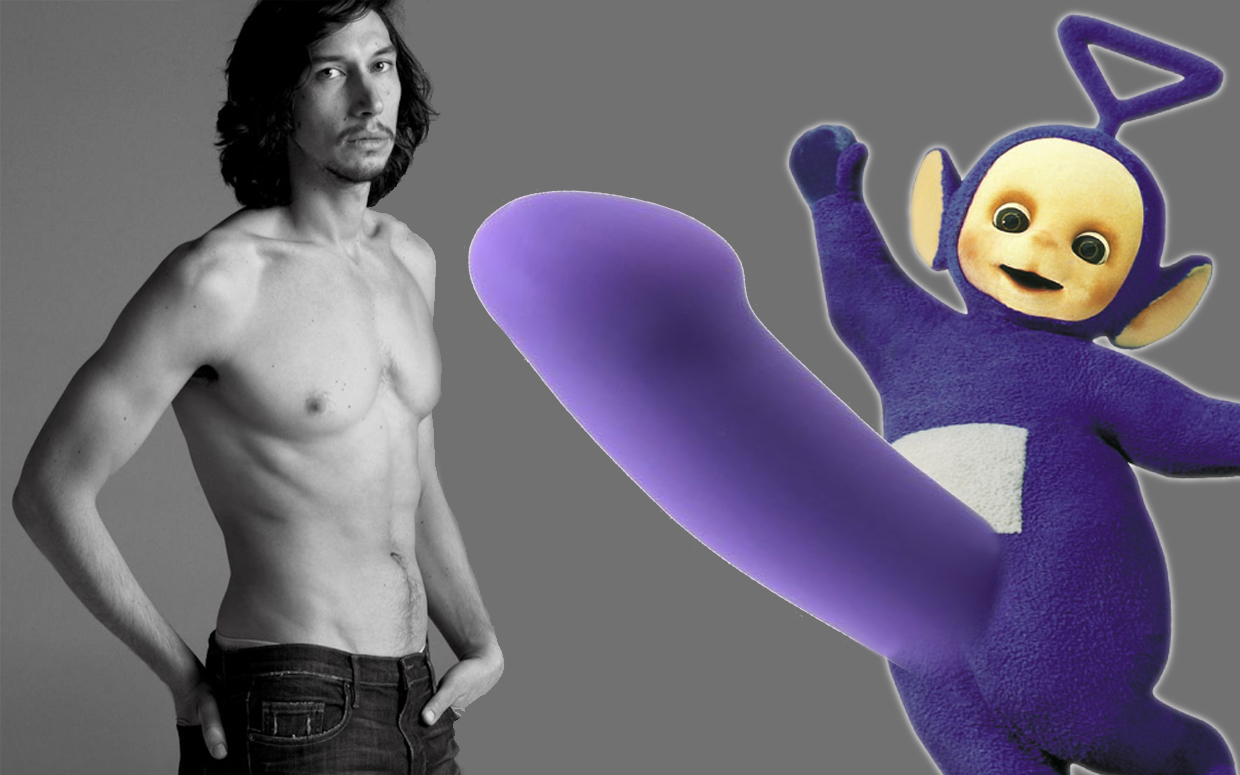 If you hated the original movies for their slower pacing, that allowed for boring things like relationship building, you'll be stroking your genitals at The Last Jedi. There are no relationships between the characters distracting from the action.
The weakness of the new cast shows in the dialog. Good dialog screams "this is my character". If you watch the first movies, you'll notice this. Pay attention to my favorite character, Han solo. Every single line from Harrison Ford's mouth is a powerful statement of who Han Solo is. If the movie didn't have members of the old cast bringing some sense of connection to previous films, these new guys would not be able to deliver the drama.
The characters in this new trilogy just talk about shit that's happening. But what are their dreams? What does Black Stormtrooper Guy plan to do after he's overcome his post-traumatic stress disorder? Why is Poe so disturbingly obsessed with murdering people with his X-wing? Why is Rey mysteriously lacking signs of emotional baggage despite a poverty-stricken childhood? Why is Kylo Ren so fucking evil? Who is Rose and why should I care about her?
You need insights about a character to understand their inner struggles, so the choices they make, can bear dramatic significance. We know almost nothing about the pasts of these guys, we don't have a perspective into their motivations, hence we cannot relate to them but on a superficial level.
It's trite for a reviewer to talk up old movies, while shitting on new movies. But there was something magical about those films that's getting actively erased. When film makers couldn't just blow shit up on screen for their paycheck, they had to build up things like atmosphere and relationships. When a government or movie studio has no limits to their bombing budget, they don't have to be creative about solving problems.
Luke Skywalker's relationship with Kylo Ren, was supposed to be the catalyst that sparked the downfall of the Galactic Republic. This history between the characters is important, and it should have been on the level of complexity as Anakin's relationship with Obi Wan. What we learn about their shared past, is complete bullshit. Why was "darkness growing" inside of Kylo? How did Snoke already have a grip on his dick? How, when, what, why?
What if Skywalker's instincts were wrong? That wouldn't be the first time in Jedi history. What if Ben Solo was just going through puberty, and the darkness that Luke sensed was just his sexual frustrations sparked by the only girl at the temple rejecting his cock? Imagine daddy Skywalker had just brought some porn to the temple. The galactic war would have ended with a couple spanks of Benny bitch boy's meat roll.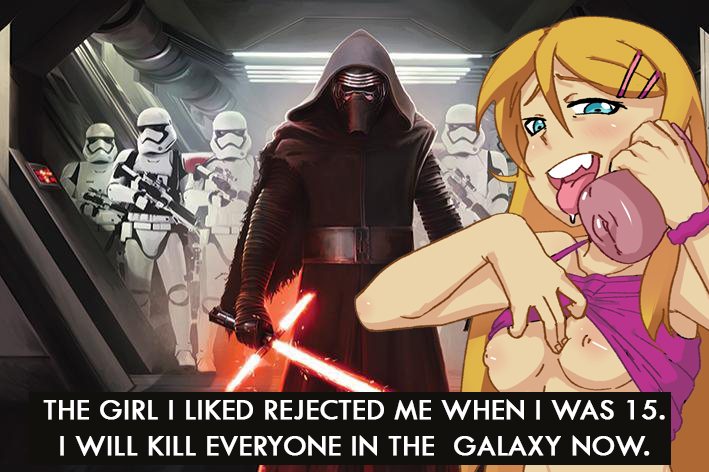 John Williams returns as the composer for The Last Jedi. His music has always been the best in the business, but here, even he was feeling uninspired by the clusterfuck. I didn't remember a single track after watching the movie, and had to grab a second listen from Youtube. The songs sure flow, but they kind of go all over the place. The soundtrack sounds more like a remix of old Star Wars songs. Good music captures the essence of human experience, that when transferred via instruments to new ears, the audience can experience those feelings. Maybe it's my dysfunctional emotions again, but I felt something missing. That's a bad sign, when even the reviled prequels enjoyed better music by Williams.
There are force tricks in this movie, that you've never seen before. Leia and Luke pull off shit that'll make true fans denounce these movies as blasphemy. If the Jedi could do the things we see them do here, how did Palpatine ever manage to waste these fucks in the clone wars? The scenes themselves look impressive, but holy fuck the new crew is pissing all over the lore.
Poetically, The Last Jedi was the last performance of Carrie Fisher, who passed away in 2016, after years of drug abuse. It'll be gruesome to see them recreate her with computer graphics. Rest in pieces, Fisher.