Written by Otaku Apologist
Booty Calls, developed by 3x Entertainment, published by Super Hippo Games. A free hentai dating sim browser game available on Nutaku.net. and Erogames.com. Android phone version released in September 12th, 2017. Browser version released in 14th November, 2017. No voice acting. Uncensored genitals.
I have banged my head to the wall with Booty Calls long enough. This game has a broken progression curve that blocks non-paying players from advancing. This game is pure pay-to-win bullshit, and today we're exposing this scam. Hentai game developers take note: This is not the direction you should be taking, it makes less money, and annoys players.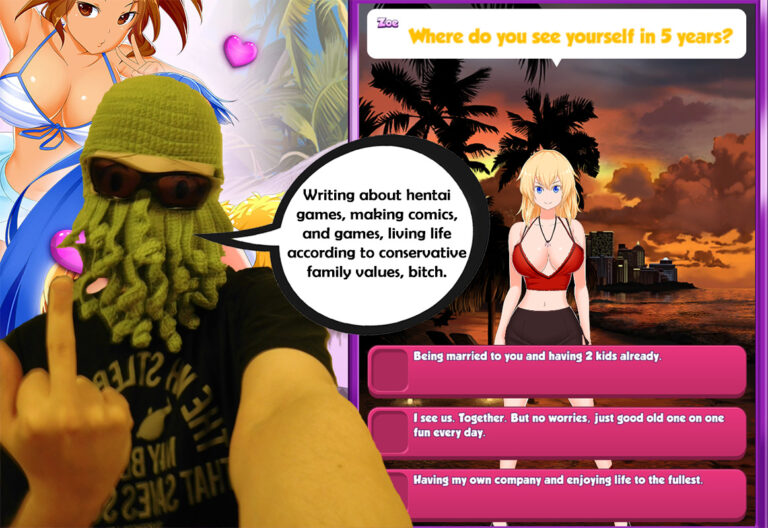 STORY
You were walking on the beach, when suddenly you stumbled on to a lewd mermaid. Like Disney's Little Mermaid, she lost her fish tail somewhere, and immediately started masturbating, shoving a scallop into her pussy. When she notices you gazing at her soaking wet snatch, she doesn't take long to regain her composure, and promise to become your dating coach. Also, she's invisible. What?
You hunt for local pussy at malls, beaches, and bars. The bitches come in all shapes and sizes: Thin, tall, and stacked. The anime sluts are cute, with their own fuckable personalities. I've unlocked five girls: Lara, Devy, Audrey, Zoe, Shannon. They've all been mostly the outgoing, social type. The chats I've had with them, have been rife with references to sex, cheating, plastic surgery, and other female bullshit.
If you're attracted to out-of-control thots burning the candle from both ends, who are destined to end up broke STD-ridden single mothers, Booty Calls panders to your fantasy balls deep. Girls just wanna have fun!
GAMEPLAY
The core game is a puzzle game, where you slide your finger, or mouse over lines of colored tokens. You have a limited number of turns to max out the girl's affection meter. You gain an extra turn every time an hourglass token drops to the lowest spot on screen. You lose a turn when the same happens to the broken heart tokens.
You have to match three same-colored tokens minimum. But because you only have a limited number of turns before the girl bails out, you're practically forced to slide larger combos only. You should slide many pink hearts in the beginning, because they increase your point multiplier. After that, focus on the girl's favorite tokens, while avoiding her least favorite token type.
The game is supposedly a dating sim, but it's mostly a puzzle. The dating sim aspects are as simple as clicking between locations for instant travel, and flirting with the girls. The flirting is just a quiz, where she'll keep asking multiple choice questions, and you have to tailor your answers to her bias. A wild party girl usually likes to openly talk and joke about sex, while the prude type prefers softer, more romantic answers. If you choose the right answer, you slip your hand in her back pocket, and steal her money. I haven't the faintest clue where the money comes from in these conversations.
You spend in-game money to upgrade your traits. Basically, the color tokens correspond with things like passion, intelligence, sexuality, etc. The first upgrades cost only 500 currency. The next upgrade costs 1500, the next 3000. It's the same system from similar puzzle dating sims like Huniepop and Pussy Saga. The problem is, successfully completing future dates requires exponentially more points.
Your income is stagnant, thanks in part to the stamina system. Talking to girls and dating them costs energy points that replenish very slowly. I only have 20 energy points, while dates cost four points, and conversations cost one point. You can often unlock more maximum energy in these types of games, but I haven't. The stamina system limits the amount of hours one can play, which ties into the business model: You can essentially buy game-time, by trading real money to the in-game premium currency, and buying whatever items replenish stamina.
You gain income mainly from completing dates. Your other means of income are completing achievements, and clicking money stacks that occasionally pop over buildings. The hovering money stacks award up to 15 currency only. Again, the issue are the numbers: Achievements can reward several hundreds in currency, but as the difficulty of dates hikes up, that avenue of income becomes inconsistent. The game doesn't have enough payoff, for you to sit through this badly paced grind.
GRAPHICS
The art is a mixed bag of 2D anime art, and photographed backgrounds. There's even slight animation, like the girls will blink their eyes, and breathe. The art style is very simplistic. I feel like I'm dating cartoons, rather than girls malformed at birth with giant eyes and dot noses. The difference matters to my penis.
My favorite girl was Zoe. She's a shameless blonde babe, with massive boobs, and the sluttiest outfit: She wears a black miniskirt, and a red top that exposes her cleavage. She already has a sugar daddy that sponsored her plastic boobs. Just chatting with her is a trip down the rabbit hole.
As mentioned, the backgrounds are clearly photographs. Understandable cost-cutting shortcut, still a cheap trick.
MUSIC
The soundtrack is limited to a small number of songs. These dreamy dinga-linga-lingas aren't anything to get your juices running. It's like elevator music; nothing that would annoy a single snowflake on the planet. You're mostly listening to two songs; the one that plays during the puzzle games, and the tune that plays during face-to-face time with the girls.
This music can suck my cock. If you're a developer reading this, please take note, and commission your musicians to compose something more interesting. Add variety to the tracks, compose alternate versions that shift the mood. It doesn't cost that goddamn much to hustle up some no-name musician with skill, but no market value. You need 3 minutes of music tops for a song, which costs between $15 to $30 per minute. I've paid that much, my developer friends pay that much. You have no excuse for low production values other than your incompetence.
SOUND EFFECTS AND VOICE ACTING (SFX)
The game has no voice acting at the time of writing.
The sound effects are well-done, and complement the gameplay. The phone rings nicely when you get messages from the girls. The tokens sound bubbly when touched. The blips and bleeps of the menu, are super cute. There's plenty of good sounds in the game that are just nice to listen to.
HENTAI
I have not accessed any hentai scenes in Booty Calls. The girls "send pictures" to your game phone. They're often more ecchi than pornographic. You can unlock explicit erotic pictures by playing the "sex dates", which is the same puzzle game you play during regular dates. The only real difference between sex dates and regular dates is that there are no broken heart tokens. I've played several of these dates, but my game phone "ran out of memory". You can increase your memory capacity, to keep receiving the lewds, by spending the game's premium currency, bought with real money. This is another unapologetic monetization trick they ripped from Pussy Saga. I am not a fan.
I cannot comment on the hentai content, because I haven't accessed it. Who knows, maybe the anime porn is fully animated by Studio Bones, voice-acted by Jessica Nigri, running at 60 frames per second.
CONCLUDING WORDS
Booty Calls is fun, but encumbered by some significant problems. The biggest issue is the steep progression curve, which quickly stops the player from completing dates without the premium currency. The systems for generating income, to upgrade your traits, are not fun to play, and the income is too low. The stamina system on top of this, makes the game a slugfest for little payoff. The game needs mini-games for variety, or means for the player to gain greater income from the core game. I would do away with the stamina system entirely, when you're already paywalling the hentai content.
You can play Booty Calls on Erogames.com and Nutaku.net.
Graphics

Gameplay

Story

Music

SFX

Hentai