Written by Otaku Apologist
Aster, developed and published by Canadian circle KS. An arcade space shooter released in 1st of June, 2018. Download at Nutaku's digital store for $4.00. Available for PC Windows operating systems. No voice acting. Uncensored genitals.
STORY
You are a blonde female space cowboy, shooting asteroids. When you boot up, the battle starts immediately after you've chosen a space ship, without any dialog or storytelling. Just start killing things!
GAMEPLAY
The ship shoots when you press "C" in your keyboard. Boost by pressing "X". Press "ESC" for menu.
Similar to old arcade shooters I've played over the years, Aster puts you in the cockpit of a space ship floating through the edges of a single screen. You are attacked by asteroids and aliens, and various other enemies. As you shoot at the asteroids, they splinter into smaller rocks, yielding green shards which are the game's currency. When you are hit by enemies or their projectiles, you lose health. After enough hits, the game is over.
The varied level design features static obstacles that make asteroids, enemies, and your ship bounce from the walls. There's planets with a gravitational pull, which makes your ship fall down, and down. You encounter missiles that explode into a circle of projectiles, alien war machines that sow bullets everywhere around them. Some alien enemies even have a tractor beam.
Some levels have checkpoints that save your progress. You can resume your play from the main menu, by pressing "continue". There's also a shop that appears after you've cleared all the enemies in a level. Upgrade your ship with new weapons and improved specs by spending the green shards in the lizard man's shop.
The weapon upgrades include charge beams, bombs, a laser sword, and more. My favorite was the sword that let me shoot a continuous damaging beam at the enemies. I just kept rolling in circles, destroying everything.
The game is very straightforward. There's a total of 38 levels to beat, that progressively increase in difficulty.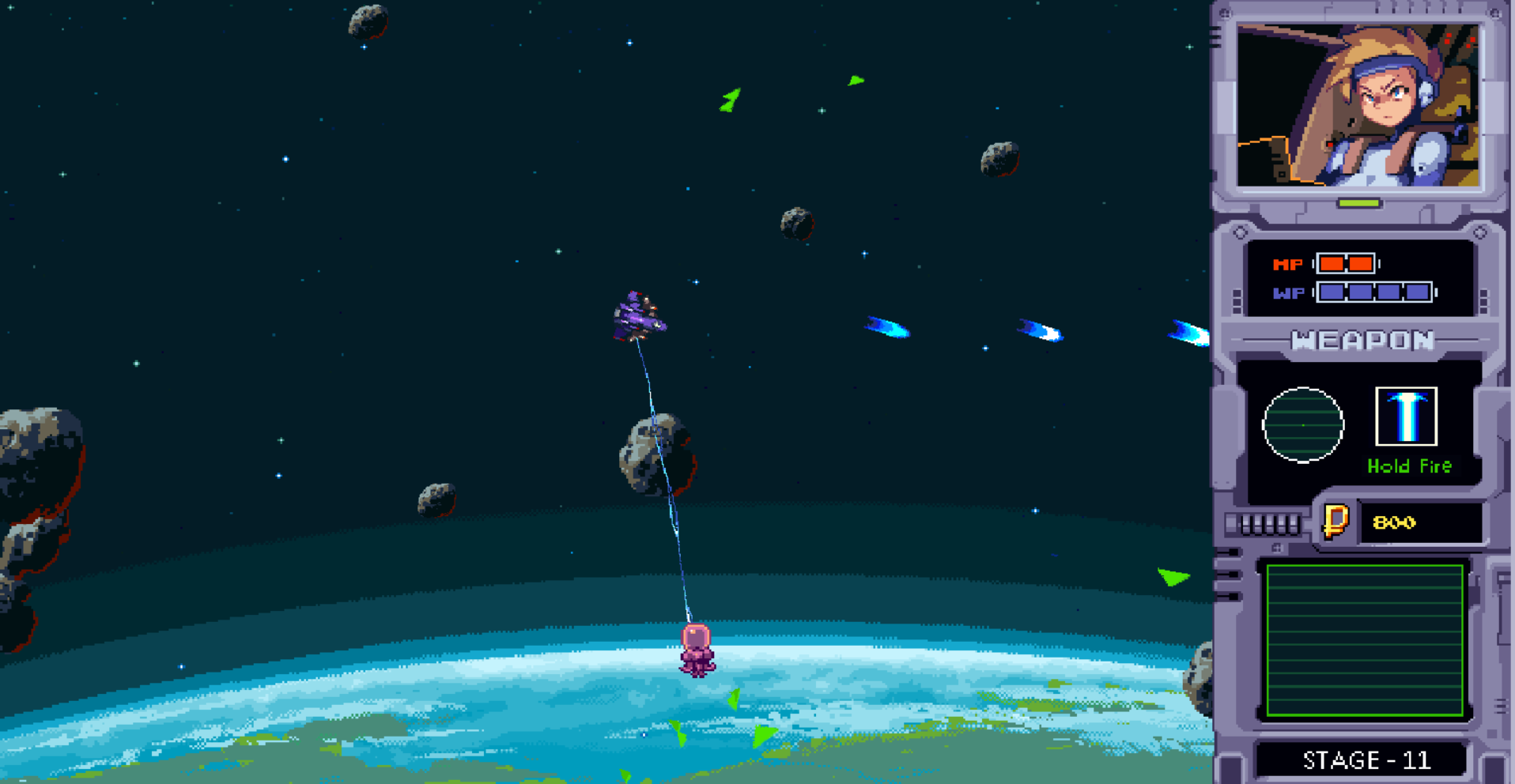 GRAPHICS
The game's visuals are pixel art. The ships look cool, and the enemies like something you want to blow up. Aster looks like a girl you'd love to fuck. You see her have sex in juicy looped hentai scenes when her ship gets molested by an alien. She doesn't emote much in her portrait though.
The background art on the levels is mostly black space dotted with stars. The menus look futuristic, and give a nice sci-fi feel to the experience. Some of the enemies can be hard to make sense of, as they're often nothing but weirdly colored goo monsters. The projectiles and lasers shot by your sexy space ship look very awesome. The explosions and other effects are professionally done. It was my pleasure to play this game.
MUSIC
The game has a limited soundtrack with very short, smoothly looped songs. I don't recall hearing more than three songs in total. The songs hype up the ultra violence on screen, but the short length of the songs, will make you want to switch channels after just your second play session. The songs in the menu and the shop screen, are very chill in contrast to the battle track. Sometimes after I died, the music would be offline in the checkpoint screen, until I entered the warp to the next stage.
VOICE ACTING AND SOUND EFFECTS (SFX)
Aster has no voice acting. I played 13 of the 38 levels, and heard not one voiced line.
The sound effects include explosions and laser shots that sound somewhat cartoony. The audio fits the retro aesthetic of the game. The sex scenes I unlocked featured a very sexy sloshing sound, as Aster's pussy was getting a nice, gooey tentacle rape. She seemed to like the alien creampie in her womb.
HENTAI
The sex scenes in Aster are not well integrated into the gameplay. When you get molested enough, or killed by an alien monster, you can stare at Aster in a sexually compromised situation for as long as you like. If pixel art gets your rocks off, you can always check out these scenes in the game's gallery mode. But as said, this isn't good design if your goal is get players masturbating. Tons of hentai games do this, rewarding players for losing.
CONCLUDING WORDS
Aster is a fun space shooter that doesn't innovate from familiar formulas. Anybody can pick this game up, hop in to blow up big fat rocks and nasty aliens. The controls are great, but the varying gravity adds a level of difficulty, that can frustrate the lesser skilled nerds who never won anything in their life. Not everybody has the balls to beat a game that doesn't hand out the victories on a platter.
You can download Aster at Nutaku's web store for $4.00.
Graphics

Gameplay

Story

Music

SFX

Hentai