Written by Flamecaster, edited by Otaku Apologist
"Ne No Kami: The Two Princess Knights of Kyoto", developed by Kuro Irodoru Yomiji, published by Denpasoft. A lesbian fantasy hentai visual novel about two childhood friends rekindling their friendship that eventually blossoms into love. Released on September 10th, 2016. Available on Nutaku for $15.00. The game is supported by Windows-compatible operating systems. All sex scenes contain mosaic censorship.
The game is divided into two chapters. Read our review of the second chapter.
STORY
Len is a normal school girl. After we just learned to know her, her friend Shinonome shows up and kidnaps her into a van. She drives Len to a secret village deep in a forest that doesn't show on the map. A secret organization located in Kyoto's forests expects the girl to put her life on the line to fight unstoppable enemies from another dimension. After a good night's sleep, Len is ready for battle.
Quoted from the product page: "A large earthquake rocks Kyoto at its core, unsettling the balance of the world. Through television and radio, news of absurd behaviors and emergence of cults became frequent, and demon sightings were reported all throughout Japan. But with the passage of time, society's belief in the supernatural was fading and the people's interest would eventually return to the mundane, regular life."
Keep in mind, this whole set-up takes almost three hours to transpire. This is "Ne No Kami's" biggest flaw — the story is 75% padding. There's a decent plot in there, but it has been fluffed up too much. On top of that, the characters reiterate everything, making conversations feel like they were copied and pasted. Often, Len will converse with character B about what she told Character A. Afterwards, she will find character C and tell them the same thing she told characters A and B. This may be how small talk transpires in real life, but in a visual novel, it just forces the reader to re-read the same dialogue. If this wasn't enough repetition, you also get to sit through lectures where the characters teach you sword-fighting and military tactics.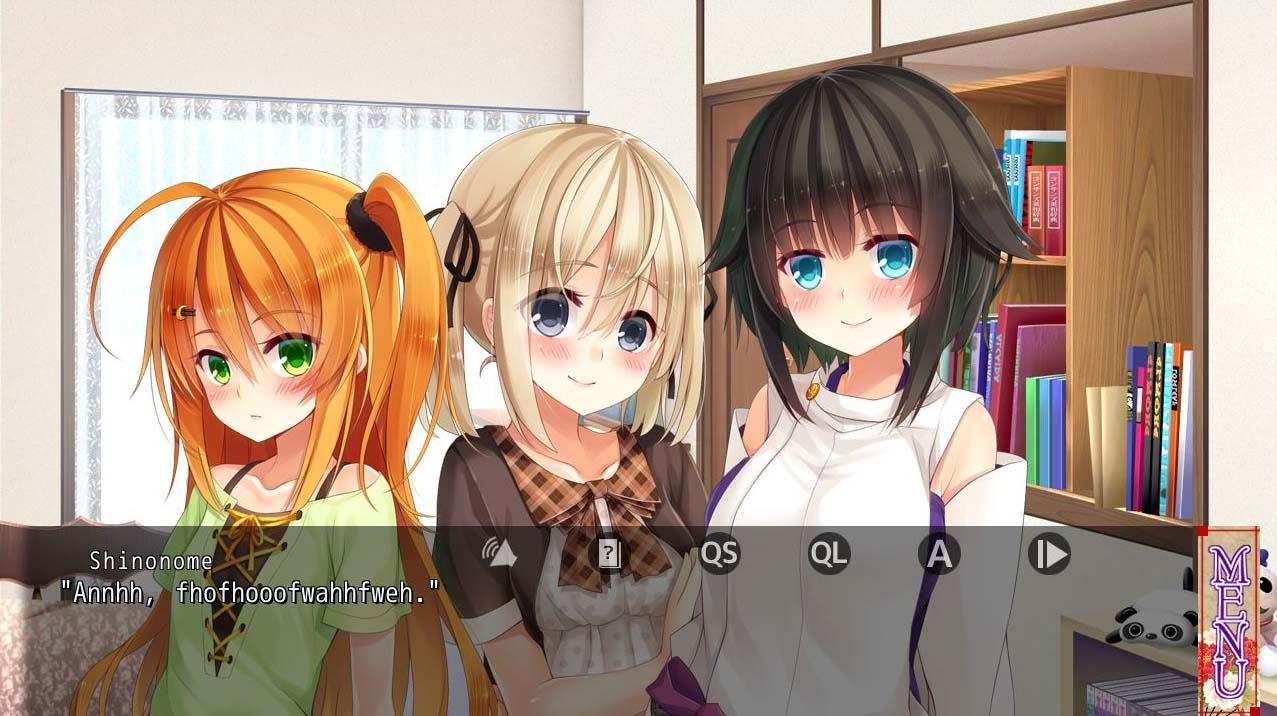 After several hours of listening to girls discuss complex politics while eating ice cream and pretending that no one was ripped from their home against their will, we see Len start her training. Len's training occurs in what feels like real time. Her instructor, Mitsurugi, goes into hellish detail about how to hold a sword, flank an enemy, and so forth. A complex political drama with a lot of backdrops is certainly something you would not expect from a lesbian porn game.
There's plenty of sexual tension between the characters. Everyone just happens to be a lesbian, with not a hint of interest towards penises. One of the girls in the village is completely obsessed with popping Len's cherry. They eventually fuck.
When the story reaches its finale, things get genuinely exciting. If the story chopped the beginning bits down considerably, I could almost say it's an awesome story. But the ending is nothing but a shameless cliffhanger. Yes, the entire story was just build-up to the sequel.
There is a side story that opened after the main story ended. You experience the game from the perspective of Shino. While the side story offers some additional insights into certain events that only Shino witnessed, it also forces you to repeat entire dialogue sequences you already read. After spending an hour re-reading old content, the side story also ends with a knee-to-the-balls cliffhanger. The writing had issues. I stumbled on to tons typos in the side story.
GAMEPLAY
Ne No Kami: The Two Princess Knights of Kyoto, is a visual novel. You click the screen to advance the story. The game occasionally presents you with multiple options for choices. Eavesdrop on your girlfriends kissing, or look away? Options like that. Your choices have minor impact on the events of the story.
GRAPHICS
"Ne No Kami" has a fantastic art style. The character and background art flows together with gorgeous detail. Body tones, curvature, and even reflections are depicted with care. Even the carefully and meticulously drawn shadows add a lot of visual candy to the presentation. While the backgrounds present in every scene are quite standard and not very eye-catching, the character designs, and their facial expressions, are high-quality. What also works in "Ne no Kami's" favor are the dynamic and animated fight scenes that feature all kinds of special effects from flashes, motions signifying attacks, and screen shakes. All this adds a significant weight to both the action and the drama happening on screen.
MUSIC
The music in "Ne no Kami" has its highs and lows. The lows come from regular slice-of-life scenes where expository dialogue bombards your senses ad nauseam. In those moments simple happy short tunes are played in a loop and they can get grating the longer you hear them. The highs come from anything involving battles between characters, where the music speeds up and becomes orchestral, rocking and very atmospheric.
SOUND EFFECTS AND VOICE ACTING (SFX)
The main characters are fully voiced in Japanese — rather, the characters in the H-scenes are fully voiced. Ruka has about one third as many lines as Mitsurugi, but gets a voice solely because she's in an H-scene. The voices are very girly, and have tons of personality. Len sounds as young as her character. The older girls sound in comparison sound mature in their voices, like they've come to accept the realities of life, including their homosexual desires. Some of the villains also have voices. The actors make use of voice filters that cause the villains to sound demonic. The rather large cast of side characters didn't have voices.
The game has plenty of sound effects. The battles especially have every imaginable sound from sword clangs to whooshes.
HENTAI
"Ne No Kami" is all about the political struggle between two opposing ideologies. The yuri scenes are tacked on near the very end. It took about eight hours to see two girls kiss, and it was another few hours before the H-scenes began. The erotic scenes are all yuri, and they're very well done scenes. The CG images adjust slightly to illustrate the progression of events. The sex is written with passion and care. The sex is relatively vanilla, featuring mostly kissing, pussy licking, fingering, and scissoring.
CONCLUDING WORDS
"Ne No Kami" is gorgeous, and aside from the ending, it feels complete. I wanted a cute yuri story with flirty girls, but what I got was a long, stuffy story of war. The yuri references are adorable, to say the least, but they are diluted with excessive history lessons and strategic battle planning. I can't imagine a person who likes their lesbian love stories mixed with hardcore military strategy. If you liked this game, part two has already been released. You can download Ne No Kami at Nutaku.net.
Graphics

Gameplay

Story

Music

SFX

Hentai