Hentai RPG Game Review: Treasure Hunter Claire
Hentai Reviews

>

Reviews

>

Hentai RPG Game Review: Treasure Hunter Claire
Written by Timbo Slice, edited by Otaku Apologist
"Treasure Hunter Claire" is a hentai RPG developed by Acerola and published by Kagura Games. Released in July 20th, 2018. Download at MangaGamer for $19.95. Partial voice acted in Japanese. Uncensored genitals.If you download the game from elsewhere than MangaGamer, be prepared to download the adult patch.

This game runs on the Wolf RPG engine. It looks and plays similar to the many hentai games made with RPG Maker. It's a medium-length game, where one playthrough is about 12 hours. There's also an expansive gallery to unlock and a New Game+ mode!
STORY
After a long and bloody war, humans and demons learned to live together in peace. Our hero, Claire, is born into a peaceful period in this world. She is a kind-hearted, innocent young maiden with a lust for money. She strives to become a treasure hunter in a dangerous world overrun by monsters. The story takes place on the fictional island of Alstroemeria.

Claire is chasing a rumour of a treasure that can grant any wish a person may have. Se follows clues into a temple. She meets the goddess of the Island who tells her, she has the power of a Hero flowing through her, and that she must find and return the Goddess' lost treasures to get her wish. Claire joins a local Treasure Hunting Guild. She takes on missions at the guild and begins exploring.

CHARACTERS
Millith is a gothic lolita sex shop owner. She has a surtly attitude and challenges Claire to be more than just a pair of tits.
Leon is a mercenary swordsman who saves Claire during one of her first missions and teams up with her. As they get closer, Claire starts taking a real shine to him but his own stumbling nice guy attitude seems to always get in his way.

Lily is a half-cat, half-human thief who gives up on thieving after Claire stops one of her heists. She's quick to join up with any adventure and has a bubbly and aloof attitude. This leaves Claire wondering what her true thoughts are.
Raul is an old demon in the body of a teenage boy. He tricks women and gropes them. Claire is forced to recruit him because of his skills at disarming traps. The two quickly form a weird brother-sister relationship with Claire. She pummels him anytime he tries to grope her.
Yukino, a shy schoolgirl found herself sucked into this world from her home in Japan. She is kidnapped by some bandits. After Claire saves her, Yukino discovers that she has magic powers and begins her training to become a witch under Millith.
Jessica is a half-dragon, half-human warrior from the Fire Dragon tribe.Things start off on the wrong foot between her and Claire as Jessica steps in to defend Raul's "honour" but the two become quick friends.
Together, they work to uncover the lost treasures of the Goddess and help save Alstroemeria from the monsters.

GAMEPLAY
The game is played entirely with the keyboard. Press arrow keys to move. Press ENTER to progress the story sections and interact with everything. The battles are turn-based. Each turn you fiddle with a menu that includes standard attack, special abilities, guard, items. There's also a menu for attacks in the category of "Sex Tech".
All female characters use Magic Points to perform actions like handjobs, titjobs, and sex to damage the enemy's MP gauge. When the MP gauge is depleted, the enemy is stunned for 3 turns as they are in "Bliss" and can't attack. The enemy can also launch sex attacks against your female characters. When the girls' hit points hit zero, they are out of the battle. The male characters can't Sex Tech any enemies, but enjoy immunity from sex attacks. It makes no sense at all.

The game focuses heavily on questing. All quests are started in the Guild House. Some quests are acquired outside of the guild.
You can choose how to complete some missions. There is a karma gauge that determines your characters' moral alignment. Meanwhile, your companions have affection quests that help open more information. Their final quest unlocks their most powerful weapon. The visual novel style story segments also provide choices. Each of these factors play into how the story, dialogue, and ending shape up.
GRAPHICS
The character art is professionally done anime art that makes the world of Alstroemeria look bright and colourful. The pixel art in travelling sections is very detailed. Depending on how you choose to dress Claire, her avatar will change. Her clothes change in the map, in battles, and even the CG images! During battles, the art depicts characters' wounded states by displaying rips in the clothes. In the case of the females, they will be mostly naked by the time their health points hit zero. The male characters' clothes tend to take less damage.
The CGs get a little repetitive as the game goes on. There are a lot of unlockable scenes but they are often scenes you have seen before with minor changes. Tons of scenes feature "shadow men". Some scenes show the enemy characters engaged in sex with the girls.
MUSIC
Treasure Hunter Claire has a full soundtrack, with a nice assortment of songs befitting of a fantasy JRPG game. Each region has their own songs. The battle music ensures you are always pumped up. Sex scenes feature their own songs as well but often fade to the background because of the much louder voice acting.

VOICE ACTING AND SOUND EFFECTS (SFX)

The game has partial voice acting. All the female characters get loud during battles and sex scenes, but normal dialogue scenes are quiet. I hated all the moaning and talking during the sex scenes. I ripped my headphones off and went without sound for the second half of the game because it was grating on my nerves. I understand this is a personal preference though, as many anime fappers enjoy the voices of Japanese girls. Claire was my favorite girl. She started off as a naive virgin but depending on the routes you take, she can turn into a dirty-talking Dom or a soft-spoken Sub.

The sound effects are standard stuff: Swords clashing, the swoosh of magical spells. The sex scenes include every effect from cumming to slurping. The menus have cute sounds too.

HENTAI
Forced sex is the most featured fetish, as it's heavily tied into the battle system. Lose the battle and the monsters will take turns wrecking Claire's tight holes. In fact, many of the quests boil down to Claire showing up to a designated area only to get fucked. The side characters aren't spared from non-con sex either. Oftentimes, when you finish of their side quests, the girls will find themselves in trouble.
The use of the Sex Tech battle system and the losing of clothes was one of the sexiest aspects of the game. Using sex as a weapon, or choosing to fend off the sexual advances of the enemies added a very erotic feeling to the game. The use of shadow men in the sex scenes can dampen the mood for some players, as those scenes feel like cheap filler.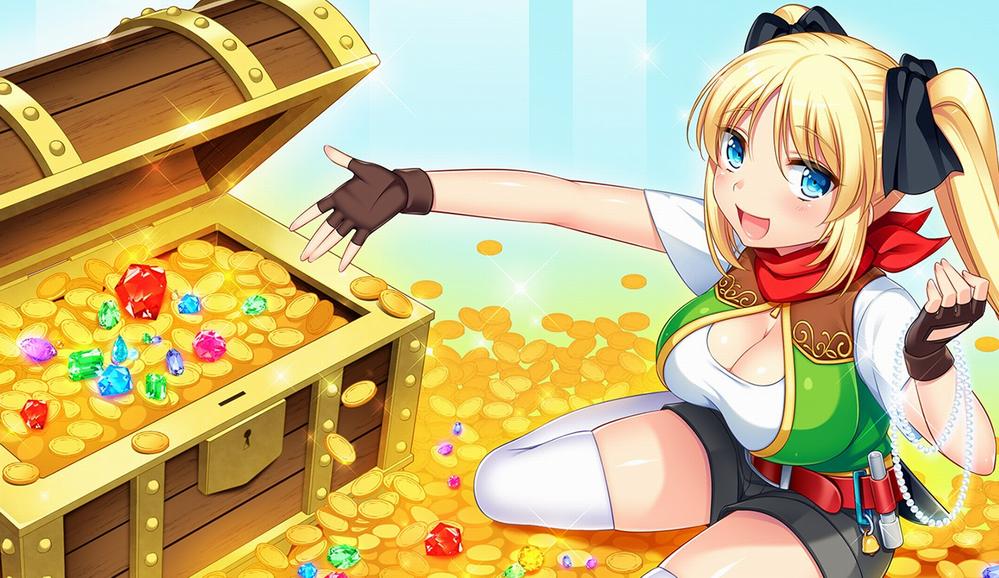 The hentai aspects of the game are enhances by the dom-sub system. Claire can enter battle in dominant state or submissive state. There's a gauge that fills up based on your choices, and items you use. When in dom state, the scenes change and her actions and manner will be more aggressive. Meanwhile in a sub state, the opposite will happen. It's a nice touch that lets players experiment with roleplay.
CONCLUDING WORDS
Treasure Hunter Claire is a lot of fun. The story is a little simple and the foreshadowing can be seen a mile away. The battle system and all the little details that enhance the eroticism make this sex adventure by Kagura Games a worthy experience.
Download Treasure Hunter Clare.
Graphics

Gameplay

Story

Music

SFX

Hentai