Cuckolding Hentai Game Review: Please Bang My Wife
Hentai Reviews

>

Reviews

>

Cuckolding Hentai Game Review: Please Bang My Wife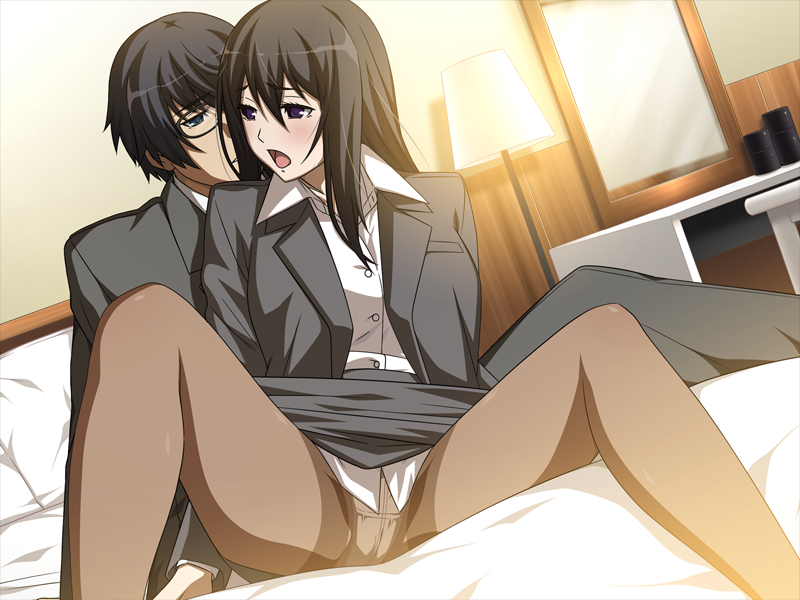 Written by Rastafoo69, edited by Otaku Apologist
Please Bang My Wife, a hentai visual novel developed by Atelier Sakura. Localization originally published by MangaGamer on September 30, 2016. Released on Nutaku.net on November 1, 2017. Available for download on Nutaku's digital store for $20.00. Download on Mangagamer for $19.95. For Windows PC. Full Japanese voice acting. Uncensored genitals.
You are a writer for a hentai game company. You work long hours and rarely see your beloved young wife. After she starts acting strange and lying about where she's been, you decide to confront her on the truth. She's been cheating on your sad ass for four months straight!
Other cuckolding porn games we've reviewed include Young Wife Souffle. Read our review.
STORY
The protagonist writes porn games for a living. He hits writer's block while working on his latest title. He can't stop thinking about his wife, whom he suspects to be having a steamy affair on the side. He can't stop imagining the incredibly erotic things she does with her lover between the sheets.
The names of all characters in game can be customized. Rather than have your wife be named "Mariko", you can change the name to someone you actually know for the sake of role-playing. Very immersive!
The story is split up into five parts. First, there is the stage of suspicion, where you are concerned she is cheating on you. Second, she confesses the affair! Third, you watch them having sex. Fourth, the hardcore cuckolding scene. And fifth, the epilogue. The game is formatted this way to create significant emotional build-up.
While the story itself is predictable, the key points and dialogue are of the highest quality. When you confront your wife about the truth, she tells you absolutely everything about her spectacular affair. She tells you in detail how this man lasts much longer than you, how he turns her on with everything he does.
You suspected the affair, because your wife was constantly refusing to have sex with you, disappearing from the house frequently. Your precious marital vows were getting jizzed on – She's getting plowed by her boss!
You're a needy beta who loves his wife and has no balls. You consent to being cuckolded in exchange for the privilege of keeping a ruined sham marriage going, while she allows you to watch her have sex in front of you. And for your wedding anniversary, your wife presents you with a video tape of her fucking another guy!
GAMEPLAY
Please Bang My Wife is a visual novel. Click the screen to "turn the page". Press CTRL to skip dialogue. I don't recommend you use the skipping, because that will ruin the emotional build-up.
I'm a fast reader, so I finished the game in only two hours. The game may last longer for others.
There are absolutely no choices throughout the game. You can choose to have your wife wear glasses or not, but that's pretty much it. Everything else is outside of your control. Your wife will always place another man's cock first.
GRAPHICS
The art is a traditional Japanese style anime art. The color scheme has a constant orange hue, like it's sunset
Nearly the entire game takes place within the married couple's home. It's a generic background image for character sprites to appear during dialogue. In fact, outside of the player home, there are only two other backgrounds.
The wife has changing facial expressions during dialogue, but her body language remains exactly the same all throughout. The graphics are not very inspired, and almost feels like they were added by obligation.
The character designs are plain. Everyone in the story has normal-colored realistic hair and skin color. This might increase some people's sense of immersion while playing. I found the characters too basic for my tastes.
After completing the game you unlock all the scenes where your wife cheated on you when you weren't around. It's a great experience if you connected with the characters and felt for them.
Multiple times during the game, there's no image of the characters during dialogue. Only text appears on screen while you're talking to a minor character. While this is efficient on the part of the developers, it soon devolves into a repeating wall of text. You have to click a hundred times through this blank screen before anything interesting happens again.
SOUND EFFECTS AND VOICE ACTING (SFX)
The female lead voiced her every line. Meanwhile, the male lead is not voice. He's always wrapped up in his own neurotic bullshit, narrating his feelings and thoughts in endless internal monologue. Only the most important character of the game is fully voiced – your wife! She covers all parts of the emotional spectrum when speaking.
Even if you don't speak Japanese, the voice actress conveys her passion with her tone of voice, and heavy breathing. You can immerse yourself while listening to her passionate moans while letting the big cock of another man slide in and out of her pussy. The fantastic voice acting is worth applauding.
As for sound effects, the entire game takes place in a single house. There isn't much in terms of noises. There's a sound for doors creaking and for lovers kissing. Overall, there's very little audio.
MUSIC
The soundtrack includes ten songs, used effectively throughout the game. However, none of the songs are original. I've heard these songs in other hentai games I've played. The creator either paid for the license to use the music, downloaded royalty-free music, or stole the assets without publishers realizing. There's all kinds of hustlers in hentai, you never know.
Of all the songs, I remember most vividly a track with a soft guitar strum. The atmosphere was one of a cozy household, and really set a homely mood for the place. The soundtrack also had piano that played during sad scenes, and lots of digitally composed music. Each song is definitive for a single emotion, so there is no definitive style to the soundtrack.
After completing the main story, you unlock scenes of your wife having sex without you knowing. Although this is a nice feature – after playing the main story for hours, you've already grown tired of this soundtrack. The bonus material really needed some unique songs to uplift the experience.
HENTAI
Please Bang my Wife includes 24 sex scenes, many of which use unique CGs to keep the player interested. While the scenes without the husband are focused on your wife being seduced, the main storyline focuses on humiliation via cuckolding.
When she confesses to cheating on you, she notices you're getting hard. She jumps on your dick and starts stroking it! She tells you everything about this other man who's so much better than you, bigger than you, more passionate than you. She makes you cum!
There's an incredibly hot scene where your wife makes you talk on the phone with the man she's fucking. She has no respect for you! While you used to be the dominant one, she's flipped the tables and rubs it in your face!
At one point in the story your character gets nervous and goes soft inside the wife. The sex just ends with no-one satisfied. Later on, she reminds you of this! If you love femdom dirty talk, this game has it.
And when you're peeping on them from the closet – she knows! She looks right at you in your closet, and tells her lover "My husband cums too quickly, he doesn't know how to fuck me right, which is why I need you!"
Sick burn. In fact, while you're sitting in the closet, unable to do anything – she tells him to take off the condom! She's looking right in your eyes as she says it. She takes off his condom, and they have raw sex in front of you!
You agree to their affair, but just in case, they tie you to the wall, so you can't stop them. As they're both fucking right in front of you, your wife starts giving you a blowjob! Then she pulls out an onahole and starts stroking you off, begging you to cum for her! You cum all over the floor and she deals you the ultimate humiliation!
The sex positions are basic stuff. There's standing sex, missionary, cowgirl.
CONCLUDING WORDS
Please Bang my Wife is the perfect hentai game for lovers of cuckolding storylines. The game is about four hours long if you read all the dialogue, and a fantastic overall experience. The dialogue between characters is well-written and sexually charged. The sex scenes are dramatic, and let you experience the full brunt of those stimulating, traumatic feelings of being cast aside by your ex-girlfriends, or your ex-wife. The scenario is executed beautifully for fans of this genre of porn games.
I highly recommend this game to real-life cucks. Download Please Bang my Wife.
Graphics

Gameplay

Story

Music

SFX

Hentai