Written by Rastafoo69, edited by Otaku Apologist
Inn my Wife, a hentai visual novel developed by circle Monoeye. Released January 10, 2017. Download on DLsite.com for $6.00. For PC Windows. No voice acting. Censored genitals. Free demo available.
You run an inn with your wife, Elsa. Business isn't doing well, and you are going broke. If you cannot make money fast, you will have to sell the inn and lose everything. Then, your childhood male friend shows up. He offers to pay you a thousand gold to pay off your debts. In exchange, he wants to have sex with your beautiful wife!
If you're rock-hard for cuckolding porn games, check out our review of Young Wife Souffle.
STORY
In order to save the inn, you must prostitute your wife to your wealthy male friend.
Your wife, Elsa, has only ever had sex with you. She's a faithful conservative woman. But you're very bad in bed, you last a very short time, and always cum outside of her. Now that your wife is going to have sex with another man, he'll have an easy time one-upping you in bed.
You're waiting patiently in bed for your wife to return from fucking your friend. When she finally returns, your cock is rock hard and ready to go. She notices your hard-on. She's still wet in the pussy, and ready for more. You're about to get it on, but you cum almost instantly, letting your wife down yet again. What a wuss!
The next night, she's slightly more comfortable sleeping with another man. She even brings up the topic herself. You go to the doorway where they're having sex, and hear her moaning. When she returns, you have lots of pent up sexual energy to release! You ask her if he's bigger, and who's cock she prefers.
On the final day, you find out Elsa had sex with the other man while you were asleep. Compared to you, he's able to last a long time and keep her satisfied. Do you put a stop to this, or let her keep having sex with him?
GAMEPLAY
Inn my Wife was created with RPG Maker. You move your character with the arrow keys and press spacebar to interact with objects and people. Press CTRL to skip dialogue.
The game can be completed in 15 minutes.
Aside from clicking the screen to advance the story during sex scenes, you can walk around the house and press spacebar to clean trash for 10 gold per mess. There's no use for gold in this game, but it's still a nice feature if you want to role-play owning an Inn.
There aren't any side characters in this game. You can only interact with your wife and your friend who's paying to fuck her. After every night that he's sexed up your wife, you can ask the guy what happened, or courteously ask him to keep it to himself. If you choose the option, and want to hear her recite her experience, you'll be able to view the sex scene, including the dialogue between your wife and the man.
The game's timeline spans three days. After the third day, you unlock a feature to replay old sex scenes.
GRAPHICS
The art is a traditional Japanese anime style. The entire game is centered around your wife who is cuckolding you; with her blonde hair & blue eyes, she's quite the cutie! As long as you like her, you'll like the visuals.
The entire game takes place inside the Inn. There is no variety of in-game locations whatsoever. All textures are standard RPG Maker assets that anyone can download and use with little to no experience.
The seven sex scenes are nice, but nothing special. The sex positions featured include missionary, standing sex, and a wife on her knees. The game relies heavily on dialogue, so the focus is on Elsa's face. You can see her face change from hesitance to lust as she grows to love cuckolding her husband.
If the art looks familiar, that's because it's the same artist from Prostitute of Magmell.
SOUND EFFECTS AND VOICE ACTING (SFX)
Inn my Wife has no voice acting.
There is nothing unique about the sound effects. These generic clips are used in virtually every RPG Maker game. Some sounds are fitting, like wind chimes before bed. Doors creak when opened or closed. When gold is acquired, there's a predictable "clink" sound.
MUSIC
The soundtrack has 48 songs, most of which are never used throughout the game, and come standard with the RPG Maker toolset. Still, at least one of these songs is original, which indicates some level of effort.
Music tends to cut in night time scenes, evoking feelings of suspense in the player. Especially in the scene where you peep on your wife having sex, the silence really gets you in the mood.
In contrast, daytime sequences have bouncy music, as you and the wife serve customers and clean up the inn. It's a simple but effective dichotomy that amplifies the mood of a "behind closed doors" scenario. In the eyes of the public, you're all happily married, but when night falls, you're a sad cuck that sleeps in his bed alone.
HENTAI
Inn my Wife has seven sex scenes in total, most of which use a unique CG. Although the sex scenes are few, they're pretty enjoyable. The scenes feature such classic positions as the missionary, blowjob, and standing sex.
It's very exciting to watch your wife's descent into lust and depravity. She's hesitant to do it at first, but the cock corrupts. After enough sex with men outside the wedlock, she feels confident to start fucking behind your back! Making matters hotter, she nearly didn't tell you about it!
In one scene in particular, your character asks what happened between your wife and the man. As she tells you more and more, and gets to the part where he came all over her face, your character cums in his pants. Your wife definitely notices, and says "I need dick and since you're now useless, I'll go and see him instead".
Lastly, if you allow your wife to have sex with the man three days in a row, you'll have the opportunity to peep on her. She looks right at you through the crack in the door, and tells the man to hurry up and cum inside her! Normally, he always pulls out. But your wife saw you watching and decided to go all the way. No protection, no contraception, he finally cums in the wedded woman's inviting womb. And the game ends on a "happy" note.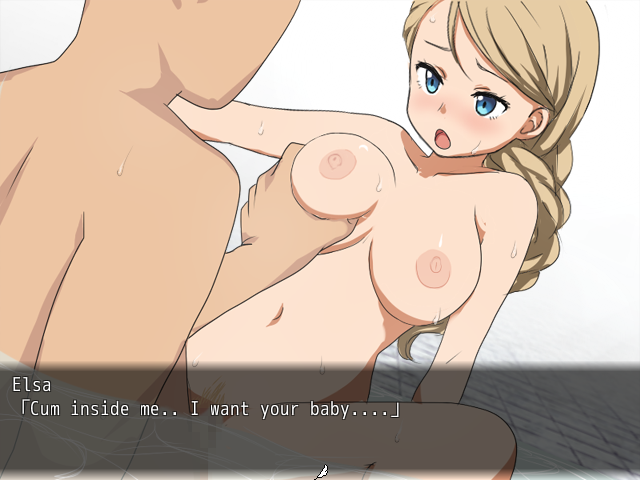 CONCLUDING WORDS
Inn my Wife is a short, small-budget indie hentai game from a Japanese circle. For hardcore fans of cuckolding scenarios, it's close to a perfect experience. The game is only fifteen minutes long, but every aspect of it is well done. Aside from the generic royalty-free music and the game world assets, everything looks and feels just right. The art is simplistic but gorgeous, the gameplay is without glitches, and the story makes you want to bust nuts.
I recommend this game for fans of cheating wives! Download Inn my Wife.
Graphics

Gameplay

Story

Music

SFX

Hentai