Lesbian Hentai Game Review: Sakura MMO
Hentai Reviews

>

Reviews

>

Lesbian Hentai Game Review: Sakura MMO
Written by Mistress Valentine, edited by Otaku Apologist
Sakura MMO is a hentai visual novel developed and published by Winged Cloud. Released October 15, 2018. Download at Nutaku's digital store for $9.99. For PC Windows. No voice acting. Genitals strategically hidden.
Kotone is a gamer girl. She's loves a popular online RPG, Asaph Online. Inside the game she's a powerful, perverted dark witch named Viola with a harsh reputation. After defeating a tough rival player in PvP, Kotone voices her desire to live as Viola forever.
Fetishes: Yuri, big boobs, scissoring, groping, violation, romance, tentacles
We've reviewed the following other titles from this developer: Sakura Space, Sakura Santa, Sakura Halloween, Sakura Dungeon, Sakura Gamer, Sakura Nova, Sakura MMO 2, Sakura Sadist, Sakura Cupid, and Sakura Fantasy.
STORY
Kotone is a normal high school student by day. By night she is the all-powerful dark witch, Viola. After completely crushing another player in PvP, Kotone says she wants to AFK from real life permanently and become Viola for life. Somebody heard her prayers, because next morning she wakes up inside her character's body in her dungeon bed chambers. Neve, Viola's devoted maid explains the situation and offers to massage her back to calm her down. She ends up squeezing her other body parts instead.
Once Viola has gotten used to her new life, she ventures outside with Neve. They come across Fion, a cute thief girl. Fion is looking for her lost sister, whom she hasn't seen for almost ten years.
Life has not been easy for Fion ever since she ran away. Her hardships are hardly over, as she makes the mistake of trusting the dark witch Viola, who sheds not a tear for her lived experience. Viola decides to 'collect' Fion because she looks cute. She becomes the witch's pet. And when the thief girl tries to revolt, she gets immediately punished: Viola forces her to have sex with a horny forest tree.


The girl trio sets out to locate Fion's sister. They soon encounter a brave knight named Eleri who takes an instant disliking to the group. A commotion breaks out in the city and another thief, later identified as Fion's sister, is captured. Viola, Neve and Fion band together to rescue her, but Viola is more interested in 'collecting' Eleri and adding her to her harem.
Sakura MMO has good writing. Most of the characters feel fleshed out, with unique personalities. Scenes often take their time to properly explain things and build the relationship of the characters. It's interesting that Viola likes everyone in the group, while the rest of the girls hate each other's guts. It's a cool social dynamic that sadly was not explored nearly enough.
GRAPHICS
Sakura MMO's artwork is drop-dead gorgeous. The art draws inspiration from sword and sorcery anime. The characters all sport sexy revealing outfits that show off their breasts. Their hairstyles, facial features, and eye colour differ and make each character feel like their own person. Fion and her sister Holly are the exception to this rule as the two look near identical.
Viola's character design is sexy and fits the character's personality to a T. Her maid Neve doesn't stand out as much. Bodily proportions stay consistent in-between images. Scenes depicting characters naked are few and far between but very sexy when you get to them. Only main characters have sprites, everyone else only exists in text.
The background art in Sakura MMO fits the style of the game. Most scenes take place outdoors which invites some beautiful scenery backdrops like wild forests and lively villages. The artwork has a vibrant, upbeat feel to it. Bright colours compliment the character designs and create a believable fantasy setting.
The sex scene CG artwork is hot. Numerous fetishes are explored during the story, including tentacle rape, lesbianism, scissoring, and even some light bondage.
GAMEPLAY
Sakura MMO is a visual novel. You click the screen to "turn the pages". Throughout the game you are presented with branching choices which influence future events of the story.
There is only one ending I managed to unlock, and although you are presented with numerous choices, most scenes play out the same way regardless of your pick, with minimal changes in dialogue. The system isn't irrelevant however, as only specific choices will unlock hentai scenes.
There are more than enough save slots to help you backtrack your choices. There's also a button to skip through old dialogue you already read. The game has basic visual novel functionality, and runs without glitches.
VOICE ACTING AND SOUND EFFECTS (SFX)
There is no voice acting. Sound effects are limited to one or two crowd noises and the occasional magical blast from Viola and Neve. There is also no environmental audio.
MUSIC
The game features a large assortment of tracks, featuring mostly piano and guitar. The songs encompass a variety of genres. The music reminded of slice of life anime. There is also a lot of folk music played on the flute. These musical pieces immerse the player in the medieval fantasy setting.
There is a good balance between the slow-paced, relaxing tracks and the upbeat, heroic song. Almost all of the music is happy and light-hearted. The music generally compliments the scenes, but doesn't pick up pace during the sex scenes, which detracts from the masturbatory experience.
There are several abrupt musical transitions which feel out of place. A notable example of this is when Viola and her 'pets' are in the city and the lively music just stops.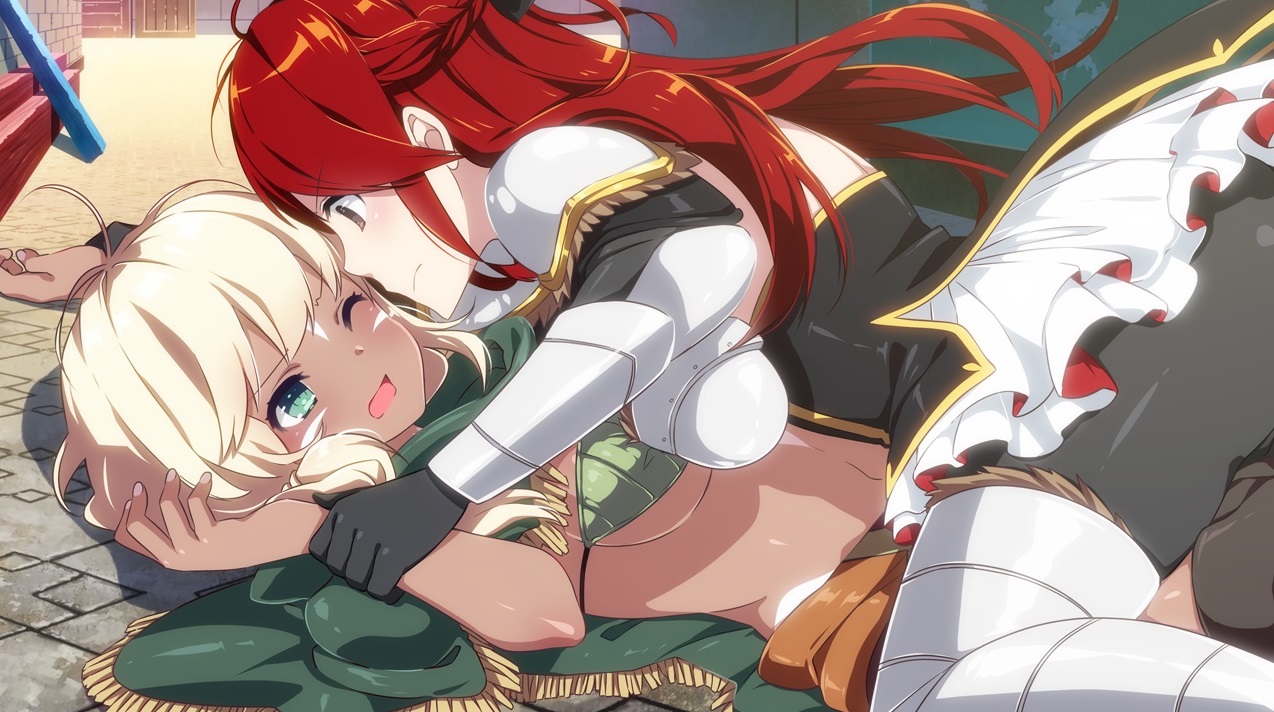 HENTAI
Almost every sex scene has plenty of foreplay building up to the climax. All the main girls get a scene with Viola. Neve offers to massage her mistress' back and ends getting carried away. The two also share another scene together where they rub each other's pussies like bitches in heat.
There's nothing quite like watching a cute girl getting raped by the tentacles of a horny, overgrown piece of wood. As punishment for her deception, Viola takes Fion to a really horny tree in the forest to be violated. The scene is well written. The artwork compliments Fion's feminine body.
Eleri's sex scene is easily the most fulfilling one. She is tied up, at the mercy of Viola. Viola quickly shows her pet who is in charge by plugging her virgin pussy with a big fat dildo. Eleri's protests are sexy and only get better once Viola starts thrusting the toy in and out of her inexperienced slit. The scene stands out because a confident, prideful character is forced to submit.
All the girls are embarrassed to cum, but Viola's guidance helps them accept orgasms as a natural part of womanhood. It's incredibly stimulating to see virgin girls cum for the first time.
The sex is intimate and differs in style between characters. Viola is only interested in 'cute girls' and wants to 'collect' as many as she can. Neve is madly devoted to her mistress, and wishes she would reciprocate her feelings. Fion gets essentially raped in the beginning of her relationship with Viola and and harbours a grudge against her. Eleri is kidnapped and tied up, but grows to enjoy being a submissive slut.
CONCLUDING WORDS
Sakura MMO is full of cute girls who get together for an adventure full of lesbian shenanigans. The writing is engaging enough and keeps things entertaining. The lack of female voice acting is a bummer. The soundtrack and artwork were the best-executed aspects of the game, and ensured the audiovisual entertainment made me bust enough nuts to call myself satisfied.
I recommend this title to gamers who love big anime boobs. Download Sakura MMO on Nutaku.
Graphics

Gameplay

Story

Music

SFX

Hentai