Lesbian Hentai Game Review: Sakura Cupid
Hentai Reviews

>

Reviews

>

Lesbian Hentai Game Review: Sakura Cupid
Written by Otaku Apologist
Sakura Cupid, a hentai visual novel developed and published by Winged Cloud. Released on March 16, 2018. Available for download on Nutaku.net for $9.99. For PC Windows. No voice acting. Uncensored genitals.
Finally a genuinely good game from Winged Cloud! Sakura Cupid is funny, with lifelike relatable characters who kick ass. It's not a pandering bullshit game for whiny preteens brainwashed into socialism at their government schools. It's more akin to an episode of My Little Pony: Friendship of Magic. The writing has great pacing, and both dramatic and comedic timing.
We've reviewed the following other titles from this developer: Sakura Space, Sakura Santa, Sakura Halloween, Sakura Dungeon, Sakura Gamer, Sakura Nova, Sakura MMO, and Sakura Sadist.
STORY
Lilim is a bad cupid. She breaks the rules, she got bottom grades in Cupid Academy. Despite being friends with the top-girl of her class, her good influence never rubbed on her. The archangel Gabriel banished her from corporate heaven as punishment for slacking. Her intention was to teach the cupid some humility, let life break her, and let her crawl back as an obedient servant of God.
Lilim is anything but a classic cupid. She doesn't use a bow and arrow to bring couples together. Instead, she employs customized guns. Her love bullets are a grade more powerful than mere arrows. When she shoots a girl she met at a coffee shop, their awkward relationship escalates into a full-blown exploitative one-sided romance. But shooting a human girl with a love bullet is a crime against God.
Archangel Gabriel learns of Lilim's transgression and sends a hitman after her; Lilim's best friend Seraphim is tasked with locating Lilim and bringing her back to heaven. Lilim has the chance to take personal responsibility and answer for her crimes. Instead, she draws her gun on her friend!
Taking a servant of God hostage is the final straw for Gabriel. A confrontation with the archangel is inevitable, and it will be violent. Who will emerge victorious, and whose lifestyle and philosophy will survive the epic battle of immortals? It's not exactly the end times, but exciting times nonetheless!
The writing is funny and the dialog witty. I found myself laughing out loud at most jokes. The dialog strikes a beautiful balance with edgy adult humor while keeping the tone kid-friendly. Everything is soft and cute, like the cruel physical reality of limited resources is far, far away. The contrast created by this air of softness makes the mafia jokes that much funnier!
Out of all the Sakura games I've reviewed over the years, this game has hands-down the best story. I loved the positive inspiring themes about living a hedonistic no-fucks-given lifestyle, and sticking it to the man, because fuck corporations.
CHARACTERS
Gabriel is a corrupt archangel who loves power. She's basically an egotistical corporate boss who gets off on controlling people. A huge sadist behind her prim and proper social mask, Gabriel's vagina gets wet from the mere thought of tying up Lilim and forcing humiliating orgasms to her. A couple of the game's bad endings feature hardcore bondage themes.
Mitsuki is a cute college girl working two jobs to pay her tuition fee. Oppressed by the patriarchy, the poor lass works very hard as a babysitter, and coffee shop manager, just to make her tuition to plow through her college. Destined to a soul-sucking job as a private medical practitioner, her future prospects are doomed by the glass ceiling and gender wage gap.
Seraphim is a cucked bitch who plays by the rules, because she's too neurotic to take her own risks. She was Lilim's class-mate and friend in Cupid Academy. Whereas Lilim graduated with the lowest grades, Seraphim was the top-dog that climbed the corporate hierarchy. She's too emotionally fragile to expand her social circle, and remains an unhappy beta bitch that's stuck in her comfort zone. She's still a virgin.
Lilim is like a college drop-out that became a street-savvy working-class hustler. She's an edgy babe that disregards all rules and obligations, because she loves individual freedom. She's very lazy, leading an out-of-control lifestyle. When she needs money, she pimps young girls to rich businessmen. Despite making fucktons of cash from her pimping business, she's often broke and forced to use creativity to hustle her way out of sticky situations!
GAMEPLAY
Sakura Cupid is a visual novel. You click the screen to advance the story. The game presents you with multiple choices at key points in the story, but these choices don't often make an impact. The story is very linear, and the choices rarely change the direction of events. The game has multiple sexy endings, with Lilim getting nasty with with the girls. The game has tons of save slots where you can save your progress and backtrack your choices.
GRAPHICS
The super cute artwork of Sakura Cupid is drawn by the super star artist Wanaca. The graphics are simple, but gorgeous. There's plenty of details to gorge with your eyes, like the frill in the girls' lingerie. But, the content is easy to digest. Compared to the artwork of veteran hentai artists like Seishoujo, and Aoi Nagisa, with Wanaca's artwork, you pretty much see everything there is to see with one glance. His style is great and polished, but I've been waiting for years to see this artist produce content with more than the bare minimum of details.
The girls' bodies are plump and feminine. They have perfect hourglass bodies with pert breasts and lumpy asses that scream to get sucked on. The shadowing is clean and simple. Lines are slightly thick, just like their fleshy thighs. Their nipples are exceptionally lewd, like perpetually erect with massive areolas. In my professional opinion, these babes are phat cows waiting to get milked. If you love anime, you'll have an easy time masturbating.

The sprites are gorgeous. The girls switch outfits, faces, and poses plenty. I loved everyone's cute facial expressions, especially their horny blushed faces. The characters just come alive in the art, and the artwork aligns with the writing style.
The number of CGs is more than enough for a medium-length visual novel. Even the images that aren't meant to be erotic look so nice because of the cute characters, you rest your eyes on the images. Every piece of artwork is well drawn, without visible mistakes or inconsistencies.
The background art is realistic and immersive. There's a lot of variety of backgrounds, as the characters travel from Lilim's apartment and bedroom to the nearby park, and amusement park! My favorite place was Lilim's apartment, which was pretty much a high-class penthouse next to the ocean. It's a beautiful place but breaks the association that Lilim is a lazy working-class hustler who can't even pay a coffee cup. The story explains where she gets her money from (pimping young girls to wealthy businessmen), but it's still an incredible contrast. Lilim must be really fucking bad with money!
There's no visible artistic shortcuts, you don't feel like you're watching photos that have been painted over.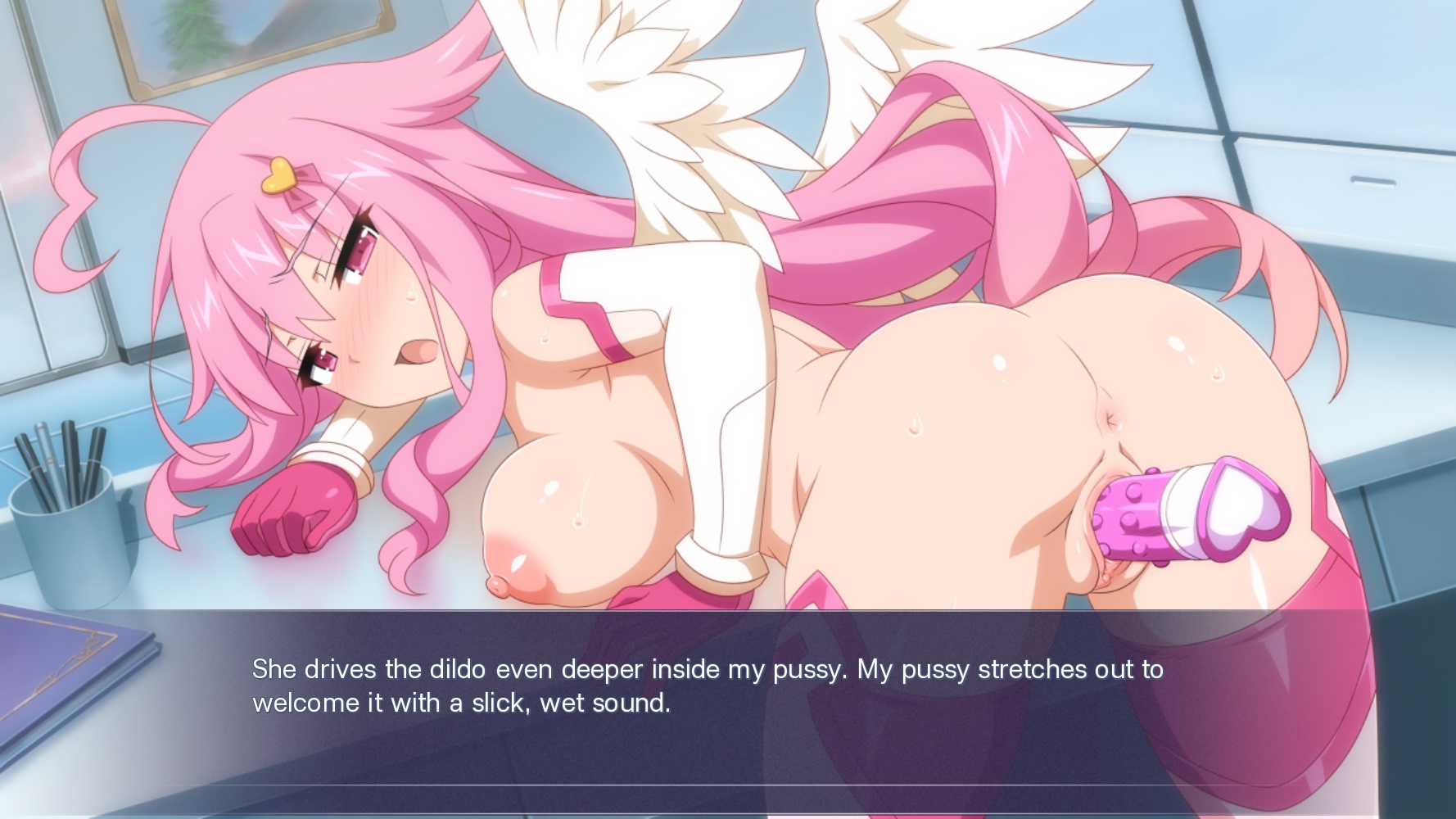 SOUND EFFECTS AND VOICE ACTING (SFX)
Sakura Cupid has no voice acting, or sound effects.
MUSIC
The opening theme is a composition made with a music program, with a melody that's difficult to pin down. There's piano, some kind of synthetic beat, and a synthetic bass? Violin? Even after several minutes of listening, I had no idea what I was listening to. The soundtrack gets better with later pieces, and I feel like the composer was having some serious fun.
There's a casual song that flows nicely in the background while the characters have chitchat. There's also a sad intimate song played with a piano during panty-shots, and a special song for heaven. Each location gets a theme piece. It's a great soundtrack with the full emotional spectrum covered. My favorite is the second song, it plays after starting the game. It's an action-packed song with a violin lead, with a dark synthetic melody dominating the background audio. I've listened to that song for probably hours now, because it's such a deep, hype song that doesn't get old. The first time you hear it, you're watching Lilim ready to shoot her sniper rifle.
HENTAI
The game's erotic content is mostly ecchi. The sprites and CGs are sexy, and give the game a consistent air of eroticism. The sexual tension between the girls is palpable already, the cute costumes maximize the hardness of your boner. Several scenes show the girls in sexy situations, either completely naked, or very close to each other. As anime spank material goes, it's juicy stuff. The game takes a while before any genitals are shown, but that build-up makes it feel that much more special when the pussy is finally in your face.
The writing is the same quality as the story sequences. The scenes last a good while, with often several slides showing the progression of the scene. That said, there's no squirting pussy pictures that I found, to my chagrin.
Lilim gets to bone every girl in the game. There's girl-on-girl bathing, spanking, vibrators, light bondage, pet play, panties, but the situations never escalate beyond your expectations. Lack of voice acting is also a huge detractor, because the girls are damn cute, you'd love to hear them chirp some Japanese. The focus is the story, and the hentai content just spices it up.
CONCLUDING WORDS
Sakura Cupid is a solid hentai visual novel, and just a tad higher quality than previous entries into the series. My gripe with these games has always been the uneventful storytelling, and the abrupt endings. Here, the endings were decently satisfying, with tons of witty humor elevating the experience. For once I didn't feel like Winged Cloud created a cynical cash grab game without substance. The characters are relatable, the soundtrack kicks ass, and the emotional journey is satisfying. This was a great showing from a competent studio finally showing its claws.
I highly recommend this to all anime fans out there! Download Sakura Cupid at Nutaku.net.
Graphics

Gameplay

Story

Music

SFX

Hentai