Written by Rastafoo69, edited by Otaku Apologist
Fallen ~ Makina and the City of Ruins, a hentai RPG developed by Another Story, published by Kagura Games. Released July 21, 2017. Available for download on MangaGamer ($14.99). or download on Erogames ($15.00). For PC Windows. No voice acting. Uncensored genitals.
Makina is a traveling warrior who has come to the city of ruins in search of treasure! Hordes of horny men are looking at her, lusting after the luscious plump body of the famous hero Makina!
STORY
The world famous adventurer Blazing Haired Makina has come to town in search of treasure! Known across the land for her strength, Makina is a cold-hearted bitch motivated by her greed only. Is she woman enough to conquer the ruins and get rich? Or will she become just another broke-ass adventurer prostituting her pussy to pay off her debts?
The town near the ruins is called Gardona. Its citizens have been acting strange lately, becoming more deviant each passing day! Could it have something to do with the ruins? It's up to Makina to explore the city and find out the truth!
Although this seems like a setup for a grand adventure, the story is much more open ended. From the beginning you aren't allowed to jump into the first dungeon until you complete some invisible goals. You're told to "look around town" – but the town is enormous with at least 30 NPC's standing around in different places! You're left without a clue what to do. You end up talking to every single person in town before you enter the dungeon.
Masturbate to lesbian animal girls in love! Read our review of Tower of Five Hearts.

At a certain point you'll come into contact with a money lender who has been prostituting women in town. If you're not careful, you may be forced to become one of his many girls.
In theory it's possible to complete the game as a virgin, but you won't be able to without a guide. Talk to the wrong person and you'll end up raped and sodomized! I was trying for the virgin route, but random rape cut it short!
The storytelling is admittedly flawed but still awesome. The official translation is professional quality. There's lots of pop-culture references to old movies and shows like Indiana Jones and the cartoon sailor Popeye. For example, one of the NPCs says "snakes… why did it have to be snakes?" and another guy asks you for spinach, which makes him healthy and strong. The references are hilarious and made me smile, even though I was raped two seconds ago.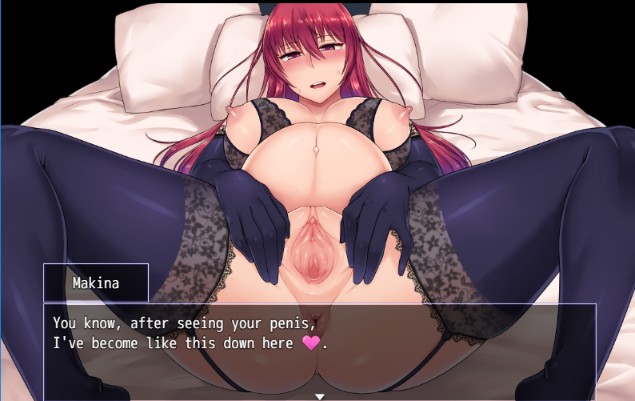 GAMEPLAY
Fallen Makina was created with RPG Maker. The control scheme is simple flare: You move your character with the arrow keys, press Spacebar to interact with objects and people, hold 'enter' to skip dialogue.
The combat is turn-based; you choose your action for each turn from a menu of options. You attack, the enemy attacks, either you or them eventually dies. Also, you can change the window size to the resolution you like. Convenient feature!
The game is your typical RPG adventure. You fight enemies and loot them for items and gold. In town, you can sell the items and use gold to increase your level. You can also scavenge the barrels around town for antidotes and gold. If you choose to grind cash via scavenging, be warned that the town is very large, so you'll have to keep pressing shift and space bar everywhere you go. It's very tedious, and you make more money killing monsters. The enemies are kind of pushovers. I cleared 18 floors of monsters in the dungeon and never once returned to town for healing.
The enemies are not random encounters, and you can avoid them. The enemies move on the same overhead map with your character. The ability to hold 'shift' to speed up battles makes leveling a breeze. The game also offers you the chance to level up with in-game money. Use this feature if you're only interested in the sex scenes.
GRAPHICS
Fallen Makina has 45 unique CGs with multiple variations. The artwork covers a wide range of facial expressions and emotions. Makina has a stone-faced grimace on her face as she talks to the useless people in the town.
The game areas include rocky dungeons and lush green forests. The landscapes are engaging and full of tiny juicy details. Even something as simple as a small house has a fireplace, tables, windows, bread in a basket. While traveling on the map the characters are depicted as little pixel sprites, like in classic 16-bit games. If you've played games made with RPG Maker, you know what you're in for.
The art is a unique variation of the traditional Japanese anime style. The usual rigid bodies you see in anime are gone, replaced with curvy bodies that feel more three-dimensional. The only anime thing about this game are the characters' faces. Most pieces of art depict the titular heroine in various sexual situations – if you like her looks, you'll definitely blow many loads playing this faptastic game.
I'm a big fan of Makina's hair. It's red, shiny, and braided cutely. I enjoyed her incredibly revealing outfits, like the string bikini. Despite wearing a wide range of sexy apparel, she retains consistent body proportions. Outfits she wears include a turtle-neck sweater that showcases her ample cleavage, a simple blouse, adventurer's gear, and a basic dress. Her body is amazing.
VOICE ACTING AND SOUND EFFECTS (SFX)
Fallen Makina has no voice acting.
The sound effects are standard RPG Maker assets. There's little audio clips for dealing damage and taking damage in combat. There's non-combat audio too, in the form of ambient noises you hear in the town. If you turn off the in-game music, you'll still hear the audio which retains the vibe of a fantasy woodland town. From the creaking of wood to the steps on concrete, these audio clips convey the vibe of the world you're exploring.
MUSIC
The soundtrack has 38 songs in total. However, each song lasts barely fifty seconds. While it's cool that each boss, dungeon area, and building has its own song, you can't stay in one place for long, or the music will annoy you. Instruments used in the songs include flutes and bagpipes which compliment the lower pitch of various horn instruments. There's also a harp that plays alongside the flute and wind chimes. The music sounds nice at first, but because of the short length of the songs, you quickly start hearing the same highlights. Especially the bagpipes get grating on the ears after a while.
HENTAI
Fallen Makina has 56 sex scenes and 45 unique CG images. Just about every picture has several variations, but you will run into repetition as well. You don't have to hunt down the sex scenes if you don't want to, as they're all unlocked for viewing in the recollection room when you beat the game once.
The sex positions range from doggystyle to leg-locked missionary. The text however is only exciting if you're following the story and care about the context around the hot and sloppy intercourse.
The entire game is centered around the cold-hearted Makina slowly becoming a warm-hearted slut who opens her legs for money out of sincere love for dick. She goes from being a total prude into one of the best-paid prostitutes in town! As the story moves forward, you get to see the famous Blazing Hair Makina waive her dignity selling her plump young body at the local brothel. She has sex with every race and skin color, including green-skinned goblins! There's a very hot scene with a cheeky goblin who fucks her senseless but pulls out before pumping his load inside of her! Makina begs him to put it back in, and he says he'll only do it when she admits goblin dick is better than human dick!
Each ending to the game includes Makina getting pregnant. The game doesn't have impregnation gameplay mechanics, so you can see her pussy get filled with cum hundreds of times, but she's only pregnant in specific endings. You can even get pregnant from your sexytime with the goblin!
There are sex scenes for a few other girls, but they are few and far between.
CONCLUDING WORDS
Fallen Makina and the City of Ruins is a fine-ass hentai RPG. Grind EXP and loot and eat dicks from goblins and negros, prostitute your vagina in local brothels. Epic fun! The visuals are drop-dead gorgeous, with Makina's plump body getting fucked in every hole from every imaginable position. You're in for a solid four hours of pornographic dungeon crawling. Best of all, the game file has an official English translation included.
I recommend this game to lovers of big fucking boobs. Download on MangaGamer, or Erogames. If you're raw from rubbing at the screenshots, check out another stellar title from Kagura Games, President Yukino.
Graphics

Gameplay

Story

Music

SFX

Hentai