Humiliation Hentai Game Review: Kamikaze Kommittee Ouka
Hentai Reviews

>

Reviews

>

Humiliation Hentai Game Review: Kamikaze Kommittee Ouka
Written by Rastafoo69, edited by Otaku Apologist
Kamikaze Kommittee Ouka, a humiliation-themed hentai RPG developed by circle Ankoku Marimokan. Released on January 7, 2017. Download on DLsite.com for $15.00. Available for PC Windows. No voice acting. Censored genitals. Free demo available. Download the English fan translation patch.
Kamikaze Ouka seems like your average schoolgirl but she's a karate master! Will her fighting skills be enough to defeat the hundreds of gang members who have been raping girls at her school? She will either beat them bloody, or get sexually humiliated in front of everyone!
Read our guide How to download DLSite games. Also visit our perverted online games store!
STORY
Kamikaze Ouka recently transferred to Seirei Academy to investigate the gangs of delinquents causing havoc in the school. Hopefully, her fists of fury can set everything back to normal!
Along the way, she learns that girls at the academy have been disappearing. The local police have sent a female detective to learn more about these gangs and hopefully find out where the girls were taken.
Ouka must track down the four gang bosses to solve this mystery! She's got the strength to take them all on!
The game has four endings, and the story is heavily shaped by player action. The system keeps track of how many men have raped your character. The number of rapes will define whether you get a good ending or bad ending. Also, you can lose battles to unlock special sex scenes!
You investigate the local gang operating at the school. You soon discover that the gang members are raping girls all over campus! Worse still, these criminals have gotten their hands on addictive drugs!
You keep fighting until you eventually discover this local gang of school boys is associated with the Yakuza! You need to defeat the Yakuza patriarch to save the school from rape culture! Are you strong and empowered enough to take out the oldest, most successful underground criminal organization of Japan?
The delinquents work with the Yakuza, kidnapping girl students and getting them hooked on drugs. The girls are forced to star in pornographic films made in an underground facility. You are fighting human trafficking!
If you can avoid rape and defeat the Yakuza boss, the gang will be destroyed and arrested. If you lose, you'll be turned into a human sextoy. You'll be forced to star in porn films, and get impregnated by random men!
GAMEPLAY
Kamikaze Kommittee was created with RPG Maker. You move with the arrow keys and press spacebar to interact with people and objects. Hold 'w' to skip dialogue. Press CTRL to hide the dialogue box. The game window can be resized to whatever resolution you like.
The game cycle has you clearing out dungeons full of enemies and returning to school to recover health. Later on, you aren't able to return to the school, and must find healing items within the dungeons.
It's a classic combat system where your character grows stronger from fighting enemies. You can avoid battles altogether by sneaking up behind enemies for an instant kill attack. Successful backstabs don't yield full experience points.
If you want a hentai-filled playthrough, stock up on "exhaustion drugs" to weaken your character. After your first rape, you can speak to the sports coach on campus to learn sex skills.
The game's difficulty level is balanced enough that both the virgin and pervert routes are fulfilling and fun to play. If you'd like to try both, remember that this game also has a New Game Plus Mode. Simply go to the nurse's office in the school and check the computer, you can carry over your stats from your previous playthrough.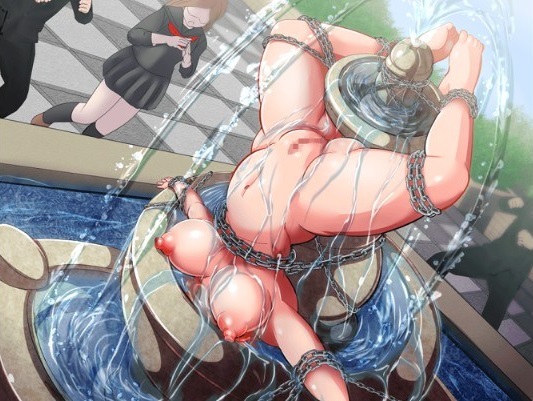 GRAPHICS
The art is a unique variation of the Japanese anime style.
As humiliation and degradation are this game's primary fetishes, the art walks a line between grotesque and hot. Nipples are pierced, but the breasts are normal. Even when three babes get raped side by side, their body proportions remain consistent.
Ouka is the tallest and most muscular of the girls. Her short yellow hair is sexy, and conveys her tomboyish persona. She's the kind of girl that's one corrective rape away from connecting with her femininity. Her lady bits are soft and saggy, good to grab for support while pumping hot loads into her holes.
Outside of the artwork, every other menu in the game is heavily stylized. Even the combat interface has a unique artistic design. While the rather archaic RPG Maker engine is the framework of the game, many times during play you honestly can't even tell.
There's a total of 20 animations for sex scenes. The 40 base CGs are used in nearly 500 variations. Add to that the changes to the character sprites when their clothes take damage, and the sexual attacks in combat!
SOUND EFFECTS AND VOICE ACTING (SFX)
Kamikaze Kommittee has no voice acting.
The sound effects are passed down from the circle's previous titles. They're fine recordings without mic pops or cracks, and will sound unique to the vast majority of players. The sound clips for punches are realistic. The sound for ejaculation is cartoonish. There's an effect for most things, and you're never left feeling that something is missing. The audio fits with the style of the game and doesn't hinder the experience.
MUSIC
There are 24 songs on the soundtrack. Some songs are standard RPG Maker stocks, some are carried over from previous games by the developer, and some are unique to this game alone.
The music relies heavily on repetitive guitar chords coming together to create a predictable beat. The drums keep the rhythm of the song, but they're difficult to hear over the heavy electric guitar.
The music is near entirely guitar. One guitar sets a basic rhythm, other guitars join in to create variety to the melodies. The tempo changes between songs, which mixes things up somewhat. Each song only lasts about a minute however. The moment you find yourself bobbing your head to the sick beat, it's over.
HENTAI
Kamikaze Kommittee has 40 sex scenes in total, each with a unique CG image and its variations.
Although there are a wide variety of sex positions and sexy outfits, the main focus is on humiliating the heroines in sexually compromising scenarios. If you lose in battle your character gets beaten up and brutalized. The game has animated scenes of men punching her in the gut and forcing her to deepthroat their cocks.
Featured sex positions include the missionary and pile-driver, among other classic positions. You'll watch Ouka piss herself from excitement, getting deflowered and impregnated by men she doesn't even know! She just moved to this school and was immediately made into a meat toilet! Teachers, students, molesters, homeless and many more scumbags come together to fuck her up.
One defeat scene shows Ouka stripped naked and brought on stage to speak into a microphone. The whole class gets to hear her confession of how she's been raped countless times and become a cum toilet. Then, your class fucks you on stage, which gets broadcasted publicly. The humiliating sex is tied into the game's reputation system. You are known as "Captain Kamikaze" before suffering all the rapes. Soon the students of the school will call you names until defaulting to mistreating you like the whore that you are.
The game is very immersive thanks to mechanics that let you choose what happens to your girl. When the men ask if you enjoy being fucked, you can choose to consent and become a cum basket of your own volition. Choose "yes", and you're a whore for life, and the school is replaced with a pachinko parlor six months later.
CONCLUDING WORDS
Kamikaze Kommittee is the ultimate humiliation and degradation hentai game on the market. The story is exciting, the graphics are absolutely gorgeous, and the sex scenes the most taboo I've seen in a long time. With solid gameplay and music, this title is one of the best Japanese porn games you can play.
I highly recommend Kamikaze Kommittee to sadistic anime fappers with a penchant for abusive sex. Download Kamikaze Kommittee. If you want another degradation game, check out our review for Girl Knight Milk.
Graphics

Gameplay

Story

Music

SFX

Hentai