Written by Rastafoo69, edited by Otaku Apologist
Adventures of Tara, a 3D porn visual novel developed and published by Reepyr. Released on October 23, 2018. Download on Nutaku.net for $10.00. For PC Windows. No voice acting. Uncensored genitals.
Tara is a prideful elven schoolgirl. She's acing every class at her school. She's also a total bully! After acting like a total bitch at one too many students, someone casts a slutification spell on her! Now Tara is horny all the time, and with her virtue gone, her social status goes out the window. Brutal!
STORY
Tara is studying her final year in the magic university. She has no friends, because she's a total bitch. But all that changes when a magic spell upgrades her from a bitchy bitch into a bitch slut!
You can play the game in two ways: Try to avoid whoring Tara's ass like every dick has the plague, or you can walk straight into the dicks! Your choices influence which of the ten endings you'll unlock.
At the beginning of the game you have the option to turn off fetishes you aren't interested in. For example, monster sex can be completely removed from the game by ticking a box.
Tara's fate is in your hands. She can become the sex slave of the academy's headmaster, or she can submit into a sexual plaything to her classmates. Simply spend more time with the characters you like.
The storytelling is very basic, bare-bones stuff. It's like "here is the blackmail plotline" and "here is the shemale plotline". There's no mystery or surprise to the story. The dicks generally just line up to sow their seed into Tara's elven womb. Tension is severely missing from the story. You know what's going to happen.
GAMEPLAY
Adventures of Tara is a visual novel RPG hybrid created with RPG Maker. Use the arrow keys to move. Press CTRL to skip dialogue. Press ALT to hide the text box. Press Shift to run.
Although the game is advertised as having pregnancy and multiple sexy outfits, you can't choose Tara's wardrobe or influence events to bring about her pregnancy. You have to discover these scenes to see them.
GRAPHICS
The visuals in this game are 3D CGs created in the Daz3D program. The game has over 800 3D images and 121 scenes, each with incredible variation. The cheapness of 3D art allows for a huge array of characters. It saves costs and time from the developer. Sure, you can spot plenty of stock assets that come with the default download of the Daz3D program, and items that other users have created for public use.
Forgetting that the art isn't original, the 3D visuals look great occasionally. The body proportions on human characters are realistic, although there are problems also. The hair on people's heads stands completely still, while penises are constantly at a 90 degree angle. Everyone stands still like stone blocks with expressionless faces.
The main character Tara's breasts look extremely fake. Her boobs are perfect uniform circles that stand proudly in defiance of gravity. Real breasts are not perfect circles, or stiff like a pair of rocks. The shoddy modelling becomes a bother when Tara is getting bent over by hundreds of men, her hair staying exactly the same through the fucking. Yes, the game has over 800 images, many of them sexual in nature, but it's quantity over quality.
The RPG Maker assets clash with the 3D aesthetics. It's obvious that the developer used RPG Maker because it's a free easy access program. Worst of all, the pixel sprites are mostly standard RPG Maker assets. It's like the guy who made this rushed the production without any consideration for quality.
VOICE ACTING AND SOUND EFFECTS (SFX)
Adventures of Tara has no voice acting.
If this game was shorter, its catalog of sound effects would be fine. But a single playthrough can extend to ten hours, depending on how fast you read, and these sound clips get old. There's a generic female moan, the ticking of a clock, the chime of an alarm. The most often repeated sound in the game is the clip for clothes being shuffled. You change to pajamas, change to uniform, remove clothes, put on clothes, you're given clothes, you slide down your pants a bit – the same clip plays every single time!
MUSIC
There are only five songs that play in this game. Two of these songs are atmospheric audio of crickets and wind. The other three songs are generic digitally synthesized compositions with heavy emphasis on chimes and flute.
Most of the game is completely silent. I seriously recommend you pop your own playlist while playing.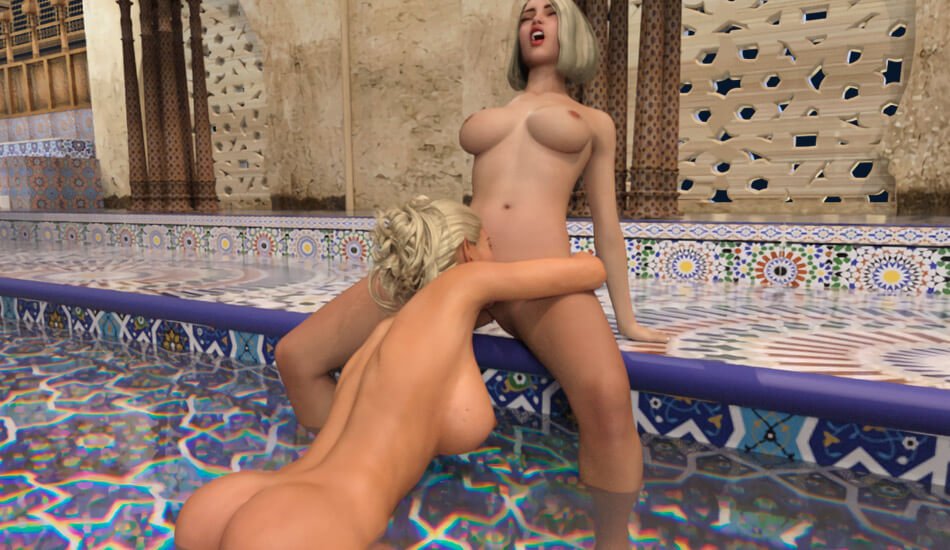 HENTAI
The fetishes covered in this game include lesbians, blackmail, monster sex, futas, schoolgirls, tentacles, corruption, and more. There's over 800 images in total. Every fetish gets multiple scenes.
Sex positions are all standard, with simple twists that freshen up the content. For example, you have a basic blowjob scene, but instead of sucking off a guy, you blow a shemale! You have doggystyle sex with an ogre! You also have vanilla scenes with guys and girls. There are 7 animated scenes and 121 scenes in total. Some scenes are simple masturbation. Later scenes feature hardcore fetishes.
While it may sound wonderful for a game to feature a wide array of fetishes, the execution is not exemplary. Every fetish has been done better in other games. For example, in Seed of Evil, the tentacle content included mid-battle scenes and quick traps in dungeons where you shake the tentacles off from groping your genitals. In Petite Goddess Emily, you had an ovulation cycle where you could get impregnated and give birth to multiple children. If you just want a ghetto banquet of fetishes, then dig right in.
CONCLUDING WORDS
Adventures of Tara is a lengthy 3D porn visual novel that explores a long list of kinks. The soundtrack and overall audio are low quality, but they get the job done. With over 800 images, there's tons of content to explore. You're guaranteed at least ten hours of playtime.
I recommend this game to fans of 3D porn everywhere. Download Adventures of Tara. All game downloads support our writing work and comics production. Find more porn games at our perverted webstore.
Graphics

Gameplay

Story

Music

SFX

Hentai