Gender Bender Hentai Game: The Proteus Effect
Hentai Reviews

>

Reviews

>

Gender Bender Hentai Game: The Proteus Effect
Written by Misstress Valentine, edited by Otaku Apologist
The Proteus Effect is an erotic 3D adventure game developed by Proxxie. Visit the developer's Patreon. Available for PC Windows. No voice acting. Uncensored genitals.
Alex is a beta tester for a new MMORPG computer game. It's supposed to put you in the body of the hero and let you live out all your medieval fantasies. But once Alex's mind gets uploaded to the game, he finds himself sporting huge breasts in the form of a milk maid. He's stuck and slowly turning into a cock-hungry whore.
Download for PC Windows. Download for Mac OS. Download for Linux.
STORY
Alex's job is beta testing videogames. He has no cash or bitches on his cock.
He starts testing a new MMORPG. This game is high-tech as shit, he uploads his mind into the game and gets stuck in the body of a big breasted milk maid NPC. He is unable to unplug due to a plot convenient glitch.
One day, Alex is surrounded by monsters. His co-worker, Ana, uploads her mind to the game to help. She transforms into a warrior bitch sporting a massive dick. You two escape, but another glitch causes the game to completely change. Now you have to beat the game in order to return to the real world. You must also suppress your urge to suck Ana's dick and turn into a cum bucket.
The Proteus Effect has excellent writing. Its scenes are long and descriptive. You are privy to all the thoughts swishing around in Alex's head. Sex scenes start later in the game. The developers embraced the hentai nature of the game, but also included a compelling story arc with likable characters.
The game has unnecessary padding in places, but the overall adventure is quite fun. Ana and Alex have distinct personalities and their budding relationship is believable.
CHARACTERS
The main cast is small, while side characters are many. Most side characters are nothing more than empty mouth pieces that spout exposition. Alex is a likable protagonist. He has a hard time adjusting to his new body. He gets embarrassed when Ana catches him fondling his new pussy. He comes off as somewhat dim-witted.
Ana has a great character arc. She just wanted to help Alex, but got stuck as a shemale. She takes her time to learn to appreciate her new penis. Her story is about letting her hair down, and pounding Alex full of babies.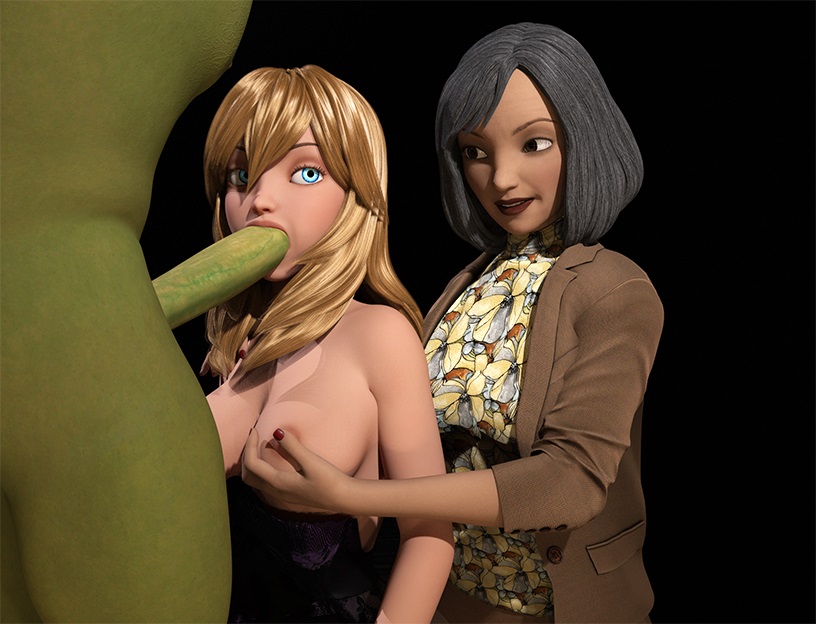 GAMEPLAY
The Proteus Effect was created with RPG Maker, but includes a lot of scripting that makes it a unique experience. The game has tons of side quests that pad the play time. You move with the arrow keys. Press space bar to interact with objects and people. The game has 20 save slots to save your progress.
Even though you're just a milk maid, you can fight. Most of your attacks do zero damage, but you can cast healing spells, and support magic. You don't have to grind for experience points, because there's no character progression system. Monster battles are optional, and you can sneak past them. Battles are turn-based. If your partner dies in battle, you only have a few turns to revive her.
Even though there's no character progression, you can improve your abilities by purchasing items from vendors. You can loot and equip weapons dropped by enemies. You can also work jobs to earn currency.
The game can be confusing. The player is not always given enough information about their next mission. For instance, I once skipped a quest, and got locked out of the main city. I couldn't progress further.
GRAPHICS
The art style feels western. The 3D characters look cute with big eyes and semi-realistic body proportions. Lights and shadows are used extremely well, making the hairs glossy and the bodies luscious. Even Ana's dick is shown in the yummiest light. The eyes are emotive, they enhance the gorgeously erotic facial expressions.
I enjoyed the character designs for Alex and Ana. Alex' blonde hair and big perky tits figure is very sexy. Ana looks good with a dick, but Alex looks even better when she's munching it, like the juiciest lollipop.
Characters wear the same clothes throughout the game. The clothing design is simple to the point it's bland. There's a schoolgirl fantasy going on, with the characters dressing up as cute jailbait teenagers.
While the CGs are 3D graphics, the gameplay sections use RPG Maker's 8-bit visuals. I didn't feel that the visual styles clashed, perhaps because the CGs were just so nicely made. The game world is large. You rummage caves, dungeons, forests, and cities. Don't be surprised if you have a hard time finding where to go.
SOUND EFFECTS AND VOICE ACTING (SFX)
There is no voice acting in The Proteus Effect.
The game has a large collection of stock sound effects. You hear swords clash, doors creak when they open, magical spells, the forests are full of animalistic audio clips. There's also several abstract effects for events like 'game over', resting, etc. The sex scenes have no audio, but the overall sound design is glitchless.
MUSIC
The game's soundtrack sports a large roster of tracks. The main theme 'Cybercity' is an upbeat, jazzy piano number that gets you in the mood to play a porn game.
Most songs are lively, they use xylophones and guitars to create an adventurous atmosphere. Battle music is fast-paced and intimidating. A combination of real guitars and pianos are used for intimate scenes. They ease you into the sexy times! Meanwhile, trumpets are used during big, extravagant events such as castle gatherings.
The game contains a few terrible songs which use synthetic instruments. They feel bland and repetitive. Dungeon music is very repetitive and boring. Thankfully the songs are varied.
Music during sex scenes is not as well designed for the occasion as you would hope. The music does not change tempo or build towards a sexual climax.
The quality of the soundtrack is inconsistent. Some tracks are really good, others are just trash.
HENTAI
Sex feels like a reward in The Proteus Effect. It makes the game feel more immersive, because Alex doesn't just open his new virgin pussy for Ana. The Proteus Effect explores his newfound craving for big cocks. Many scenes tease the player with the promise of Alex getting pumped full of man juice.
One of the hotter foreplay scenes show Alex's curious face as he notices a bulge in Ana's pants. The scene takes place during the night. Ana is having a wet dream, and Alex takes the opportunity to suck her off.
Alex's gender switch is painted in a realistic light. He doesn't just jump on a dick, learning slowly to enjoy his womanhood. Just because he sports boobs doesn't mean he wants men to molest him. But eventually, his inner bitch compels him to transform into a fuckdoll. The dialogue during foreplay scenes are descriptive and long enough. Combined with the great camera angles, the content makes for some quality fap fodder.
But the game deserves criticism. For the amount of padded gameplay, there aren't enough hentai scenes. It can take hours to reach the next sex scene. The scenes are long, but not well-paced for masturbatory purposes. The foreplay takes long, and you'll easily blow your load sooner than planned.
CONCLUDING WORDS
The Proteus Effect is a decent free Patreon release for fappers who want to explore gender bending scenarios. I played version 0.3, but version 0.6 is already available. The story is entertaining and the gameplay quite addicting. The sexy 3D sprites and the exploration of gender identities make this experience worthy of your time.
You can find the latest version on the developer's Patreon page.
Download for PC Windows. Download for Mac OS. Download for Linux.
Graphics

Gameplay

Story

Music

SFX

Hentai