Written by Otaku Apologist
Sweet Sweat in Summer: The Naughty Girl and Her Ripe Scent, a visual novel developed by Ammolite. Localized by MangaGamer on July 31, 2015. Released on Nutaku on December 13, 2018. Download on Nutaku for $15.00. Download on MangaGamer. For PC Windows. Full Japanese voice acting. Censored genitals.
You're alone with a young girl at the outskirts of civilization. If you wanted to do something criminal with her body, she has nobody to scream for help. She's dependent on your strength, she needs you for resources, companionship, and shelter. She completes you emotionally and fulfills your sexual needs on demand.
STORY
Your name is Kouhei, you are visiting your home town. The town is mysteriously vacant of people. You learn that the place is supposedly under danger of flooding, and people have been evacuated. This doesn't answer the question of why this jailbait bitch wanders around, like some ghost.
Karin is a cute flat-chested cocksucker with a slutty personality. She is an impulsive, immoral, out-of-control sociopath who disregards society's gender norms. She expertly seduces an older man for her short-sighted sexual adventure that ends in a creampie. She practically jumps on the guy's cock the moment she gets the chance. They both get so excited, the guy forgets to pull out. He blows the most massive load in Karin's ripe slit, painting her shaved pubes in fat lumps of white goo.
After taking Karin's virginity, the guy panics. He realizes he probably made Karin pregnant with that internal cumshot. Instead of acting like a sensible person with a sense of self-preservation, the girl handwaives away the potential life-destroying unwanted pregnancy. She liked the feeling of getting creampied! And really, what is life without fleeting moments of momentary pleasure that end in tragedy?
The story and characters are very basic. All the moral and social complexities are out from the get-go, because the town is deserted. The girl takes the initiative, which makes the guy seem less like a creepy abusive doughebag who takes advantage of a situation. The dialog and storytelling are very uneventful and linear, and all story segments are just padding between the stream of sex scenes.
GRAPHICS
The visuals are drawn in traditional Japanese anime style. There's only one character sprite. The bulk of your time you're staring at a CG of the girl pleasuring the guy's dick, or watching her sprite standing around. She never changes pose, but emotes plenty and occasionally even moves her arms. The visuals are well done and don't feel half-assed. If the game was any longer, the monotony would grate on you, but thankfully by the time the game's done, you've plowed her in so many positions, you're empty and satisfied from cleaning your pipes.
The design of Karin is sexy. She has cute tanlines on her young peach-colored flat-chested body. Her hair is a shiny shade of black or grey – the color changes slightly between scenes. She feels like a warm summer breeze, the perfect summer fling. She's always smiling. Bursting with feminine energy, this bitch is ripe for the cock.
The background art is impressive, and I loved the coloring. The town looks like your average Japanese neighborhood, but somehow it's the rooms that look the best. The room where the couple has their first sexytime is a cozy little apartment with warm lighting. Later backgrounds include a park, a washing room, etc. All of them look very beautiful, bursting with detail and vibrant colors
GAMEPLAY
Sweet Sweat in Summer is a visual novel. You click the screen to "turn the pages". Press "F" to speed up the dialog, click the screen again to return to normal speed. Press the right mouse-button to hide the dialog box. Hopping between full-screen mode and windowed mode is easy from the options menu.
You are prompted with branching choices at random intervals, which leads to different sex scenes. Save your progress into multiple save slots and play the content you missed.
SOUND EFFECTS AND VOICE ACTING (SFX)
Karin's voice actress has a slightly coarse voice that sounds youthful, in that, she can't nor does she try to control her voice. She just says what she feels and does what she does.
The blowjob sound is problematic. You hear the girl kissing the balls, her tender gasps as she licks the guy's rod up and down. It's hot for sure, but the clip is very damn short. It loops after like six seconds. The immersion is kind of broken when the bitch sounds like a broken record. It's not the worst problem, because the girl is fucking cute and takes pleasure in being a slutty blowjob whore.
The sound effect for vaginal sex fails to be realistic. It's like somebody fondling a waterballoon a little too eagerly. The pace is way too fast, a guy would have to be thrusting his dick in a vagina at insane speeds. Not even the most athletic person could keep pounding a pussy at that speed. You might forget that fact while you're fapping, because the voice actress moans constantly on top of the squishy noises.
Unlock their super powers with magical vaginal sex! Read our review of Hikari! Clover Rescue.

MUSIC
The opening theme is an energetic jam that gets you in the mood to molest young defenseless women. It's full of energy, has several instruments, and highlights that cheer you up. I listened to the main theme for like 30 minutes as a test while writing articles for my site, and didn't get bored. The song is just a little bit awesome!
The music that plays during the first sex scene is playful. It feels a little sinful because of the childish beat and the overly happy keyboard tunes. It's not exactly a fitting song for sex, but makes you feel like a dirty bastard. Regardless, I masturbated and unloaded my balls while listening.
There's several casual songs for story sequences. The most notable one features drums, and a very rhythmic keyboard. There's several beautiful highlights played by the violin. These segments add a high note to the otherwise quite jagged melody. The highlights practically cut the song into parts. The violin is like a cool summer breeze. It's refreshing enough that it makes all the buildup worth it. The song is smoothly looped and goes through so many minor alterations that you don't immediately even recognize it restarted.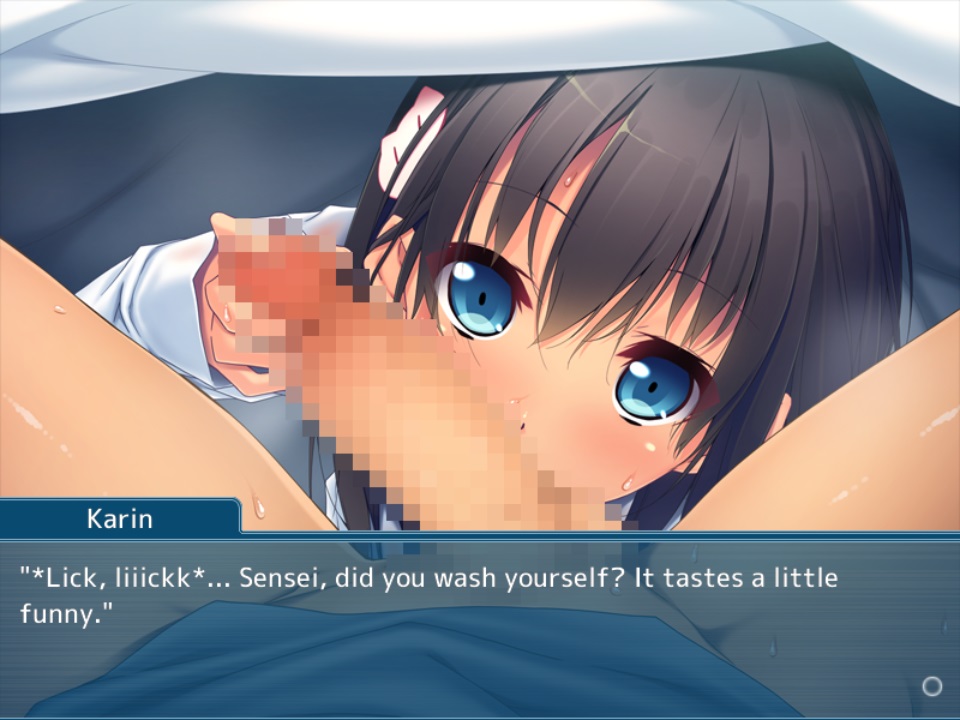 HENTAI
The sex scenes have multiple CGs with their variants. The girl moans with a baited breath while wet and sloppy sex audio plays in the background. Like when the guy licks the girl's pussy, you hear the licking and the girl gasping. This actress is a very naughty girl, just like her character. When she gets immersed in her role, you can just hear the lust in her pitch.
The masturbatory experience is standard visual novel fodder. You stare at an image of the girl doing nasty shit while a dialog box fills with text describing the action, and the things the characters say. Sex audio combines with the voice acting and music to create a sex-filled atmosphere that feels oh-so wrong.
The sex positions are many, and the girl assumes some hardcore porn star poses. It's amazing how much this girl can stretch herself without spraining any muscles. You have to be extremely fit to fuck like that.
The genitalia is pixelated. If you're turned off by pixel mush, this game will flatten your boner. The girl's slit is barely affected, since her pussy is damn small, you can barely see it. The guy's dick is a grotesque mush.
CONCLUDING WORDS
Sweet Sweat in Summer is a great porn game for fans of Japanese visual novels. The girl is a super cute fuckdoll craving for a good banging. Her voice actress gives an incredible performance moaning her lungs out in fits of fake orgasms. The game feels like a budget title with the short audio loops and a limited number of synthetic musical tracks, but the overall experience is solid and boner-inducing.
Highly recommend. Download on Nutaku for $15.00. Download on MangaGamer for $14.95.
Graphics

Gameplay

Story

Music

SFX

Hentai