Hentai Visual Novel Review: Alexa's Wild Night
Hentai Reviews

>

Reviews

>

Hentai Visual Novel Review: Alexa's Wild Night
Written by jin0uga, edited by Otaku Apologist
Alexa's Wild Night, a hentai visual novel developed and published by BurstRay Games. Released on December 8, 2017. Download on Nutaku for $5.00. For PC Windows. No voice acting. Uncensored genitals.
Alexa is the average girl who really likes dick. She lives in a first-world formerly conservative secular society that suppresses her sexuality. Her head full of memes and Marxism, she has no moral restraints stopping her from exploring homosexual relations. Alexa is ready to spread her legs and stick it to the Patriarchy. In this postmodern porn game, your decisions shape Alexa's destiny.
STORY
Alexa is naive and young. She loves her sheltered life of privilege. She has no sense of imminent danger as she starts scouring the dicks in her hood. She's just itching to gamble her health and future in exchange for sexual pleasures. Depending on your choices, Alexa can end up sleeping with her best friend, she can get into a threesome, and even prostitute herself for money!
My first playthrough began with a scene of Alexa playing a basketball match. She lost the match due to my choices. She went back to her apartment. I made her go out with Kathy, her blonde female friend, and played that route until reaching the ending.
The next time I started a new playthrough, the beginning of the game was completely different. It started with a short flashback. I learned more of Alexa's storied past, how she first met Kathy and Brendan. After several more choices, Alexa ended up eating out Kathy in a changing booth, destroying their friendship forever. Another satisfying ending.
I reloaded my old save, and made just one different choice. Instead of licking Kathy's slit, Alexa met her boss at a dinner. She let him finger her pussy before giving him a handjob. As reparations for a thousand years of male oppression, her boss gave her a raise.
I was pleasantly surprised by the varied amount of scenarios. Choosing different choices doesn't just change some written lines. The story branches off into completely new areas and scenes. The stories leading up to various endings made sense and had continuity with previous scenes. The experience was quite immersive.
One quirk of the game is that some endings have additional erotic content after the credits have rolled.
CHARACTERS
Alexa is easy-going, and her homosexual chemistry with Kathy is enticing. The more the played, the more I came to like her. Her reactions and thoughts were fun to read. Of all the characters, I enjoyed her the most.
Kathy is a hot blonde with glasses. She looks perfectly fuckable in her knee-high stockings and translucent long sleeve shirt. She's known Alexa since middle school. She's a total flirt, ready for a romp with both guys and gals.
Brendan is Alexa's gym buddy. He's reasonably attractive, sporting some delicious abs. The two have known each other since middle school. He and Kathy don't get along well. Compared to the two girls, he's not very interesting.
GRAPHICS
Alexa's Wild Night has a distinctly western art style. Even though the artwork is clearly digitally painted, the content looks almost three-dimensional. I grew to enjoy the art style over time. Unlike your typical anime art, the women and men in this game look realistic.
Character sprites and CGs are detailed, and have plenty of facial expressions. Each character dons different outfits throughout the game, from racy lingerie to school girl uniforms. The naked bodies of Alexa and Kathy are a sight to behold.
There's a wide variety of detailed backgrounds. Depending on the route you take, Alexa will visit bars, love motels, the gym and even a fancy restaurant. The game uses a muted colour palette. Shadows are heavy, emphasizing the women's soft curves.
SOUND EFFECTS AND VOICE ACTING (SFX)
This game has no voice acting.
Sounds effects are minimal. The only time I noticed them is while navigating the menu. Character actions like tapping phones, slurping drinks, and crowded areas completely lack audio. Even the sex scenes are silent, save for the music.
MUSIC
The game's music is electronic, utilizing plenty of sound effects and synthesized instruments. I quite liked the song that played after the opening scene. As Alexa walks to her apartment, the track that plays matches the mood well. It uses a combination of effects and a sweet bass line to create a moody, but exciting atmosphere.
I was surprised by the sudden change in tempo and intensity between different songs. One song had fast-paced drums and catchy synthesized sounds. This particular track didn't match the scene. Alexa was basically in her apartment getting ready, not fighting off horny dudes. The song itself was pleasant and had a great groove.
I personally prefer an acoustic soundtrack, but I really enjoyed the music in this game. The use of bass in various songs is also a nice touch, lending them some jazzy undertones.
GAMEPLAY
Alexa's Wild Night is a visual novel. Clicking the textbox "turns the page". You are occasionally presented with branching choices during dialogue that lead to different scenarios. The game has your typical visual novel functionality.
The game has a minimalistic user interface. It's easy to navigate. You have plenty of save slots to save you progress. The ability to save whenever comes in handy. Save before you make a choice, so you can backtrack afterwards.
HENTAI
Hentai scenes are well written. Accompanied by the erotic art, the sexy descriptions make the experience good for a fap. The first ending I got featured Alexa in a threesome with two men she met in the bar. While Kathy dozed off, she takes a dick in the mouth and in the pussy.
They double teamed her, doing her raw. She let the guys pound his mouth and vagina till they unloaded their cum inside of her. This particular scene was shorter than I would've liked. The length of each hentai scene varies greatly.
The next scene I got featured Kathy and Alexa engaged in hot lesbian sex. The two had wonderful chemistry throughout the story, which finally culminated in fingering, and strap-on fucking. This scene was drawn out. The part where the friends teased each other with flirt and fingering took too long to my liking. The build up towards the climax was immensely satisfying.
Some scenes are shorter than others. But most importantly, the sex is raunchy and delightful, leaving nothing to the imagination. This story will definitely succeed in getting your rocks off.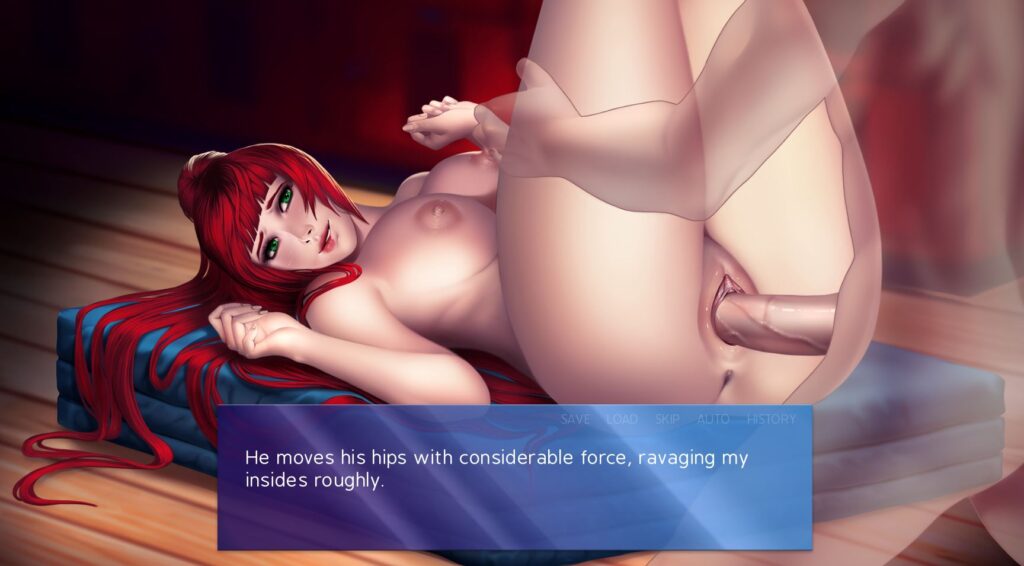 CONCLUSION
Alexa's Wild Night is a brilliant erotic gem. The soundtrack is decent, and the characters sexy. It's shorter than high-budget Japanese visual novels, but for its asking price, you're getting some solid hentai fap fuel. This game gets my full recommendation and I hope you try it out.
Download Alexa's Wild Night at Nutaku.net. For more quality visual novels we've reviewed, visit our perverted webstore.
Story

Graphics

SFX

Gameplay

Music

Hentai