Written by Rastafoo69, edited by Otaku Apologist
Cohabitation, a molestation-themed 3D porn game developed by Sid Valentine. Visit the developer's Patreon. Released on December 27, 2016. No voice acting. Uncensored genitals.
You are a dirty, perverted man who likes groping young girls. Your stepbrother was having financial troubles, so you moved in with him to help around the house. You're staying at the same place as your totally non-blood related niece, Megan. It's your golden opportunity to turn this pure, untouched girl into a cock-craven cumslut, and wreck the family unit beyond repair!
Download the game for PC Windows, Mac OS, Linux, or grab the stand-alone web application. Download the Dog Mod.
STORY
After losing his job, your stepbrother lets you to move in to help around the house. With his finances struggling, he's willing to risk letting a lecherous piece of shit like you near his daughter. Little does he realize his daughter is a horny closet slut!
Your character, Calvin, wants to molest the young and innocent Megan. She's completely inexperienced with men, and doesn't really like you. Spend time with her, earn her affection, and soon you'll be doing all sorts of perverted things with her!
The story is linear to the point of being annoying. You need to see every single scene and do every single dialogue option if you want to continue. Many players will get stuck. I highly recommend a walkthrough.
The writing in this game is believable and conveys the corruption well. Everything the characters do comes across as natural and realistic, like something you can imagine happening in real life.
Only about three characters have decent backstories and any depth to their personalities. In fact, none of these characters are likable. Megan acts like a bimbo, and her mother, Susan, is just a stereotypical bitch.
You have 120 in-game days to complete your molestation. At the end, your stepbrother gets a new job, and kicks you out. You can continue playing after that deadline, but you won't unlock any of the endings.
It's completely impossible to get a unique ending without a walkthrough. You need to do precise actions at specific times, just to corrupt Megan in time for the story ending. It's annoying, because the story is engaging.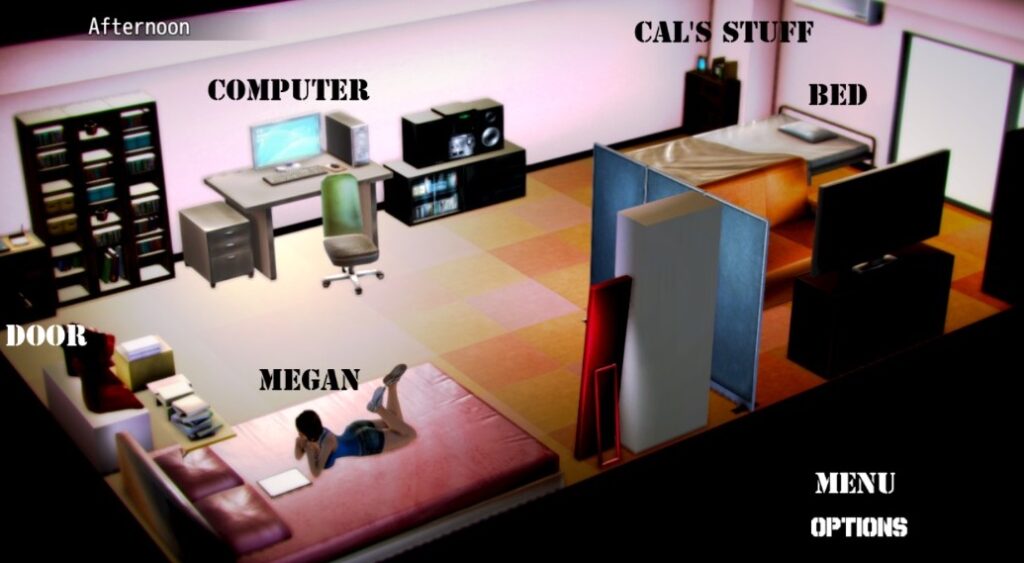 GAMEPLAY
Cohabitation is a visual novel created with the RPG Maker Engine. Click the screen to activate different events and choices. Depending on your location within the game, you'll be given unique things to do.
The game has a 7-day week schedule. You can interact with characters many times a day. For example, when Megan is sleeping in the early morning, you can grope her quietly. Later at night, you can navigate to the living room to watch TV with the family.
The gameplay is very methodical and offers little room for freedom. You need to access every single dialogue option in every part of the house, in order to unlock story progression.
Megan has four stats. Affection measures how much she likes you. Lust measures how horny she is. Lewdness keeps count how corrupt she is. The suspicion stat will get you a game-over if it gets too high.

Talking only to Megan, and having lots of crazy sex with her, will make her parents suspicious! Attending a family dinner and watching television together, will make them more relaxed.
If you're not interested in this kind of gameplay, I highly recommend you get the Dog Mod. The mod will keep suspicion at zero, so you can purely focus on finding sex scenes. Without the mod, the game is very grindy!
As you continue through the story you will unlock new features. Take Megan shopping at the mall to earn "favor points" from her. These points can be redeemed in the bedroom. You must watch all of these events to continue the story.
Eventually, Megan will be corrupt enough to publicly prostitute herself at your discretion. And if you're bored of Megan, her total corruption will unlock her mother, Susan, as your new whore to corrupt!
As of the time of writing, new features are still being added to this game.
GRAPHICS
The character models in this game were created in Honey Select. The background images are custom made.
There is little to be admired when it comes to graphics. You stare at a background image followed by different boxes of text on screen. Click on some text to activate an event. Then the background image will fade into a pre-rendered artwork.
Your totally unrelated niece and her mother are both stuck in the same outfits for the entire game. Everything looks interesting and unique during the first hour of gameplay, but eventually, you'll be bored out of your mind.
There is no music, or sound effects in any of the CGs. You're staring at immobile 3D character models in complete silence. The visuals are palatable, but could never stand on their own.
SOUND EFFECTS AND VOICE ACTING (SFX)
Cohabitation has no voice acting. Sound effects only play in the save menu. A small "bleep" plays when you press up, or down in the menu. Beyond that, the game is silent.
MUSIC
The game has a single track that plays only on the main menu. The song loops after a single minute of playtime. It's a very basic digitally synthesized song. It lets you know the game started correctly, but beyond that, it may as well not be there.

HENTAI
Cohabitation features 60+ scenes, each with three variations of the artwork, adding up to over 200 CGs in total.
The central theme of any "trainer" game is the slow corruption of the pure girl you're targeting. In this game, we watch as Megan goes from an inexperienced schoolgirl, to a slutty prostitute!
Sex positions are typical, and there are no animations. Although the erotic text is always exciting to read, the game requires you to replay scenes many times. It gets tedious fast. If you can look past the flaws, the game explores a long list of fetishes you won't find in most western games on the market.
The sexual content is so varied, you can even convince your totally unrelated niece to forego her birth control! If you choose to go without condoms, she'll soon be pregnant with your child! Total domination!
CONCLUDING WORDS
Cohabitation is one of the better 3D trainer games on the market today. With a simple setup, good visuals, and tons of erotic content, this game is the full package. I highly recommend the Dog Mod if you don't like the gameplay. If you enjoy the experience, you can donate to them and help new content come out faster.
Download for PC Windows, Mac OS, Linux, or Web Applications. If you enjoy perverted families, check out our review of Imolicious.
Graphics

Gameplay

Story

Music

SFX

Hentai