Written by Rastafoo69, edited by OtakuApologist
Naruto Dating Sim, a free anime hentai game developed by Fejjro. Released on May 14, 2005. Play for free on Newgrounds.com. For PC internet browsers. No voice acting. Uncensored genitals.
Sakura has decided to be passive and reserved no longer! Play as the pink-haired kunoichi as she tries desperately to seduce one of the other genin from her village! It's time to break some gender norms and get laid.
Sakura has four stats, which can be customized at the start of the game.
Charm will give better results when flirting. Intelligence will give better pay at the Academy. Strength will increase your HP and battle power. Chakra will increase your daily energy and also help you in battle.
There are three bachelors for Sakura to pursue. Sasuke likes intelligent girls. Naruto likes a girl with advanced chakra. Rock Lee likes a girl with lots of strength! Find a guy and initiate conversations with him to improve your relationship. Soon you'll be able to spar with him, which will reward you with a huge relationship boost.
Work jobs and go on missions to earn money. Spend the dough on gifts, and give them to your date for a relationship boost.
There is no way to save game, but that's fine, because it takes less than an hour to complete. The game ends when you finally have sex with any of the guys. A satisfying ending for your awkward courtship.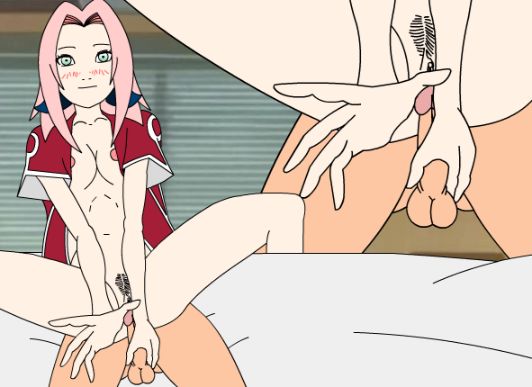 There is only one sex scene per bachelor, adding up to three sex scenes in total. Romance Rock Lee, Naruto, or Sasuke, and finally make your anime ships into reality!
The visuals were clearly made by an amateur artist. The content is fine enough and never gets too gross to look at. The focus is not on the sex itself, but the emotional journey. Unlocking a sex scene requires that you max out the heart meter on a date, then give the boy a $300 gift. You'll find these gifts by talking to Jiraiya, Might Gai, or Kakashi sensei.
Naruto fans may want to check this out. Play for free in your browser.