Written by Rastafoo69, edited by Otaku Apologist
Detective Masochist, a femdom visual novel developed by UmeSoft (Also known as U+me PLUS). Released in Japan on February 3, 2012. Localized by MangaGamer on August 26, 2016. Download on Nutaku for $15.00. Download on Erogames for $15.00. For Windows PC. Full Japanese voice acting. Uncensored genitals.
After discovering the "Red Ring of Sadism", your childhood friend becomes a huge fan of rough femdom sex! It is your duty as a white male detective to track down the source of this magic and ensure it's never used to empower another woman again!
There are currently three installments in the Detective Masochist series. This review covers the first game. Read our review of the sequel here.
Note: The Nutaku version is only available on PC Windows. The Erogames version also plays on Mac OS, and Linux.
STORY
You are Hikaru Shiga, an amateur detective. Your best friend is Satomi Komatsu, a tall and strong beauty always by your side.
You are investigating the mystery of a woman who randomly kicks men in the groin. You discover the "Red Ring of Sadism", a group that turns women into femdom enthusiasts. The magic is so strong, it even gives women huge penises to dominate their men!
Unfortunately, Satomi wears the ring and becomes enthralled by its spell. After she takes your anal virginity and makes fun of your inadequate dick, she returns to normal. Now, you must find the maker of the ring and bring him to justice before your friend cucks your nascent masculinity! The stakes are high!
Along the way, you'll encounter two other waifus whose pussies you sample. Sonoko is a busty shy girl who isn't used to being dominating. Meanwhile, Subaru is a petite loud mouth who's always been your arch-enemy.
There are multiple plot twists and wrinkles in the story that are sure to keep you interested. The writing is realistic but also sexually exciting to read. The story telling is much better than the very average hentai games I review.
Discover more femdom hentai games we've reviewed over the years!
GAMEPLAY
Detective Masochist is a visual novel with numerous features standard to the genre. Press M for pause menu. Press S to quicksave. Press L to quick-load. Press A to automatically progress dialogue. Press V for voice replay. Press CTRL to fast-forward dialogue.
Press F1 to open the game manual. This lists all the game controls as well as character bios. Be warned that the manual may contain minor spoilers to the story and game events. The game has 4-10 hours of content, depending on reading speed.
There are 8 choices throughout the game. Each contributes to the scenes and ending you will get. The save function allows players to leave notes and information on each save slot. You can easily backtrack and make different choices.
There are two endings to the game. One ending pairs you with your childhood friend Satomi, another features the other girls in the game dominating you. Save before big choices to see both endings!
GRAPHICS
The art is classic Japanese anime style. Body proportions and heights are directly referenced in game, reflected by the visuals.
Satomi is described as a tall girl. This is conveyed well when she stands next to other characters. In contrast, Subaru is described as short and similar in height to the player character. From your point of view, she's on your eye-level.
The art is well drawn with a variety of detailed scenes. With nearly 600 images in total, you rarely see the same CG twice.
On the rare occasions when CGs are repeated, it gets annoying. Like when a girl you're talking to cycles through her four or five expressions multiple times in the same conversation. It takes you out of the moment when you see those repeats.
Background images change depending on time of day. You have morning, noon, and night. Character outfits change as they slowly strip off clothing and wear different attire based on temperature. The artist's attention to detail is notable, especially with character appearance. A glimpse of a panty shot is followed up with a girl stripping down.
VOICE ACTING AND SOUND EFFECTS (SFX)
All characters in the game have voice actors behind them that fit their personalities.
The voice acting is realistic and very high quality. None of it is exaggerated with overt moaning, or screaming. Many spoken lines seem like real life dialogue. Even if I don't understand Japanese, the voice acting sets the tone for the experience and really enhances the story.
One girl has a sultry voice like she's older and more mature, while another has the high pitched squeal of a young, inexperienced babe.
Sound effects are frequently used, and skillfully placed to make the player more immersed in the world. For example, realistic running sounds of sneakers on concrete. It was so realistic in fact, I turned my head thinking that someone was running after me!
MUSIC
The soundtrack includes only a handful of tracks, and though they are unique, they are very repetitive and annoying.
I'm not sure if this was intentional by the developers, but any attempt to skip dialogue will reset the music track so it starts from the beginning. If you skip even a tiny bit of dialogue, the song replays itself from the start.
The soundtrack is all digitally synthesized and forgettable. At times, it is difficult to discern any melody, because the music is so monotonous. This developer has produced many games in the past, and it seems like their musical inspiration dried out for this one.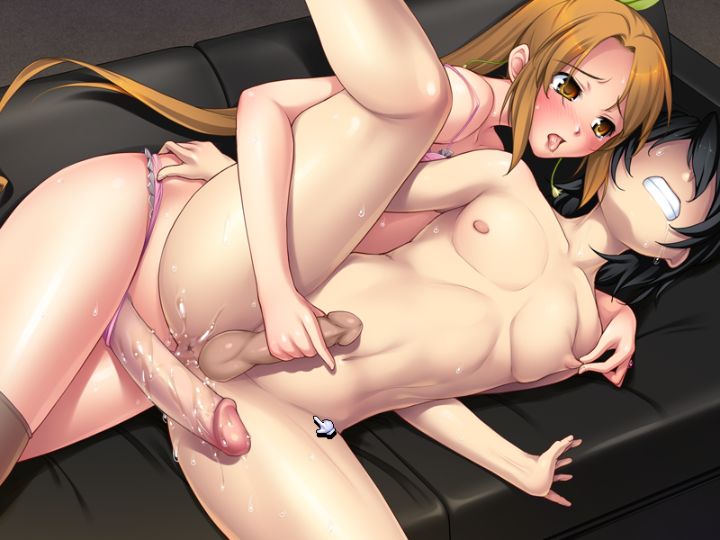 HENTAI
Detective Masochist features 20 porn scenes in total. Each scene has multiple CGs with numerous variations.
Heavy use of zooming and panning functions convey motion and focus scenes. For example, when a futa dick is about to penetrate your ass, camera zooms in on the dick. This creates a sense of fluid motion that mimics animation, no doubt saving the budget.
The scenes are almost always focused on outercourse, tease, and denial. When penetration happens, chances are it's the woman doing the fucking. If role-reversal turns you on, this game will be a great experience!
Erotic dialogue is frequently centered on the women calling your dick "small but cute" as they lovingly step all over you, literally. Handjobs are frequent. The girls deny you the pussy and keep you submissive!
The scene I like best is when your character finally loses his virginity to the busty but shy beauty of the game. She was a virgin as well, and watching the trickles of blood in the game's first vaginal sex scene, was glorious!
CONCLUDING WORDS
Detective Masochist is a fantastic femdom experience for men who love to be submissive in the bedroom. The writing is high caliber, and the women are absolutely gorgeous. I loved the voice acting and audio design, and was truly immersed in the fantasy.
I highly recommend this to fans of dominant women. Download on Nutaku – Download on Erogames.
Graphics

Gameplay

Story

Music

SFX

Hentai