Written by Sabrina Valentine, edited by Otaku Apologist
Breeding Village, a hentai kinetic novel developed by Norn/Miel and produced by Cherry Kiss Games. English localization released on May 15, 2019. Download on Nutaku.net for $9.99. For PC Windows. Full voice acting. Censored genitals.
One of the best-looking Japanese porn games I've had the pleasure of playing, Breeding Village is a joyous fantasy of a man who impregnates a dozen hot bitches. Sex creates little people, and you have consent to play God with your cock.
Visit our perverted store for more porn games.
STORY
You are Arata, a worn out salaryman who takes up a vaguely worded job in the countryside. He travels to a town named Breeding Village. The person he meets is a mature woman named Megumi who runs an inn. Her husband is conveniently dead, and she's horny as fuck. After he fucks her senseless, she explains that every man in the village is sterile. Arata's job is to impregnate all the women.
Don't expect more substance from the plot than a stream of sex scenes. This game is pure brainless fap material. You have no responsibilities for the offspring you conceive, it's all just fun and games.
CHARACTERS
There's a lot of horny women. They rock enormous DD tits that hang from their chest. Their cunts are looser than in the sluttiest brothels in Japan. By the second h-scene you'll realize these characters are empty husks that only exist to take dick.
None of the characters have any personality. If you removed the character sprites you couldn't tell whose pussy you were fucking. This is unfortunate but not distracting. The characters themselves are friendly enough. Everyone is horny and can't wait for you to shoot your load inside of them. The overall joviality of the premise prevents you from hating the lack of character building or plot line. Each woman has a distinctive look, and the perfect feminine body proportions.
GAMEPLAY
Breeding Village is a kinetic novel. Clicking the textbox advances the story. It has standard visual novel functionalities that include a 'skip' and 'auto' button for smooth play. You can replay any chapter, or H-scene from the Gallery menu. This game is kinetic with no choices to branch the story into different routes. There are more than enough save slots available.
GRAPHICS
Breeding Village shines on the visual front with its dozen unique looking female characters. The only thing these ladies have in common are their super tits. Their facial expressions, proportions, hair styles, and hair colour are all different.
The sprite designs for the characters are beautifully drawing with light edges, bright and vibrant colours that reflect the sunny countryside rays off their skin. Shadows are used expertly but sparsely.
The CG artwork features the women in all kinds of slutty positions. The positions often highlight their wrinkly little ass-pussies. They keep sticking out their butts, showing all the goods.
The backdrops for Breeding Village are beautiful. The indoor and outdoor settings are beautifully drawn with incredible lighting and detail. The settings themselves are clichéd locations you'll find in any anime with a countryside location. Backdrops often have less detail compared to character art. It gives them a painted-on-canvas look.
SOUND EFFECTS AND VOICE ACTING (SFX)
Breeding Village has full voice acting. All the sluts are fully voiced, although the voices blend together after a while. Each actress' voice is sensual and precociously slutty as they sample your man meat. The ladies do a good job of conveying the thirst their characters feel, having gone without their husband's dicks.
The sound effects are primarily sexual. You hear sucking, thrusting, slapping, and generic splurging noises. Non-sexual sound effects include running water, along with a couple generic nature sounds. A richer audio library would have made the game more immersive.
Download Hentai Girl Puzzle for only $1.00!
MUSIC
Breeding Village has excellent music. With a total of seven tracks, each one is distinct from the next. There is a great variety of musical instruments, such as drums, the triangle, xylophones, piano, saxophone and the guitar.
A particular song that stuck out for me was a slow melody that felt straight out of a 1920s piano bar. It has a jazzy, noir feel. There is another soothing jazzy jingle that shares the 1920s noir vibe, with an entirely different tone and style.
There are also at least two generic songs that feel like they were copy-pasted from a slice of life anime with a summer beach setting. These songs use synthetic instruments that don't sound nearly as good as the rest of the soundtrack.
Music loops when the song ends, which can become annoying during very long scenes. I didn't find the music disruptive to my play. I really enjoyed listening to all of the songs. The musical score compliments the jovial mood.
HENTAI
The hentai scenes are phenomenally sexy. There's a total of fifteen scenes, some of which feature threesomes. These scenes are wonderfully drawn. The camera angles show off the gorgeous bodies of these horny mommies in the sexiest positions. Most girls get taken from behind, whether you slip in through the back door, or front.
This game also makes use of a lot of fetishes in porn. You start off by fucking the very sexually frustrated Megumi. After she jumps your bones, she impales her cunt on your penis and milks your love juices. You also have sex in a restaurant. One of the women even offers to pay you to have sex with them. Prostitution is always fun.
My favorite scene involved three MILFs on a bus. They all bend over and stick out their pussies. You take turns ploughing them, filling each of their pussies with baby yogurt. While having your way with one girl, the others complain while waiting their turn. Hot!
Another scene near the end has you fucking most of your party members on camera after hey decide to advertise their town and your unique knocking-up skills. You take them from behind as they speak into the camera which is super sexy. By now you've made sure every woman in the town is enslaved to your cock.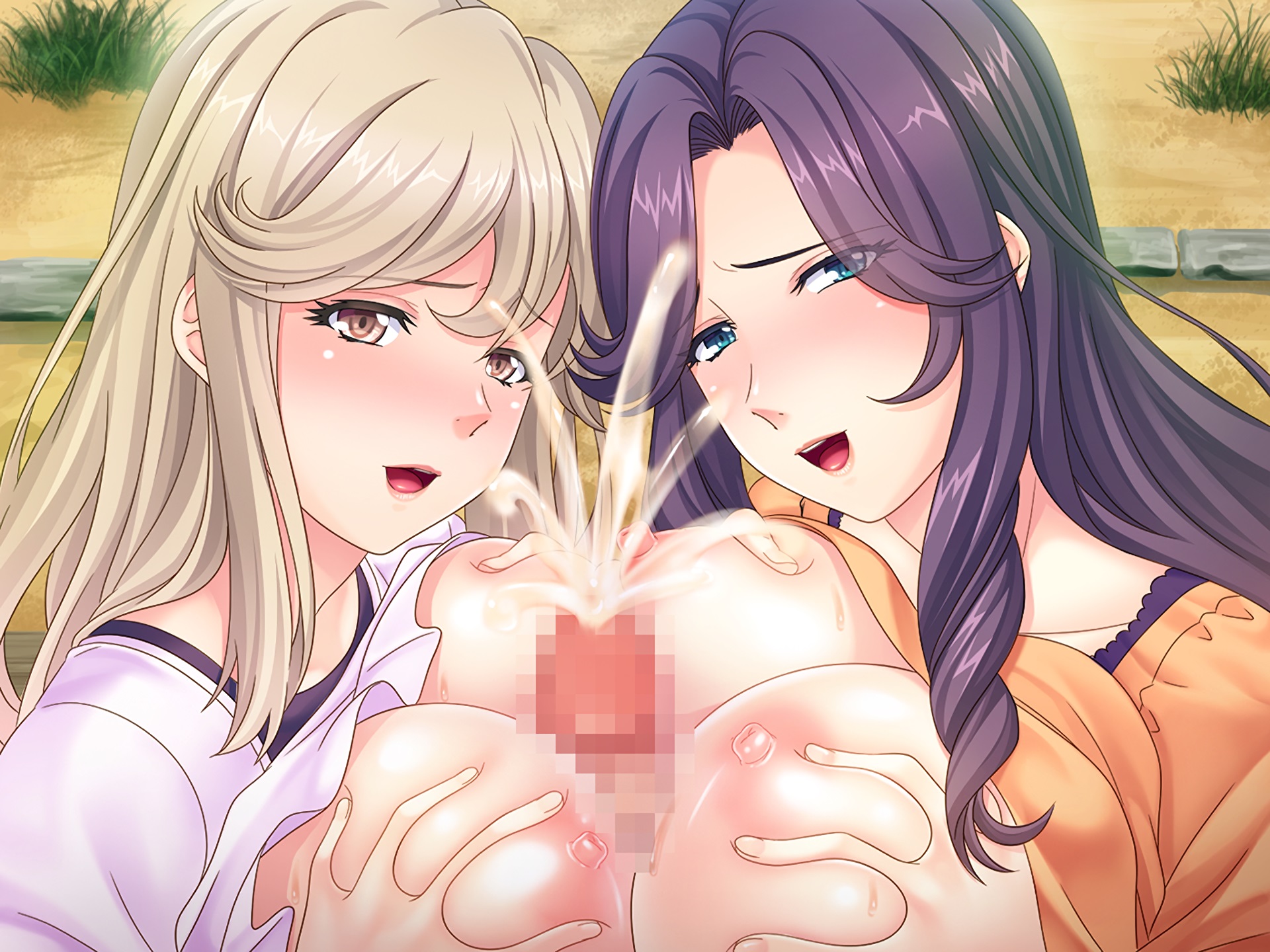 CONCLUDING WORDS
Breeding Village is a solid hentai visual novel. It's excellent fap material for multiple genital jerking sessions. The storyline is bare-bones, and character development is nonexistent. The art, and voice acting, and storytelling combine into an engaging masturbatory experience. If you like how the girls look, you'll like them even more when they scream from ecstasy.
I recommend this game to fans of Japanese h-games. Download Breeding Village.

Story

SFX

Graphics

Gameplay

Music

Hentai