Creampie Hentai Game: My Perverted Experience Record
Hentai Reviews

>

Reviews

>

Creampie Hentai Game: My Perverted Experience Record
Written by Rastafoo69, edited by Otaku Apologist
My Perverted Experience Record, a hentai game developed by circle OppaiClick. Released October 28, 2018. Download on DLSite for $13.00. For PC Windows. No voice acting. Censored genitals. Available in English and Japanese.
You've traveled back in time! Explore your childhood hometown and meet all the sexy young ladies that live there! Raise your erection level, and soon, you'll have the power to bang them all!
Read our guide on how to download DLSite games. Visit our perverted store for more porn games.
STORY
You've traveled back in time to your home town of Kono Village. After meeting your mom and childhood friend, you decide to begin a quest to creampie every girl in town!
There are 12 girls in town, and you can customize their names at the start of the game. Your school teacher, the supermarket lady, the famous porn star, your friend's older sister – you can fulfill your fantasies by naming them after girls you know! The story is complete nonsense. One moment you accidentally flash a girl, the next moment you're groping a super model!
Even though you've gone back in time, you still have knowledge of past events! When the local pervert comes by and begins harassing Saori, you remember that in your timeline, he forced himself onto her! Thank God you've traveled back in time to stop it!
There are no plot twists. Grope women, increase your erection level, and unlock new sex scenes.
GAMEPLAY
My Perverted Experience Record was created with RPG Maker. Click a mouse to move, or use the arrow keys. Press CTRL to skip dialogue.
Gameplay consists of talking to NPCs and finding items. Explore the town and speak to its residents to get hints on what to do next. As you have more perverted experiences, your erection level will rise. A high erection level will unlock new scenes.
Pay attention to dialogue! Many times, you get the important clues on what to do mid-conversation.
Once all lewd events have been found, the map is empty and the game is done. There is no replay value.
GRAPHICS
The art is a simplistic variation on the Japanese anime style. There are 35 base CGs to match 24 sexual events. All the 12 sexy women have their own distinct art.
There's way too many female characters. Every lady only gets a single character still, and it always shows them grinning like idiots. Even when they're angry and want to hit you, they wear a blank stare.
The town is small and relatively generic. No unique sprites or textures were used throughout this game, everything comes from the RPG Maker library. The only unique visuals are the CG images. Counting variations, there are a total of 69 images total. The game was made with an older version of RPG Maker, which lets players customize their game resolution how they see fit.
Character designs are simple and to the point. The green-haired girl has an abrasive personality while your brown-haired mother is down to earth and approachable. Sadly, many of these ladies have no distinct personality.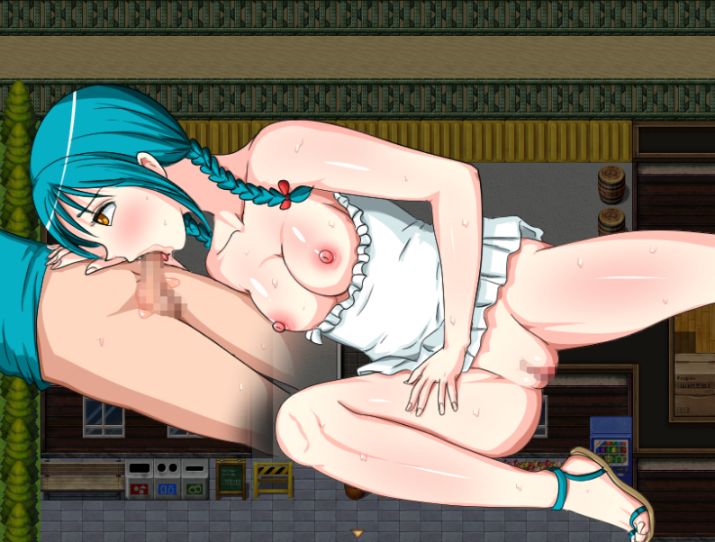 VOICE ACTING AND SOUND EFFECTS (SFX)
My Perverted Experience Record has no voice acting.
The sound effects are all generic stock assets that rarely fit the situation. When an unexpected sound effect is used, it is almost always used badly. For example, the sound of ejaculation is reminiscient of a vacuum seal bag being opened.
MUSIC
There are 16 audio tracks in total, all of them stock RPG Maker assets. They're all digitally synthesized tones and beeps that barely fill the silence. It's tedious, forgettable, and very low effort. The town literally has a song entitled "Town – Nice Place".
HENTAI
My Perverted Experience Record has 35 base CGs spread across 24 sexy events. This means that numerous events have multiple CGs, which makes the scenes longer and more visually appealing.
The main draw of this game is the customization of your characters and blowing your load into your childhood friend. My friend was named Laura, so I renamed my in-game friend as that, and was able to fulfill my fantasy.
If you love wish fulfillment and role play, this game is sure to please! Otherwise, there are no strong fetishes to be found. No impregnation, humiliation, or anything else that may set this game apart. The main appeal is role play.
The setup for sexual events is often lame. You save a girl from being sexually harassed, and now she wants a creampie. To be clear, you saved her from minor groping, and she is rewarding you with vaginal sex. I don't understand how that makes sense.
CONCLUDING WORDS
My Perverted Experience Record is a short and sweet hentai game about plowing your childhood friends. The story is nonexistent, the gameplay is minimal, and the soundtrack is full of stock assets. But if you can look past all these flaws, you'll find a sexy little vanilla hentai game that will drain your balls several times over.
I recommend this game to fans of the childhood friend fetish. Download My Perverted Experience Record. If you're looking for a similar vanilla title, check out our review of The Last Man on Earth.
Graphics

Gameplay

Story

Music

SFX

Hentai