Hentai Visual Novel Review: Hikari! Love Potion
Hentai Reviews

>

Reviews

>

Hentai Visual Novel Review: Hikari! Love Potion
Written by Rastafoo69, edited by Otaku Apologist
Hikari Love Potion, a hentai visual novel developed by Toffer Team and published by DenpaSoft. Released on August 30, 2019. Download on Nutaku.net for $5.00. For PC Windows, Mac OS, and Linux. Partial voice acting. Uncensored genitals.
You're a total nobody named Yuuta until one day, you're kidnapped by a gorgeous elf princess! She says you are the chosen one, and the only person who can defeat the corrupted Goddess Beatrice! Have sex to free women from their brainwashing!
Don't have a Nutaku account yet? Sign up with your email!
STORY
You are the average wanker. You spent your young adulthood reveling in your excesses, but it never made you happy. All of that is finally going to change when a cute elf princess named Sophia kidnaps you for a new adventure!
The plot is to travel around the world and free sexy heroines from being brainwashed. You have to use manipulation and shenanigans to do it, but once the brainwashing has ended, they will regain their free will and help you fight evil!
The game is melancholic. The author seems to speak from the heart when he talks about being a degenerate during his young adulthood and seeking something more. Metropolitan life doesn't please him, he wants purpose, and a reason to be alive. Living paycheck to paycheck isn't fun. At the end of the game you get the choice between living a fantasy life with your harem, or returning to the real world.
The writing is engaging, but relies on cringe-worthy tropes. The catgirl is shy and subservient, while the succubus is cocky and aggresive. You need to drug women with a "love potion" to free them from brainwashing, which is pretty morally ambiguous. With five sexy babes in total, I began wishing for love that didn't rely on a potion.
The plot is a roller coaster of emotions. Sometimes you're surrounded by super cute blushing girls that literally call you "The Messiah", but other times you're faced with danger and the unavoidable mortality that all people face. It's like the author genuinely wants you to realize that seeking out cult worship in a fictional world is not very healthy. Excellent writing!
CHARACTERS
Sophia is a brown-haired cutie pie! She has the biggest eyes and the biggest heart! As a former princess and current alchemist, she is responsible for finding you and helping you begin your quest. Cheerful but clumsy, she's a balanced waifu.
Agnes is the elite knight of the group! Scarlet eyes and jet black hair, she tries to keep her feminine side hidden so she can appear strong in front of her troops. Her heart is guarded, but with a gentle touch, you can unlock her endless devotion!
Iris is the catgirl and slave-maid who serves the villain. A pink-haired beauty, she lives only to serve, and obediently obeys your every command. She's soft-hearted, and full of love!
Rinu is the succubus guardian of the villain. She's both charming and incredibly powerful. No man has ever survived an encounter with her! She's an openly lewd girl!
Beatrice is the corrupted goddess and villain of the game. Originally meant to protect her people, she's fallen victim to her greed. She's very haughty and prideful, demanding that she gets to be on top during sex. How could you ever defeat her?
GAMEPLAY
Hikari! Love Potion is a visual novel. You click the screen to advance the story. The game presents you with many choices, all of which have the potential to earn love points or change the direction of the story. It's a very linear play and simple to understand. You can save your progress at any point into multiple save slots.
As a Renpy title, scrolling can advance or rewind dialogue. The middle mouse button will hide the text box. There are practically no consequences for favoring one girl over another, because they will all love you unconditionally.
GRAPHICS
The art is modern anime style. Each girl has long and luscious hair, with a gorgeous outfit to match. The shading and lighting are good, but not great. Like when you have sex at night in the forest, the scene is very bright! There's practically no shading at all. It's still very erotic to see, but why is shading only done on some scenes and not others?
Certain design choices are weird. Fingers are hastily drawn as ovals without nails, while the cock has numerous veins and wrinkles, almost like they put too much time into it. It's so jarring, it looks more like a dildo than a real dick.
Sometimes the attention to detail is unnecessary. The dialogue says "The girl smiles and blushes as we speak", and the sprite art changes to reflect it. That's great consistency, but was that dialogue really neccesary? The art itself already made the blushing clear. The developer should have faith that his art is good enough to convey what's going on, because it is!
The sprites are beautiful but methodical. Every girl absolutely MUST have neckwear, cleavage, and some variation of arm-wear. This approach to design is flawed because other aspects of the character are put aside, like how three of the girls have identical hair length. Is there only one stylist in this entire kingdom? Another aspect of the methodical character design are the bodies. Every girl has a unique colored nipple, but all of their breasts are the exact same size! And why does the succubus have her wings so low on her ass? It looks retarded.
The game has eight unique sex scenes. Each is spaced out well, so you're always close to another scene. That's the best aspect of this game actually! There's always more unique artworks to see, so it never gets repetitive.
There are tons of unique background CGs. Each has a variation for day or night, and some even have an afternoon variation. This creates a real sense of progression of time. I loved this care put into the world at large.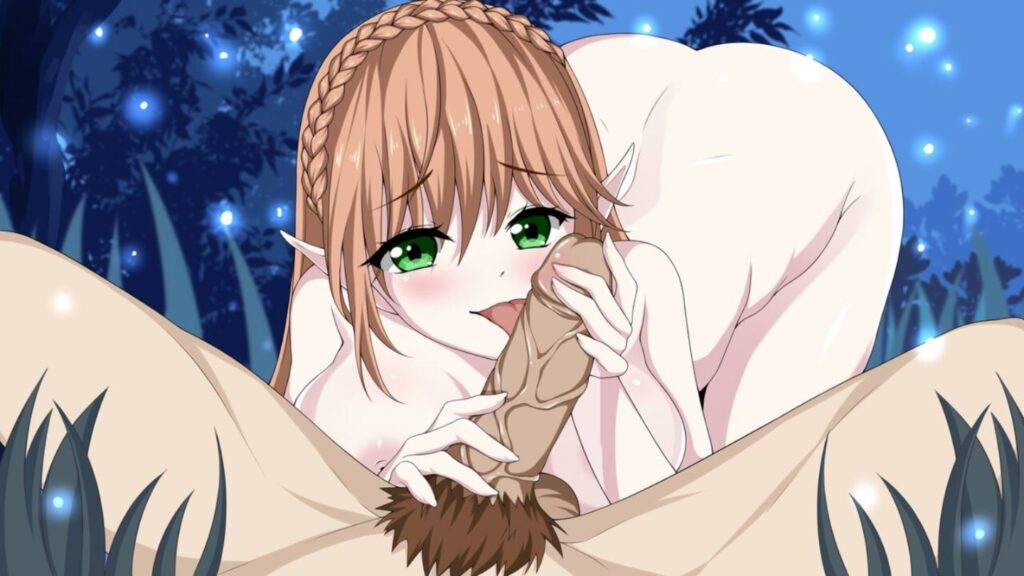 VOICE ACTING AND SOUND EFFECTS (SFX)
Hikari! Love Potion has partial voice acting. The five girls have some phrases they utter at the start of dialogue. The audio clips include one-liners like "Hey!" and "What?".
Each girl has a unique voice that fits her personality, the problem is that some girls get to speak more often than others. Because Sophia is the alchemist who gives you the love potions, she gets the most lines by far.
Sound effects are rare and used in strangely. Like when dialogue says that Agnes "places her hand by her sword", you hear a loud and metallic sound, like a sword was being quickly drawn from its sheath. The sound did not match the scene, and was only meant to startle you. I honestly prefer the giggling girls over the unfitting sound effects.
MUSIC
There are only a handful of musical tracks in this game, five at the most. A single track is played during all sex scenes, and it gets repetitive over time. You hear piano and bass guitar with digitally synthesized string instruments in the background filling the silence. It sounds awfully generic, and I think it may be a licensed track, even if it sounds somewhat original.
The title theme stressed me out. It's played by a single classical violin that climbs in pitch throughout the track. The pitch gets so high, it makes your heart-rate rise. The pitch makes you feel very uneasy.
All tracks loop after a single minute, which is annoying because the sex scenes take much longer to complete. Outside of sex scenes, the music occasionally cuts to silence to focus on sound effects like blowing wind. This balance of sound design is very well done, and I only wish it carried over to the sex scenes.
HENTAI
The hentai content is fully uncensored and vanilla. You convince a girl to drink the love potion and soon, she'll be begging for your cock. Vaginal sex is the main focus of this game, with only one blowjob and one titfuck. Players can choose whether to pull out or not. Whether it's the elf princess or the busty goddess, you love to creampie them every time!
There are eight scenes in total, spread across five luscious hotties begging for cock! During sex you can choose to grope her tits or hold her waist, and have lots of control over the scene! You can change your positioning which is damn hot! My favorite scene was a titfuck from two girls at once. My character went to bed and when I woke up, two girls were drooling over my cock and begging me to cum! Will I cum in someone's mouth? Or maybe share the wealth and cum on their faces? My body, my rules!
CONCLUDING WORDS
Hikari! Love Potion is a fun hentai visual novel from Toffer Team. The artwork is pretty and the many choices keep things interesting. With five hot female characters, this game is perfect for busting a nut! And the interesting themes behind the story also make it very enticing for the thinker among the fappers. The partial voice acting is super cute.
I recommend this game to fappers all across the world! Download Hikari! Love Potion. If you love this developer and want a juicy sci-fi sex experience, check out our review of Hikari Clover Rescue!
Graphics

Gameplay

Story

Music

SFX

Hentai