Written by Rastafoo69, edited by Otaku Apologist
Bitter Exclusion, a netorare hentai visual novel developed by Ammolite. Released October 11, 2018. Download on MangaGamer for $15.00. For Windows PC. Partial Japanese voice acting. Censored genitals.
Your childhood friend is a cutie! You plan to confess your love for her, and can't wait to be with her! But did you know that she's the biggest slut in school? The girl you love from the bottoms of your heart is taking every dick in your class!
Discover more depraved cuckolding hentai media we have reviewed!
STORY
The title of the game spoils the plot. You are going to feel bitter as you're excluded from the sex parties happening at school. All your friends are fucking your crush, but you're excluded from the fun!
The dialogue is well written, but very harsh. Your childhood friend will smile and wink at you in a cute way, and then she'll fuck your best friend Genta. There was even a Julius Caesar reference when the protagonist says "Et Tu, Genta?". It was very depressing.
There are five endings in total, decided by your in-game choices. The two "Good Endings" have the player completely oblivious to the fact that he's been excluded. The three "Bad Endings" have the player walk in on a sex scene and pass out from shock.
The focus of this game is on sadistic NTR. Your childhood friend has no respect for you, and insults you constantly when you're not around. She lies to you and gives you false hope of a relationship, all to crush your heart for her own sadistic pleasure.
Don't expect a lot of realism. The constant group sex, psychopathic dialogue, and absurd endings will break immersion. The main ending shows a high school reunion where the girls are still fucking their classmates without telling you. It wasn't very believable.
The story pattern is simple. All day long your classmates talk shit about you, then when you go home, they host massive orgies in the classroom. If being excluded and cucked turns you on, this game is sure to please.
GAMEPLAY
As a visual novel game, dialogue and choices are the main focus of the experience. Press CTRL to skip dialogue. Use the scroll wheel to view the text log. Click to next page.
There are eight choices in a single playthrough, but that's only if you remain a clueless cuckold throughout! Once you discover the sex parties, the game immediately ends. Depending on your choices, a playthrough can last from one to four hours.
Choices don't always have an immediate payoff, which can get annoying. For example if you return to school after hours, you have to read a ton of dialogue before the final dramatic moment of walking in on an orgy. It kills the excitement when you have to wait so long.
GRAPHICS
The art is classic Japanese anime style. There are only two fully illustrated characters, and they're the two sexy ladies.
Aoi Nonohara is your childhood friend. Big glasses, blue hair, she seems like a harmless helpless cutie. The other girl is Izumi Kaho, the busty pink haired babe who is best friends with Aoi. They both seem like normal school-girls, which makes it even more erotic to watch them get fucked and creampied by groups of men!
The game takes place almost entirely inside of the school. You travel hallways, classrooms, a nearby locker area, it's all the same. This makes the game feel realistic and believable, but it does get repetitive after a while.
Shading and environmental design are well done. Everyone wears the same school uniforms. It's always clear where the light comes from in a scene, which creates a realistic sense of positioning and movement.
VOICE ACTING AND SOUND EFFECTS (SFX)
Bitter Exclusion has partial voice acting, exclusively for the two female characters. In particular, almost all of their lines are voiced, but every other character is completely silent. This becomes very noticeable when the protagonist thinks to himself or speaks, leaving you in dead silence while you wait for the girl to speak again.
The female voice actresses did fantastic work! The characters are bipolar, always juggling personalities between innocent school girl and cock hungry whore. The acting conveys this perfectly, with characters mumbling under their breath, or taking a different tone of voice.
Sound effects are minimal and almost exclusively played in sex scenes. They fit well.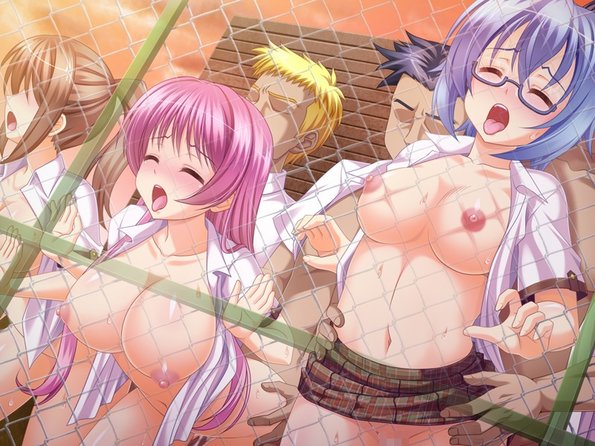 MUSIC
The soundtrack includes a handful of songs. There's unique songs and stock assets. Ammolite has produced multiple games in the past, so at least one of these songs is from a previous title.
The music was methodically crafted with a digital synthesizer, leading to exact and precise note placement that sounds a bit too clean for me. For example, when a single note is played on a violin, it's clearly not played by a human hand. Mix this with record scratches and digital beeps and tones, and it's not a very artistic soundtrack.
Much like sound effects, the music plays a secondary role to the fantastic voice acting. Generally they compliment each other, but this means that scenes without voice acting are not enjoyable to the ears.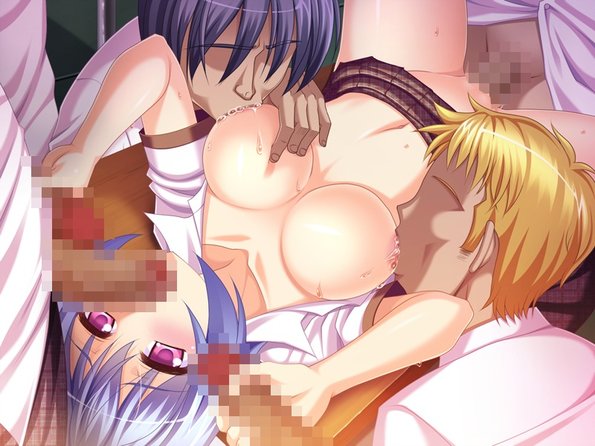 HENTAI
Bitter Exclusion has 24 sex scenes, many of which cannot be found in a single playthrough. Bad endings where the player walks in on an orgy have unique artworks which can only be found if you find that ending.
The main focus of the dialogue is netorare dirty talk, while the focus of the visuals is group sex. All your classmates are having sex parties without inviting you! The beloved childhood friend you've always admired, is taking a hot load from your best friend's cock! You've never even held her hand, but these other men have creampied her hundreds of times!
The game never mentions birth control, and anal sex happens super easily. If you're looking for foreplay or consequences, this game is not for you. But if you love cuckolding and netorare porn, you will enjoy yourself.
Although this game has "lesbian" and "femdom" tags, both of those fetishes are barely featured. This game is all about NTR.
CONCLUDING WORDS
Bitter Exclusion is a unique NTR game where you're a clueless cuckold all throughout. The visuals are gorgeous and the voice acting is fantastic! Your best friend is fucking your waifu, and you can witness it yourself if you're curious!
Download Bitter Exclusion. Also check out Nympho Waifu to scratch your NTR itch.
Graphics

Gameplay

Story

Music

SFX

Hentai