Written by Rastafoo69, edited by Otaku Apologist
Sakura Apprentice, a hentai visual novel developed and published by Winged Cloud. Released August 26, 2019. Download on Nutaku.net for $5.00. For PC Windows, Mac OS, and Linux. No voice acting. Uncensored genitals.
You're training with the mighty swordswoman Freyja! Her special training techniques involve having sex to boost your stamina. Let's hope that your beloved knight captain Alma doesn't find out!
STORY
Your name is Riven, and you are a farm boy who has recently become a knight. Training under Lady Alma, you follow a strict work schedule in the hopes of rising through the ranks as a knight.
One day, the kingdom's most famous knight, Freyja, sees you training. She thinks you're cute and decides to offer you "training" as an excuse to get you alone and fuck your brains out! You start fucking Freyja, and soon your strict captain Alma appears and tries to stop it! You fuck her too, and the game ends with two very satisfied ladies.
The story is simplistic, the characters aren't strong. Your strict captain agrees to sex with you after only a small conversation. She pretended to be a conservative waifu, but she opened her legs at the first opportunity!
There are times when it feels like the author is lecturing you. He talks about how people in society are too repressed and that being slutty with meaningless sex is the best. At first it was tolerable, but it goes on way too long.
GAMEPLAY
Sakura Apprentice is a kinetic novel without any gameplay choices. Press CTRL to skip dialogue. Press the middle mouse button to hide the text box. The game is less than two hours long.
There is only one ending to the game, when it seemed like there could have been more. Dialogue seems to indicate you'll have to choose between Freyja or Alma, but the character decides for you. This was a disappointment.
GRAPHICS
The art is Japanese anime style. There are ten scenes in total, each with a base CG and numerous variations.
The CGs are complely uncensored, with lots of classic anime tropes. For example, Freyja has heart-pupils when you cum inside her, and Alma acts like a flustered tsundere when you ask about her love.
The visuals are very polished. Each character has multiple artworks. You see them surprised, relaxed, cross their arms, etc. Characters shift from left to right to indicate when they're changing poses or pulling away from you.
The character design for Freyja is unique and a bit silly. Her armor has a fluffy collar like a fur coat, which makes it hard to believe she's the greatest knight in the land. And her light blue lipstick seemed strange. Still, these details set her apart as a unique character.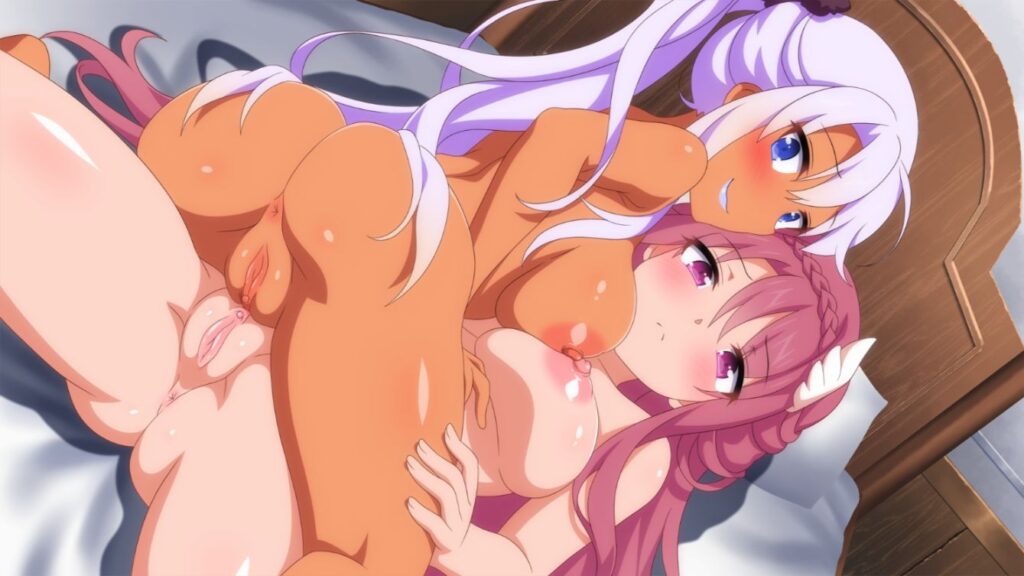 VOICE ACTING AND SOUND EFFECTS (SFX)
Sakura Apprentice has no voice acting.
The sound effects are minimal but very enjoyable. There are soft tones and beeps, totally digital, that sound delicate and vaguely majestic. It fits the medieval style setting of the game, but its pretty much the only sound effect. There are also sounds for when the tentacle monster appears. The sound design in this game is basic but solid.
MUSIC
The soundtrack includes a handful of songs unique to this title. All tracks are enjoyable and very well made.
At the main menu for example, a guitar strums soft notes until a tambourine joins in. Soon the melody evolves, with the guitar moving from a primary instrument to a secondary. The guitar provides the tempo and rhythm while a digital piano joins in to create the overall melody.
In an emotional moment, piano and flute join together to form a delicate melody. During sex scenes, the saxophone takes center stage as the primary instrument leading the song. Overall, there is a great variety of instruments. All the tracks fit the scenes they play in.
HENTAI
Sakura Apprentice features 10 sex scenes in total. Each scene has a single base image with multiple variations.
The erotic content is largely vanilla and focused on Freyja. She thinks you're cute and wants to have sex with you. At first you're focused on your training, but pretty soon, you consent to having lots of sex with her. The pink-haired beauty Alma barely gets any scenes, and it's a disappointment that the lesbian love triangle never unfolds.
The dialogue during sex scenes goes on for a long while and isn't very interesting. Its all about "I knew you would enjoy this, you just needed to let loose". With no animations, the dialogue is meant to carry the scene, and it barely does.
Most scenes don't feature vaginal sex. Whether it's Alma using a dildo or Freyja giving a blowjob, creampies are restricted to only a few scenes. There are no choices in this game, so put the dialogue on "automatic" and just fap.
CONCLUDING WORDS
Sakura Apprentice is a fun vanilla hentai game with no choices, but fantastic artworks. The music is well made and the short but sweet story of Riven is fun to follow. The girls are hot and the fucking is sweet.
I recommend this game to fans of sexy hentai babes everywhere. Download Sakura Apprentice.
Graphics

Gameplay

Story

Music

SFX

Hentai