Written by Rastafoo69, edited by Otaku Apologist
To Catch a Predator (Chikan Otori Sousa), a hentai game developed by circle Lambadaral. Released September 16, 2012. Download on DLsite for $12.00. For PC Windows. Full voice acting. Censored genitals. English fan translation patch.
When her boyfriend is accused of being a molester, Kanzaki Keiko has no choice but to investigate the crowded subway trains herself! Little does she realize that there is more than one molester waiting to take advantage of her!
Before trying this game, please read our guide how to download DLsite games.
STORY
Kanzaki Keiko gets on a train, waits to be molested, and tries to figure out the true identity of the criminal who accused her boyfriend of molestation! Three times, the player is given the choice of which train they enter. Each train offers a unique sex scene. The English translation is fine, and easy to read. There were very few grammar mistakes that I could spot. The overall quality of the writing is average.
The game ends abruptly after the final sex scene. In my playthrough, Keiko learns that her boyfriend was working with the molester! Did your boyfriend set you up? It's up to player interpretation.
GAMEPLAY
Chikan Otori Sousa is a visual novel. Click to advance dialogue. Scroll to see the text log. Save the game using the task bar.
There are three points in the game where the player decides which train they will enter. Each train has unique dialogue and a unique sex scene, so feel free to load your save file and try them all!
GRAPHICS
The art style is the Japanese anime style. Occasionally you see a twilight color scheme creating the sense of time passing. There are about 8 base CGs, each with at least three variation images. The game takes place primarily on a train, though there are also scenes in an office space. Naturally, earth tones like gray and brown are heavily used throughout the game. Many artistic choices enhance a sense of realism.
It's never entirely clear where the light source is during a scene. A train is lit from above, but for some reason, multiple scenes have the light seeping in through a window. It's nonsensical, which demonstrates something interesting about this artist. They excel at drawing people, but need improvement on environment and realism.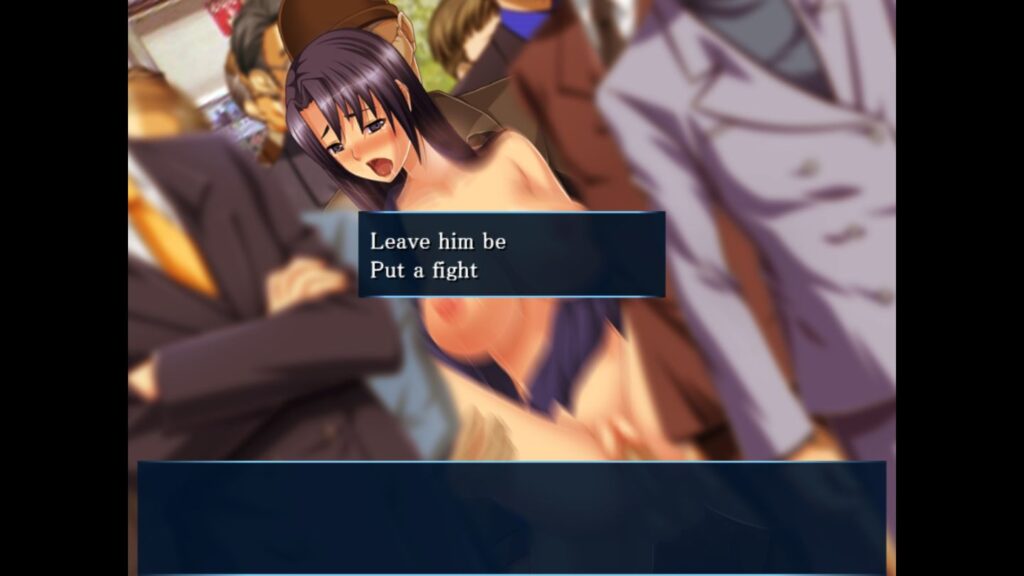 VOICE ACTING AND SOUND EFFECTS (SFX)
Chikan Otori Sousa has full voice acting in nearly every line of dialogue. When men speak, the voices are silent, but everything else is fully voiced. The story is told from a retrospective point of view, meaning that Keiko is able to narrate events that happened to her. The protagonist is fully voiced, so the narration and explanations are also fully voiced!
Sound effects are limited, but generally fit the metallic train you spend your time in. My only issue with the sound design is purely technical. Clicking to read ahead will cut off the voice track and leave you in complete silence. This means you have to sit and wait for every single letter to fade in, which gets monotonous and hard to enjoy.
MUSIC
The music consists mostly of environmental tracks. The atmospheric rumbling of a train as it rushes through the subway tunnels is great. Cymbals and other miscellaneous instruments also accompany the atmospheric track, but they're practically silent compared to the rumbling of the tracks. I wish the developer did more with the music.
HENTAI
Chikan Otori Sousa has three sex scenes in a single playthrough, and around eight scenes in total. Multiple sex scenes reuse images from earlier in the game, simply with variations of the images and dialogue.
The focus of this game is on chikan, otherwise known as train molestation. Although Keiko doesn't want it at first, she soon comes to enjoy the experience and even consents to the experience. Will you struggle? Or will you allow the molester to creampie your pussy?
The cheating fetish is also implied, since the story is about finding the real molester to exonerate your boyfriend. Even though that was the goal, Keiko soon decides that she loves cheating on her boyfriend, and fully consents to being a cum dumpster.
CONCLUDING WORDS
Chikan Otori Sousa is a fantastic train molestation game with the cheating fetish as a cherry on top! The graphics are gorgeous and the voice acting is well done. I loved the relaxed narration and inevitable creampies from complete strangers! There's not enough train molestation games on the market, but this game at least executes the fetish perfectly!
I highly recommend this game to chikan lovers everywhere. Download Chikan Otori Sousa.
Graphics

Gameplay

Story

Music

SFX

Hentai