Written by Rastafoo69, edited by OtakuApologist
In the Hamlet of Lori Bigtits, a paizuri hentai game developed by circle Aeba No Mori. Released January 19, 2017. Download on DLsite for $12.00. For PC Windows. No voice acting. Censored genitals.
You've recently moved into a village of lusty big tit ladies! Take your time, meet and seduce every single one of them. If you're lucky, they'll let you fuck their tits and cum all over their cleavage!
Before trying this game, please read our guide how to download DLsite games.
STORY
You were hired to be the manservant of the village leader. In exchange for your semen, she has given you a place to live.
There is no overall story. This is a slice of life RPG where you explore the world, befriend the women of the town, and slowly build your harem. The game ends when you get married or seduce every woman in town. Marriage is the good ending. If you try to lead on every girl in town, they will eventually murder you out of jealousy.
There are seven women in this town. Each has a unique personality and quest-line to unlock marriage. One girl wants to be paid for a tittyfuck. Another girl wants to go on adventures with you. You can ask a girl about her quest-line in the "tasks" menu.
In this world, rubbing semen on a woman's breasts will cause them to grow. As long as you're friends, any woman will consent to titfucking you. You can even watch one girl's breasts grow by repeatedly cumming on her chest!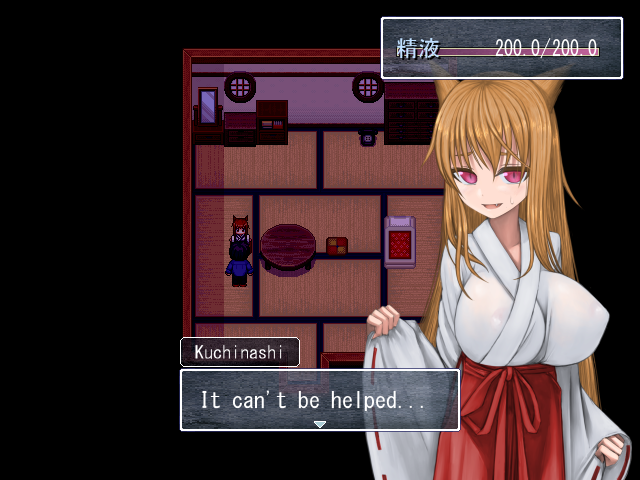 GAMEPLAY
Hamlet of Lori BigTits was created with RPG Maker XP, one of the oldest editions of the RPG Maker engine that came out in 2005. Use the arrow keys to move. Press W to view the text log. Hold CTRL to skip dialogue. Hold Enter to skip combat.
Your goal is to get married, or organize a harem. You grind EXP to gain levels, make money, and build intimacy. Levels are consumed when you ejaculate. Money is consumed by paying for sex and shopping. Intimacy builds when you complete quests and travel with your lady.
This game is incredibly slow and grindy. Losing levels upon ejaculation makes the progression slow, it punishes the player for indulging in sex. The idea was good, but the execution is bad. Most players will avoid sex scenes to keep their power level high. The developer had plenty of great ideas that didn't go anywhere. For example, every level-up increases your maximum cum levels by 2.5, but this doesn't do anything! Other wasted concepts include skill scrolls, and randomly generated missions.
Depending on the region, you'll be facing different enemies with different moves and status effects. The developer tried to make this substantial, but it didn't really work. For example, flying enemies are supposed to have a high dodge chance to encourage magic use, and item usage. But most players will have items or enough levels to increase accuracy enough to negate the dodge chance.
GRAPHICS
The art is in Japanese anime style. This artist has produced many doujins in the past, so his artistic quirks may seem familiar. A lack of noses and a typical polygon head shape are key traits of his work.
The game world is enormous. It is rather maze-like. Due to the lack of random encounters, players must walk carefully along the screen to sidestep enemy sprites and avoid unnecessary battles. This can get difficult, it makes world navigation a tedious slog. A simple mini-map or some way to reduce enemy encounters would make exploring the world more enjoyable.
All scenes focus on paizuri sex. This means that the breasts are always enormous. It's honestly hard to believe these womens' backs can support their breasts, but you have to suspend disbelief in favor of a good time.
The recollection room does not include a CG viewer, and only allows full scene replays. It is unlocked after completing the game, and even then, you are still required to view a scene to unlock it for a second view.
Although there are 40 scenes, artworks constantly repeat themselves, which does get tedious over time. Of course, there's only a certain number of ways to draw a boobjob, so it's natural for things to get repetitive.
VOICE ACTING AND SOUND EFFECTS (SFX)
Hamlet of Lori Bigtits has no voice acting.
The most common sound effect played during the game is the paizuri sound of a penis rubbing against breasts. It sounds like rubber boots in a rain puddle! It's way too wet and watery to be believable. As a fundamental asset to this game, it's plainly below average. All other sound effects like gunshots and sword slashes are stock assets that fit perfectly, but when the most common asset is bad, it really hurts the overall experience.
MUSIC
The soundtrack has 20 songs, some of which are stock assets. Most of them are unique or licensed tracks. Numerous tracks are from the royalty free library of Kevin Macleod. There's a heavy emphasis on piano and other classical music. I doubt Kevin Macleod even realizes his creative commons music is being used in a porn game. Somebody should tell him!
As general royalty free music, a single direct emotion is hard to pinpoint. Usually the tracks are slow and methodical, leaving them open to audience interpretation. A soft and silent piano ballad could indicate sadness, or a mystery!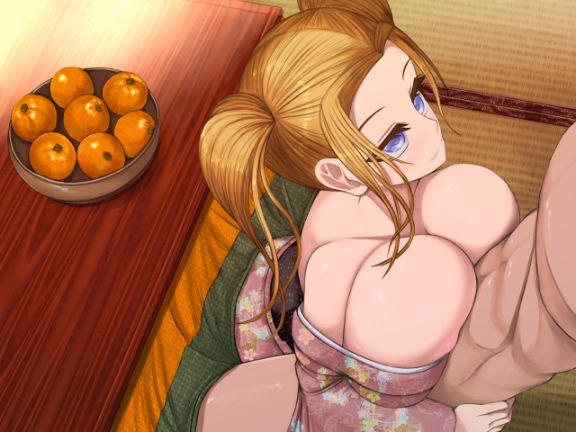 HENTAI
There are 40 or so erotic scenes, and around 20 unique CG images. Multiple scenes reuse old images, which can get tedious over time. In many situations, dialogue is completely unchanged, leading to a repetitive experience.
There are 7 women in this game, each with sex stats tracked in the "Intimacy" section of the pause menu. These girls will help you in combat and give you a titfuck if you befriend them. They all have unique personalities that effect their actions. For example, sadistic characters will refuse to stop the titfuck no matter how much you beg.
The majority of the game is femdom dirty talk with the girls looking down on you. Only one girl actually wants and enjoys being dominated. Paizuri is naturally a female-led action, so it's expected that the game turned out this way.
The lack of vaginal sex was a disappointment, only made worse by the fact that intimacy and sexual experience change nothing whatsoever. You could have a girl completely love you, and her dialogue will still be the same as when you first met. No animations, repetitive dialogue, and pure titfucking make this game a very niche experience.
CONCLUDING WORDS
Hamlet of Lori Bigtits is a hentai RPG focused on breasts and paizuri sex. The gameplay has some problems, but nothing to harm the entertainment. There is no vaginal sex, just pure titfucking and dirty talking all night long! The gameplay shows promise and the story is simple. If you're a man in love with huge anime knockers, play this game.
Recommended for lovers of big breasts. Download Hamlet of Lori Bigtits.
Graphics

Gameplay

Story

Music

SFX

Hentai