Written by Mistress Valentine, edited by Otaku Apologist
Hello, Goodbye, a visual novel game developed by NekoNyan and published by Lump of Sugar. Released May 25, 2019. Download on Nutaku.net for $29.99. For PC Windows. Full Japanese voice acting. Uncensored genitals. Sign up free with your email
Toubu Kaito is a young man who was found with amnesia some years ago. He was raised as an operative for a secret government organization. He has been assigned an undercover mission at an academy where every cute girl he meets seems to know him. Keeping a low profile is impossible while he awaits his next set of orders. The good news is that all these sexy ladies are horny for his cock!
Visit our perverted store for more hardcore porn games.
STORY
You have been assigned a cover identity and instructed to infiltrate a prestigious academy. On the first day, you encounter a cute girl. Like a dumbass, you confess that your name 'Kaito' is a fake name. Soon after, you run into other cute girls. Suguri Saotome seems to know 'Kaito' as a childhood friend. Koharu Hiiragi knows you as her big brother. Natsume Rindou has fully embraced the art of stalking.
You are confused like hell about how your cover identity seems to be so popular. You try to stay inconspicuous, but this immediately goes to shit when school politics and actual politics start a chain of events that forces you to interact more with these lovely ladies. The prologue which sets up all this is about two hours long.
The writing for Hello, Goodbye is great. There are a few typos but they are rare and inconspicuous. The plot can become extremely confusing at times which requires the player to stay very focused. With 30 hours of content, the game has a lot to unpack with multiple endings, character interactions, plot threads and sexual encounters.
All of the routes have their own unique charm and the game goes out of its way to make their stories interesting. Like most 30 hour visual novels, there are a lot of scenes that exist only as filler. The game's biggest weakness is the time it takes to actually get to fuck someone.
SOUND EFFECTS AND VOICE ACTING (SFX)
Hello, Goodbye features good voice work. Every voice actor gives a brilliant performance that makes it difficult to pick a favourite. It's dialogue-driven which allows the actors to deliver their lines in a believable manner. Sex scenes manage to be both lewd and romantic. Certain scenes will render you to tears while others will have you clutching your man meat. Sexual moans are plentiful, and all of these ladies sound like professional dick suckers.
Unfortunately the game's sound effects library is not nearly as big as the rest of it. Moving trains, crowds of people conversing, static, cars traveling on motorways, hands clapping, bells ringing and people gossiping in the background are some of the most frequently heard sounds. The game misses several easy opportunities to present the world in even more lucidity but stumbles by leaving these spaces bare.
MUSIC
Hello, Goodbye has fantastic music quality. It is clear that this game had a large budget and that the developers didn't mind splurging some on its soundtrack. The opening theme is a fast paced J-pop track with a lively beat. The entire soundtrack contains forty different tracks tailor-made for every kind of scene. Most of the songs use real Japanese vocals. These tracks range from slow and intimate jingles to upbeat and lively sounds.
The soundtrack uses original instruments that are entertaining to listen to throughout game. Drums, electric guitar, keyboard, piano and the trumpet are several of the commonly used instruments.
GAMEPLAY
Hello, Goodbye is a visual novel.
Clicking the textbox advances the story. Functionality features are normal to other visual novel games with an 'auto' button for smooth play. From time to time you are presented with choices. These choices branch the story into routes which determine which heroine you end up with. There are initially three routes available with a fourth one locked until you complete the others. Events for the most part remain the same, but diverge the more you stray from the initial route.
Expect a lot of scenes to repeat themselves. There are multiple endings available. Replaying the game is recommended in order to unlock all the routes and learn the full story behind the game's plot.
There is also a function where you can view H-scene events, listen to the soundtrack, a backgrounds gallery and a character viewer which allows you to customize any of the main girls' appearance, including expression, attire and their background. This feature is mainly for players that want to have customized desktop screengrabs. The game also features a Glossary and Achievements menu which shows you how much of the game you have completed.
There is also a mini-game that revolves around finding cats that are hidden within CGs.
GRAPHICS
Character designs are unique with an assortment of clothes, facial expressions and poses. Each of the main girls have different appearances, including facial features, hair styles, eye colour and breast sizes. Characters conform to typical anime stereotypes. The game tricks you into believing there are more sprites by zooming in on them at different points.
The game features a ton of background art. There is artwork for different times of day including morning, afternoon and evening for almost every backdrop. There is a good balance of indoor and outdoor settings. Backdrops have a tremendously large amount of detail to them with bright and vivid colours.
There is a lot of CG art. Certain CGs evolve and change depending on the progression of the scene. Shadows are well placed with lighting used expertly in every scene to showcase the time of day.
HENTAI
Hello, Goodbye treats sex as a final destination instead of part of the journey. It takes forever to fuck a girl and empty your load in her snatch. Each route has multiple sex scenes with the main heroines. These scenes rely on typical anime tropes such as girls being too shy but quickly becoming dick sucking experts.
Girls are fucked in a nut-busting array of scenarios including pussy and anal. They get cum sprayed on their faces, on their bellies and in their pussies. The creampie money shots are especially sexy.
The camera work for H-scenes is great with most of the artwork qualifying as fap material. The camera angles love showing off the girls in the sexiest positions, often with longing or lustful expressions. Certain CGs features the girls making the most adorable O-faces as they suck off Kaito's rod.
The focus is less on setting up the next sex scene and more on building a believable romance between characters. Sex scenes are lengthy with minute-by-minute descriptions of what is happening. Characters give running commentary which allows players to know what they're thinking.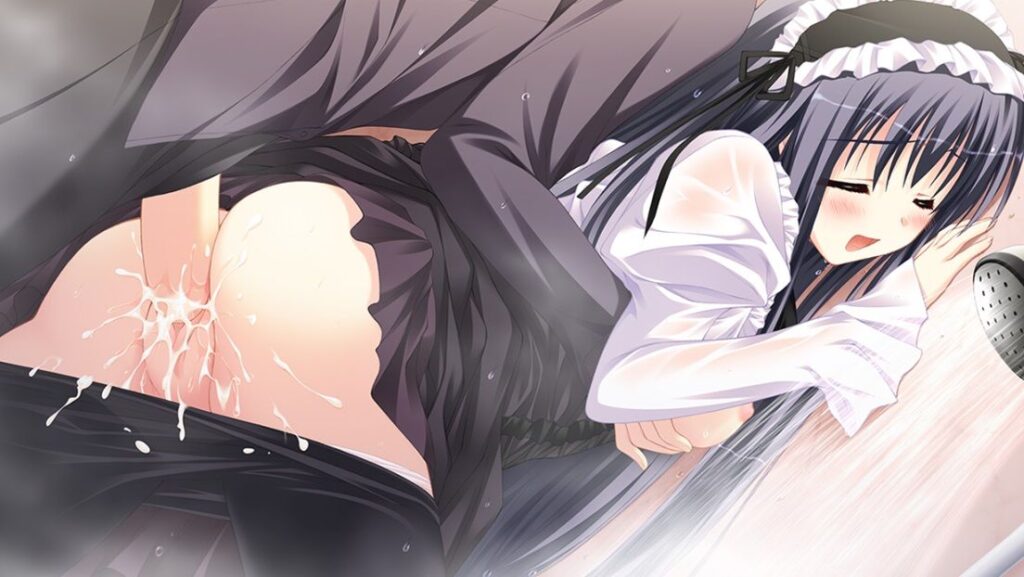 CONCLUDING WORDS
Hello, Goodbye is a gorgeous visual novel with a lot of content. The plot is larger than life, and services the player at every opportunity. Scenes range from cute to romantic to sexy. The artwork is brilliant, and the soundtrack is amazing . The game is worth the asking price and busts open your balls and your heart.
Highly recommended hentai game! Download Hello, Goodbye.
Story

Graphics

SFX

Music

Hentai