Written by Mistress Valentine, edited by Otaku Apologist
Sakura Moonlight, a puzzle hentai game developed and published by Winged Cloud. Released December 20, 2019. Download on Nutaku.net for $4.99. For PC Windows. No voice acting. Uncensored genitals.
You live in the town of Tsukimine, which has become a hunting ground for terrible demons that come out during the full moon. One night you meet a cute demon huntress called Sumire who enlists your help to stop the demons!
Visit our perverted store for more sexy porn games. Read our review of Sakura Moonlight Chapter 2.
STORY
You wake up one evening to almost get your head sliced off by a feisty demon huntress Sumire. Sumire is your classmate who devotes her nights to patrol the city and destroy demons. After fighting her off, you agree to aid her in her quest. The rest of the game is devoted to investigating who is sending the monsters to the human world, how you came to possess incredible magical powers. Naturally, you also have tons of sex with Sumire and various demons!
Despite the game's limited amount of content, the writing successfully sets up multiple interesting storylines and even develops Sumire's character. The player learns more about Sumire's past and her ambitions. She is also portrayed as less than competent. You have to save her on multiple occasions. The demon Enma is introduced as Sumire's love rival but not much is learned about her. All of the characters are likable. They rely on typical anime stereotypes but have good dialogue with flawless grammar.
SOUND EFFECTS AND VOICE ACTING (SFX)
Sakura Moonlight has no voice acting.
Sound effects are very limited. I was only able to locate three: A strange swishing noise, an abstract button click, and an almost inaudible hovering noise. Gameplay isn't hindered by lack of sound effects.
MUSIC
The soundtrack is limited in quantity, but varied in styles. Almost every song featured uses a combination of original and synthetic instruments. The main theme sounds ominous, featuring a piano, string plucking, and a traditional Japanese flute!
The keyboard, guitar and drum beats are used in combination frequently. Battle stage music features a mixture of piano, synthetic instruments, and intense drum beats. The music is catchy and features the surprise appearance of a violin that elevates the track to heights of awesomeness. Music in sex scenes employs pianos and classical violins, and synthetic instruments that don't feel distracting. Enma has her own theme which fits her villainous persona.
GAMEPLAY
Sakura Moonlight features match-three puzzle games. The puzzles are relatively easy, but become progressively more difficult to solve as you progress. You match three or more tokens of the same color to destroy those tokens. You have to match the tokens in lines of three. Every matched token deals damage to the boss' HP gauge. Failure to bring the gauge down to zero before time runs out results in a game over. The more tokens you match, the more clothing the boss loses until they are completely naked. The game gives no hints, which makes things more challenging.
Sakura Moonlight has basic visual novel functionality with a map system for navigation. Clicking the screen turns the page and progresses the story. The story is linear, the effect of choices is limited to selecting which location to explore next. Certain locations contain hentai scenes. There are enough save slots to help you backtrack your choices. There is no skip button to speed through old dialogue.
GRAPHICS
Sakura Moonlight continues the Winged Cloud tradition of using limited CGs, but pushing most of its budget into making them look as lewd and sexy as possible. The colors are bright and vivid. They invoke a warm relaxing feeling. Lines are thin and the shadows light. The lighting is great and detailed for a game that takes place entirely at night. Background CGs are limited. There are just enough backdrops and detail in them to make the game come alive.
Character CGs are rich in detail. They have a cute moe-esque design with several different facial expressions. Poses are limited, but feature varying levels of detail such as Sumire's sword. Enma and Sumire have different appearances, facial details, hair, clothing and personalities to make them feel distinctive. Sumire's schoolgirl uniform is cute while Enma's extremely visible cleavage is super sexy.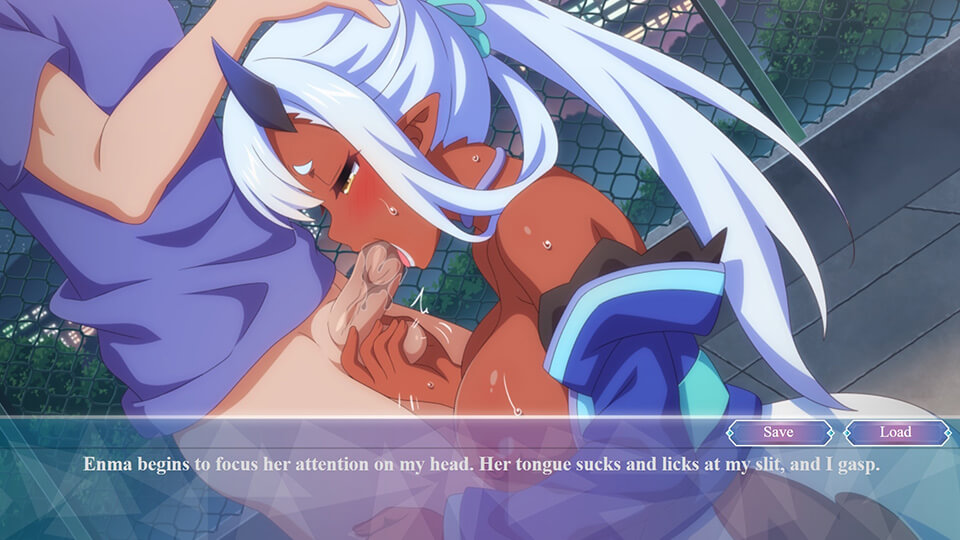 HENTAI
Sex in Sakura Moonlight puts emphasis on making each of the cute characters look as lewd as possible. Dialogue compliments the music and artwork to create an enjoyable experience. Sex scenes do not feel too long or too short.
You have your way with Sumire who falls under a lust spell that makes her crave your cock. After she's taken your load in her pussy, she comes to realize that even without the magic possessing her she can't live without dick. In another part of the game you are challenged by Enma. If you manage to defeat her, you get to throatfuck the bitch and blast a thick, creamy load down her mouth-pussy. The taste of your semen is the only love spell she needs, as she vows to make you her own after swallowing.
CONCLUDING WORDS
Sakura Moonlight has fantastically sexy characters, cutesy hentai scenes, and engaging puzzle games to spice up the visual novel content. The game is short but a great experience overall. Sakura Moonlight already has a second chapter available.
Recommended little hentai game. Download Sakura Moonlight chapter 1.
Graphics

Gameplay

Story

Music

SFX

Hentai