Written by Mistress Valentine, edited by Otaku Apologist
Sakura Moonlight Chapter 2, a visual novel game developed and published by Winged Cloud. Released January 6, 2020. Download on Nutaku.net for $4.99. For PC Windows. Partial voice acting. Uncensored genitals.
You are a penniless, jobless loser. The only reason you hang on to life is your cute cock sucking girlfriend. Suddenly, you are snatched from the bosom of your lady by a demon named Enma. She proclaims you're now her slave! What is a boy to do?
Visit our perverted store for more porn games. Read our review of Sakura Moonlight Chapter 1.
STORY
You awaken in another world. Enma brought you here to be her slave. You quickly escape and learn that this world is populated by monsters who despise Enma as much as you do. You also meet Aika, a self-described 'big sister' type who instantly takes a liking to you. Together you vow to escape the monster world and find your way back to Sumire whose lonely pussy is waiting for your dick.
Aika doesn't receive the same level of character building that Sumire did, although she's a lot more fun and energetic. Sumire is almost completely absent in this story. The focus is more on plot and world building than the sexual content. Speaking of sex, the scenes are much better in this game than in chapter one.
GRAPHICS
Sakura Moonlight Chapter 2 has excellent art. The artwork for backdrops is partially recycled from the first installment with several new backgrounds added to expand the world. Background images have moderate detail with thin lines and dark colours. New locations include Enma's palace and Aika's hideout which looks like a generic Japanese dorm apartment.
This game is a good example of how to tell an ongoing story with a limited budget. By steadily adding new elements to the story, the game successfully makes you grow more invested in the characters and the world.
Character artwork is delightful. Characters have a limited number of facial expressions and poses. Aika and Enma have similar faces and body types. Their only real differentiating features are their clothing and color schemes, and little details like Enma's horns. Their cup sizes magically increase during hentai scenes.
VOICE ACTING AND SOUND EFFECTS (SFX)
Sakura Moonlight 2 has partial voice acting. You'll hear Japanese voice actresses moan during the sex scenes. The moans are sexy, but feel bland and uninteresting compared to other games that make the actresses spout all kinds of lewd lines. Because the voice acting is limited to sex grunts, it's difficult to single out any stand-out performance.
The sound effects library is bigger in this installment to the series, but still feels limited. The game reuses the sounds from the previous game while adding new ones. Almost all of these are used in the match-3 battle stages.
MUSIC
The music in Sakura Moonlight Ch 2 is copied from the first installment with no extra songs added. The songs remain limited in quantity, but contain varies vibes tailored to every scene. Songs use original and synthetic instruments. String plucking and ominous piano set a very mysterious mood. You can also hear guitar and drum beats. Battle music remains a mixture of piano, synthetic instruments, and drum beats which build tension.
GAMEPLAY
Sakura Moonlight 2 is a visual novel with match-three puzzle games. The game also uses a map mechanic that lets you navigate which location to explore next. Locations not selected may not be there next time, so choose carefully. Certain locations contain H-scenes.
Sakura Moonlight 2 has basic visual novel functionality. Clicking the screen turns the page and progresses the story. There are more choices in this installment than the last. Like the first episode, certain choices lead to sex. Replaying the game is a must if you want to unlock all h-scenes. There are enough save slots to help you backtrack your choices. There is no 'skip' or 'auto' button to speed through old dialogue. Spamming the mouse button to progress through the game is frustrating.
The match-3 puzzles are the main draw of the game. You have to match tokens in lines of three. You have a time limit to match as many tokens as you can. Match three or more tokens of the same color to deal damage to the boss' HP gauge. Failure to bring the gauge down to zero in time results in a game over. The more tokens you match, the more clothing the boss loses until she's naked.
HENTAI
The sexual artwork shows the action from the best angles. There is some play-by-play commentary that is peppered by sexy dialogue.
The CG gallery has very limited hentai content. There's a good number of variants for every image. Facial expressions become lewder as time goes by, cum gets sprayed all over. The images look fantastically fappable with pussies and dicks in full display.
Some of the previous game's sexual scenarios are repeated here, such as Aika falling victim to a lust spell. The scenarios are a little different this time. For instance if you choose to help Aika, you actually get to fuck her pussy. In another scene, Enma teases your cock mercilessly, stepping on it until you cum.
The highlight scene of the game is definitely the threesome between you, Enma and Aika. You stick your cock in both pussies while Enma plays with Aika's body much to her embarrassment. She eventually decides that being addicted dick is a perfect life and invites you to creampie her repeatedly. That's a good girl!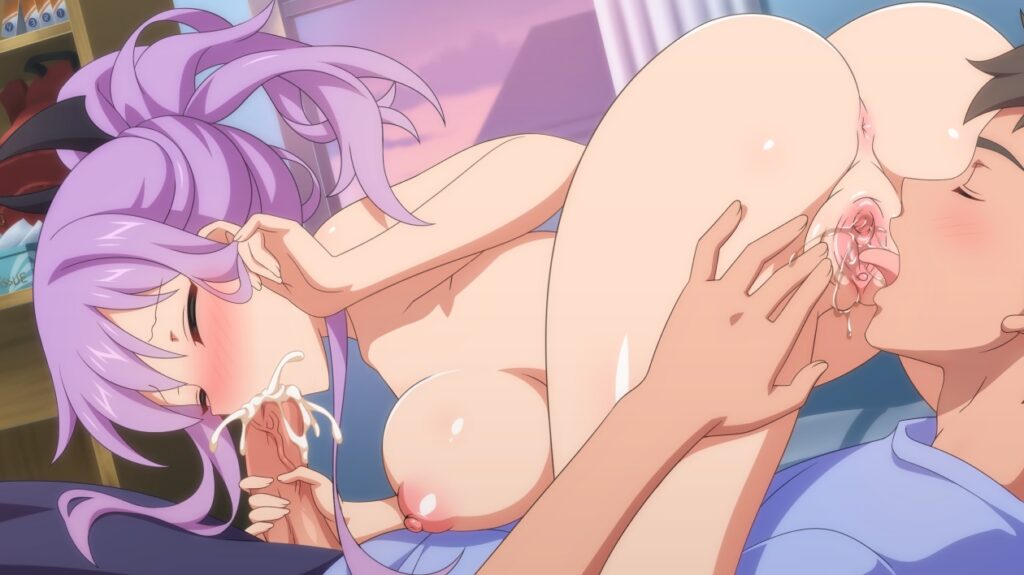 CONCLUDING WORDS
Sakura Moonlight 2 is a much better game than its predecessor, with a focus on telling a more entertaining story without forgetting to deliver some juicy hentai content to the audience. The artwork is great, the puzzle games are fun games, and the sex scenes are juicy enough to aid you in busting a nut. What more can a porn addict ask for?
Recommended hentai game from a well-known studio. Download Sakura Moonlight 2.
Graphics

Gameplay

Story

SFX

Music

Hentai