Hentai RPG Review: Niplheim's Hunter
Hentai Reviews

>

Featured

>

Hentai RPG Review: Niplheim's Hunter
Written by Rastafoo69, edited by Otaku Apologist
Niplheim's Hunter, a hentai RPG by Black Train. Published by HappyHand. English localization released on January 21, 2019. Download at Nutaku.net for $20.00. For PC Windows. Partial voice acting. Uncensored genitals.
A long time ago, a cheeky demon branded Azel with a lust spell. The poor girl grew up hungering for an endless supply of cock! She now wants to track down the demon and free herself from the curse. Azel joins the Hunter's Guild, and begins her sex-filled adventure!
STORY
Azel was cursed by a demon. The curse gives her incredible power, but she loses control to her lust. She joins the local Hunter's Guild, located on the front lines of the war between humanity and the demons.
The Hunter's Guild is located at the Noble Bird Bar. The hunters keep a low profile, mingling with the bar's drunkard patrons. All the hunters have a story, none of them pleasant.
Funny dialogue and interesting characters make the game world enjoyable to explore. Each area has a purpose and each character has something entertaining to say.
The pink-haired tavern maid who gives quests to the hunters was perhaps the most memorable character in the game. If you get to know her, she'll tell you the story of how her family was killed by demons. The maid girl only survived because she was a half-breed, and no-one suspected her of having magic.
The storytelling is exciting and makes you thirsty to keep learning more about the world and the characters. By the end of the game you'll have enough knowledge to decide between the two endings.
Niplheim's Hunter has a prequel that hasn't been translated into English yet. The prequel covers Azel's time working as a sex slave working towards her freedom. According to the Nutaku store page, this story will be available as DLC in the near future.
GAMEPLAY
Niplheim's Hunter was created with the Wolf RPG Editor. You move with the arrow keys and press spacebar to interact with objects and people. The window can be expanded to whatever resolution you like. Press F12 to return to title. Press Q to hide the dialogue box. Press W to see the conversation log. Press C to automatically advance dialogue for hands-free play. Press CTRL to skip dialogue.
The game is a classic dungeon crawler title. Defeat enemies to level up, and gain new items. Find gold deposits in the walls. Return to the Hunter's Guild to spend your gold and craft new gear.
There are 6 areas to explore with 30 enemy types and 35 quests. Quests involve either hunting animals, or gathering items. Enemy encounters are not random, and can be skipped by simply avoiding them. Completing every quest and story line in the game will take six hours on average.
Azel relies on her magical 'lust brand' to gain new abilities. These abilities cost erotic points (EP). You gain EP from sexual activities, and lose them by using abilities, and sleeping. If you have too many erotic points, Azel loses her mind and initiates sex with whatever monsters or people she was fighting mid-combat.
There are four weapon types in the game, each with its benefits and drawbacks. For example, great swords increase your luck which leads to more critical hits. Dual blades increase your dexterity, which increases your chance of landing a combo. I recommend you try different weapons to find a playstyle you like.
After some quests, you'll have enough materials to craft new weapons and armors at the blacksmith in the Hunter's Guild. He's a personal friend of Azel, and can be fucked!
Some versions of the game censor the porn. The Nutaku version includes the erotic content.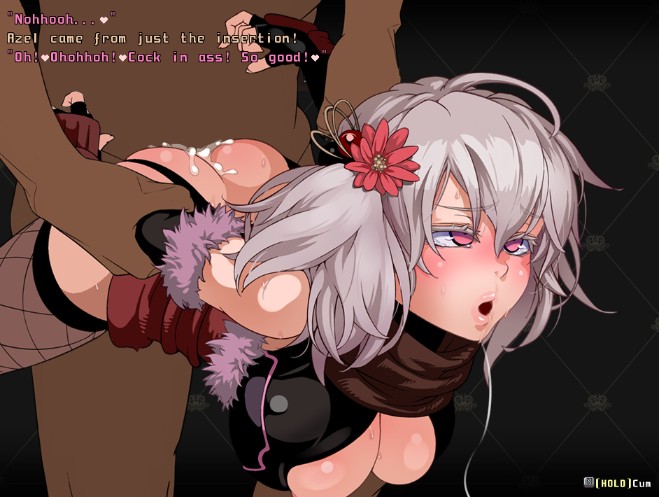 GRAPHICS
The game includes 34 base CGs and over 600 images overall. There are 15 different outfits, which Azel wears during sex. The art style is the Japanese anime style. Azel is the main character and she's absolutely gorgeous. From her smiley happy face to her expression of ahegao during sex – each artwork is hand crafted to look absolutely gorgeous and pleasing to the eye.
The game map is enormous. You have everything from snowy mountain regions to rocky caverns. Each of the six regions has multiple 'rooms' and walkways to explore. One-handed gamers can harvest resources and defeat enemies while admiring the landscape.
The battle system view has a lovely style and lots of personality. Visually, it's so beautiful to look at, you couldn't tell it's done by the Wolf RPG Editor unless I told you. A lot of scripting went into this product.
Equipped armor is reflected on the heroine's sprite. Her pose, walking graphic, and how she looks in battle changes when she switches armors. Armors are considered separate from costumes. You can have the defensive power of dragon armor, while having the appearance of a sexy bunny-girl. This distinction between costumes and armor provides a level of customizability that few games offer.
Sex scenes are hand-crafted to perfection. A visual face-camera allows players to see Azel's face, even during a doggystyle scene! The game also has fluid animations with well-timed sound effects.
SOUND EFFECTS AND VOICE ACTING (SFX)
Niplheim's Hunter has partial voice acting for Azel and the two other female characters. The voice acting only occurs during sex scenes. The limited acting is mostly limited to moans of pleasure. The Japanese actresses moan and beg for cock, but they're very silent outside of the bedroom!
Even though you can only hear them in sex scenes, each girl has a lot of personality. Just by hearing the voice you'll be able to recognize who is speaking, even if you don't understand Japanese.
The sound effects are unique and fit perfectly in all situations. In combat, hearing the slash of a sword is incredibly satisfying. During the sex scenes, the pounding of cock into Azel's little pussy is almost hypnotic. The sound effects don't get repetitive like real sex.
MUSIC
The soundtrack has some 20 unique songs. The music is reminiscent of super Nintendo soundtracks. There's a heavy use of cymbals and flutes creating an adventurous tune. Electric piano is used sparingly but masterfully. No instrument overtakes another, it all fits into a perfect melody that evokes whichever mood fits the scene. The mood switches from pensive sadness to lustful desire. The full spectrum of emotions is covered perfectly. While the music works within context, the songs aren't good enough to listen to outside of the game.
HENTAI
Niplheim's Hunter has over 30 sex scenes and 15 erotic battle animations.
When Azel is too horny to fight, you get a sexy animation mid-battle. An image of Azel appears on screen as she's pounded full of monster cock. It's lower quality than full-blown sex scenes, but still very sexy!
Sex scenes outside of the battles have lots of love and care put into them. Multiple slides are used to simulate movement. Some scenes have better animation than others. Watching Azel's hips shake as she bounces up and down on dick is incredible. Sex positions range from blowjobs to missionary and doggystyle.
The erotic text is always unique, creative, and super hot! My favorite example is when Azel reverse rapes the blacksmith. The dialogue is engaging. You learn the blacksmith was a virgin until the fateful day Azel pounced her! She apologizes for the rape, while continuing to ride his penis to kingdom come!
Fetishes range from lactation to masturbation to monster sex. Azel even gets a massive dragon cock shoved up her snatch! Ahegao is the most commonly featured fetish in this game, as Azel's face is distorted to every insane expressions during her sexcapades. As Azel gains more sexual experience, she grows more sensitive to a man's touch. She even gains new sexy abilities thanks to her lewd emblem. These abilities improve her battle prowess, while making her sluttier.
There are 6-8 sex scenes for other girls. Rita is a sultry older woman who runs a weapon shop. She hasn't been touched by a man in so long, she's just craving for action. Meanwhile, Sary is a petite young lady full of feminine energy. All the sex scenes can be viewed again in the Recollection room, located in the player bedroom. The battle sex scenes and other miscellaneous events can't be viewed in the bedroom.
CONCLUDING WORDS
Niplheim's Hunter is a fantastic hentai RPG that features smooth action-packed gameplay and beautiful art. The package overall is pure awesome sauce, making this one of the best pornographic games we've ever reviewed. The story is linear but satisfying, and the characters have depth beyond their fuckdoll designs. Just sit back, relax, and enjoy fighting demons while Azel loses her self-control to lust.
I highly recommend this title to all hentai gamers. Download Niplheim's Hunter. All sales support our comics and content production. For more h-game recommendations, visit our perverted webstore.
Graphics -

90%

Gameplay -

100%

Story -

90%

Music -

80%

SFX -

90%

Hentai -

90%