Written by Jin0uga, edited by Otaku Apologist
Funbag Fantasy 2 (Jap. Kyounyuu Fantasy), a hentai visual novel developed by Waffle and published by MangaGamer. Released on November 21, 2019. Download at MangaGamer for $44.95. For Windows PC. Partial voice acting. Uncensored genitals.
You play as Ruin Dimidium, a man who is an unparalleled lover of women's breasts. His journey is fraught with innumerable schemes and enemies, but nothing will not stop him from groping the bounciest boobs of every kingdom!
We have also reviewed the original Funbag Fantasy, and Funbag Fantasy: Sideboob Story.
STORY
Ruin is a student of a prestigious school in his kingdom, but he's considered to be a failure. The game opens with Ruin rudely woken from his nap. He is then asked to recite a poem to please the Archbishop in charge of his class. Ruin recites a poem about the exquisiteness of boobs, or as he refers to them, funbags. He gets insulted and mocked for being a degenerate. The prologue sets the tone for a comical fuck-filled journey and successfully makes the player sympathize with Ruin.
The first chapter after the prologue follows Ruin go from a lousy student to become the captain of a garrison in Boobshire. There, he manages to exceed expectations and make a name for himself. This draws attention from powerful political figures in and outside of the kingdom. Ruin gradually transforms from an unlucky loser into an accomplished man who gets all the tightest pussies.
I enjoyed the story of Funbag Fantasy 2. The game takes the time and effort to build up the story with background events, setting up major plot points that take place later down the line. There's a lot of shady politics, characters scheming against each other. This kept me interested during sex-free segments when Ruin wasn't fucking his new sluts. There's also minor characters, like Ruin's daemon soldiers, which are extremely entertaining.
What stood out to me was Ruin's attitude. He's not your usual passive hentai protagonist. He's smart on his feet and isn't afraid to get his hands dirty. This makes him likeable and more interesting. He manages to outmaneuver his opponents with strategy and intelligence. When he does get lucky, it doesn't feel like a cop out because he's earned it.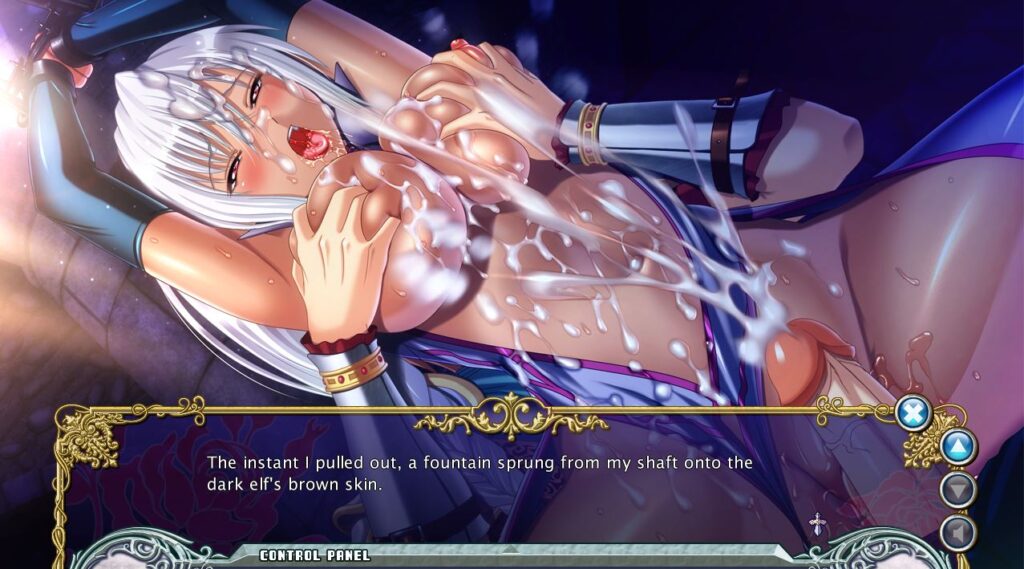 GAMEPLAY
Funbag Fantasy 2 is a visual novel without gameplay. There are only two types of player interactions. You can choose if Ruin cums inside or outside a pussy. During the story, you can pick from a set of choices which will determine the outcome of the story.  The user interface is easy to navigate, you should have no trouble using it even if you've never played a visual novel game before. There are enough save slots to save your game progress anytime.
GRAPHICS
Funbag Fantasy 2 uses an older version of the anime art style. Despite this style choice, the crisp art and lively colour palette combine to make the game look modern and up to date.
The game features multiple races like succubi, elves and monster-like daemons. The races have identifiable physical traits, such as pointy ears or muscular, beastly bodies. Characters are dressed in elaborate, unique outfits that reveal their societal positions. They wear accessories like cross-necklaces which symbolize their dedication to a religion, or armour and jewellery that hints at their status.
The females in the game are much better looking than the males, with some exceptions. The heroines Ruin conquers are all beauties with nicely sized tits. Meanwhile, the side characters such as the King, the prime minister, and certain enemies look gaudy in comparison. I would have liked for the quality of character designs to be equal, only because it's jarring to see the differences when characters stand side by side in some scenes.
Background images are high quality and make the setting come alive. The lighting in scenes is accurate to their locations. The erotic scenes have the best art quality in the game. Gigantic boobs aside, every female body is drawn proportionately. The heroines' designs have an absurd amount of detail. From the slant of a girl's pelvis, sloping to her wet vagina, to the tautness of her thighs, the slight definition of their stomachs. There's a delicate shine effect on their exposed skin, and sweat drops. The art is a feast for the eyes.
VOICE ACTING AND SOUND EFFECTS (SFX)
Japanese voice actresses are always stellar. The females of Funbag Fantasy 2 are no exception; the voice acting in this game is top notch. Each line is carefully voiced and given the proper emotion. You can hear the haughtiness of Zebia's voice when she first meets Ruin. The cultured, no-nonsense voice of Nadine made me wish Ruin would fuck her on the spot.
Funbag Fantasy 2 has a vast array of sound effects. Depending on the scene, you get accurate sound effects that match the events. When daemon soldiers engage in battles with swords, you hear the noisily chime of metal scraping together. When a character sneaks into someplace, the footsteps are soft and careful. The game has some of most effective sound effects I've ever heard.
MUSIC
The game has an expansive soundtrack. The music was enjoyable, but there were no unique tracks that caught my attention. I think the most impressive song in the game is played during battle scenes. The song combines an orchestra of instruments and tops it off with blaring trumpets to get your adrenaline pumping. The music fits the setting perfectly, and the recordings are top notch.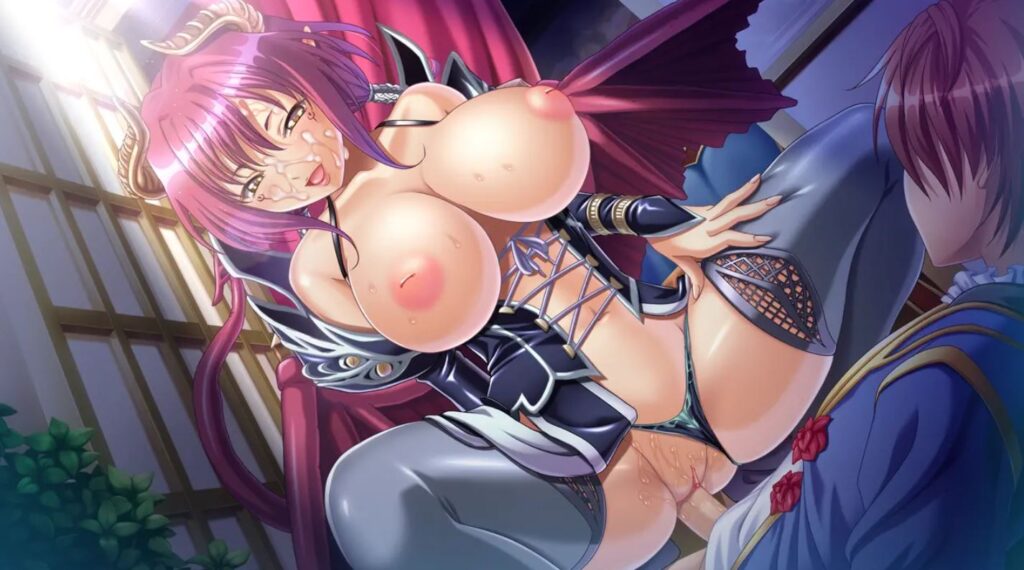 HENTAI
It takes about an hour or so to reach the first of many hentai scenes. Ruin interrupts two men from raping a dark elf. However, he accidentally drinks an aphrodisiac. Overcome with lust for her huge, jiggling tits, he starts groping them. Zebia can't fight him off since her arms and legs are chained. He brings her to climax by fondling and licking her nipples, then moves to eat out her brown, quivering pussy lips. Ruin can't restrain himself and immediately sticks his dick inside her after she orgasms. He pleasures her with his rod and graduates from his virginity. It was one juicy scene to start things off.
The game's main kink is big boobs. The women have huge, honking breasts that Ruin milks and sucks through his adventure. There are no other kinks, and the sex is vanilla. However, the hentai content is truly worthy of the game's price tag. All the scenes are lengthy and well written. The sexual acts are described down to the smallest details, which can get boring if you're not aroused by whatever is happening on screen. Fortunately, the game gives you plenty of delicious sound effects that will definitely have you beating your meat. Combined with stellar voice acting, sexy moans, and lewd art, you'll drain your balls in no time.
CONCLUDING WORDS
Funbag Fantasy 2 is a hentai gaming masterpiece you cannot miss. If you relish the idea of a medieval fantasy with tons of sex with incredibly gorgeous anime babes, this game will satisfy you. The production values are sky-high, the soundtrack is big as fuck, the art is gorgeous, every aspect of this experience is incredible. Lovers of big breasts will greet this title as a godsend.
Highly recommended hentai visual novel! Download Funbag Fantasy 2.
Story

Gameplay

Graphics

SFX

Music

Hentai