Written by Mistress Valentine, edited by Otaku Apologist
Imouto Paradise 3, a hentai visual novel developed by Moonstone. Released on February 13, 2020. Download on Mangagamer for $44.95. For Windows PC and Linux. Full voice acting. Uncensored genitals.
Your parents need to leave for an important business trip! They'll be gone all summer. This leaves you with five adorable stepsisters to pass the time with. Even better, they each want to make mad passionate love and take your big cock for a spin. Get ready to plow a harem of horny, sexy step-siblings with hungry virgin pussies!
Remember to also read our review of Imouto Paradise 2.
STORY
You are Yuuchi. You are the totally non-blood related brother of six siblings in a house of very irresponsible parents. As the only male, you are surrounded by cute and sexy girls of different ages and sizes. There is Sakura, Hiharu, Zakuro, Rika and Hinata. One day your parents decide to leave the six of you to your own devices while they attend an important business trip that will last an entire summer.
The next thing you know, you are falling in love with your stepsisters and they are already in love with you. They are just waiting for you to make the first move. Your summer of love making starts now!
With 10-30 hours of story to read through, there is more than enough material to fap to. There is barely any plot. You steadily build a relationship with the girl of your choosing by doing activities with them. You help with laundry or homework, go to the beach, smash watermelons, visit traditional Japanese festivals, watch fireworks. Imouto Paradise 3 is filled with stereotypical anime clichés and tropes.
The game spends a good amount of time introducing each of the sisters and establishes what kind of personalities and quirks each have. The game also sets up the default relationship you have with each girl.
Hiharu is the odd one out. She's the energetic tomboy when not at home, but really only wants to loaf around the house and plays video games. Hinata is the youngest sister and plays the stereotypical clutz who tries and fails to act like a grown-up. Zakuro is the devious sister who enjoys teasing you and dominating you. Rika is the smart and strict sister who secretly longs to be humiliated and the subjected to others' perversions. Sakura is the eldest and the most responsible. She acts motherly towards you. Soon enough, they all suck your dick.
There are a couple of touching lovey-dovey situations and even one or two heart-felt moments between you and the sisters. With up to 30 hours of content, there is a lot of fucking to be had. There is a good balance between wild sex and slice-of-life fun in this game.
GRAPHICS
Imouto Paradise 3 has top tier art. The style is gorgeous and rich in detail from character sprites to the plainest looking backdrop.
Background artwork is top tier with great color schemes and deep detail. There is also a wide variety of backdrops to help make the world feel bigger. Each girl has their own customized room. The rest of the house looks and feels like something you can reach out and touch. The outside world is just as beautiful with outdoor settings such as the festival and beach areas giving off a warm and inviting presence.
All the girls in the game look and feel distinctive with different hair styles, personalities, bodily frames and color schemes. The game is fond of large anime eyes and plump breasts. Sprite designs focus on making each girl as moe as possible. There is a good variety of attire for each girl, and a generic casual wear that they share. Night scenes feature them in pyjamas while beach scenes feature cute swimsuits. The game uses bright, vibrant colours that are mixed well with cell shading to make the characters feel alive.
In some shots the characters look almost three-dimensional. This is especially noticeable during sex scenes where character bodies move around. Breasts heave up and down slightly. You can even see the girl's vagina attempting to swallow cock. The sprites also feature changing expressions that make them feel more realistic.
There is an anime-inspired opening title video that demonstrates the degree of love and care that went into making this title.
GAMEPLAY
Imouto Paradise 3 is a visual novel. You advance the story by clicking the screen and "turning the page". Throughout the game, you get to choose which girl to spend time with and how much. Spending more time with them increases the chances of fucking their brains out of their skull. You rinse and repeat this process until you've fucked all the sisters in all the available story routes.
Unlike the previous game, there is no "orgasm counter" that helps you time your orgasm. The most common choice you are presented with is whether to cum on someone's tits or on their face, versus cumming inside or pulling out like a bitch.
The configuration menu has a vast number of settings to play with. You can also view all the sex artwork in the Gallery area. There are more than enough save slots available to make backtracking easier.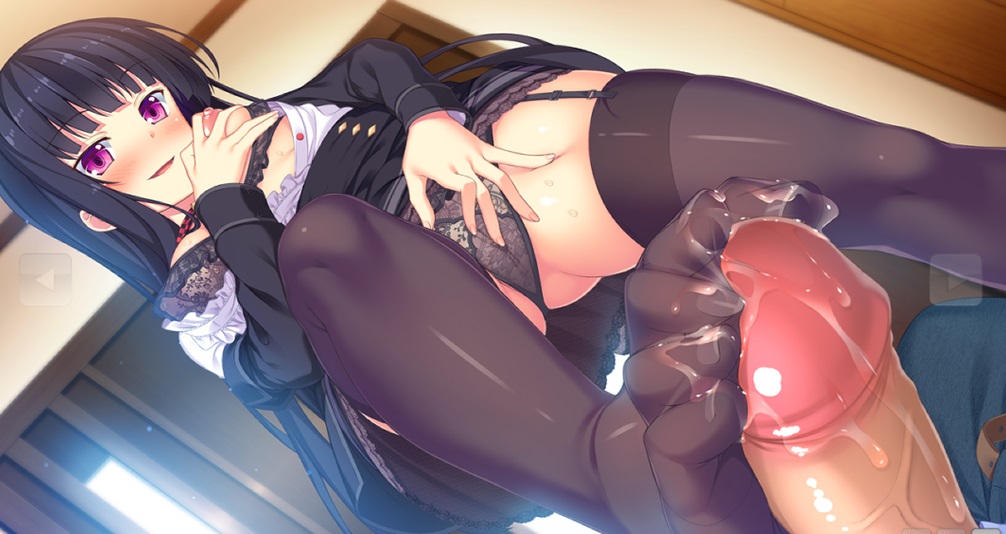 MUSIC
There is a good selection of music in Imouto Paradise 3 that mimics classic slice of life anime. The songs strike a perfect balance between comedic and romantic. There is a clean transition between songs. The music doesn't feel disruptive. Song selection adds to the atmosphere of the scene it's used in. Some of the music featured during sex scenes feels repetitive sometimes.
The most frequently used instruments in Imouto Paradise 3 include the keyboard, cymbals, piano, drums, and guitar. There is also a lot of music with synthetic instruments. Some of these songs use 'twinkle' vibes combined with soft real piano to ease the player into the scene. Other scenes use upbeat and energetic melodies with xylophones.
The opening title video also features an anime-inspired song that sets up the feel-good slice of life goodness. There are cutesy vocals too.
VOICE ACTING AND SOUND EFFECTS (SFX)
All five sisters in the game are fully voiced. The vocal performances are stunning with a lot of focus given to moe and cutesy portrayals. The voice actresses expertly convey the innocence and uncertainty these girls have, but also the warm and passionate love they give to their onii-chan. It is sometimes difficult to tell the voices apart as the bulk of the game is focused on cuteness. The only exceptions are Zakuro and her deviousness and Rika who doesn't appreciate the humiliating perversion you put her through.
The game has limited sound effects. The sheer size of the game makes them harder to notice, but some of the easily recognizable are ocean waves breaking or the water in the bath you or the sisters are taking. A lot of opportunities to use sound effects are missed.
The most prominent sound is your cock pushing in and out of the girls' orifices. The sheer amount of repetitive thrusts can become grating after a while, but the sounds of mouths gargling and slobbering on your thick member never get old.
HENTAI
Imouto Paradise 3 is chock full of sex scenes. They take a while to get going, but then devolve into a series of sexual encounters with parts of the plot sprinkled in-between. Each sister has over half a dozen sex scenes devoted to them.
The sex is varied. There are blowjobs, titty fucks, anal and vaginal sex. There are several other kinks such as Zakuro dominating you, and humiliating Rika. Rika especially loves to masturbate in front of you. Shooting cock juice all across Zakuro's face is equally lewd as fuck.
Sakura's scenes focus on romance. She just loves making you happy and there's nothing as nice as having a cute girl slurping on your dick. Several scenes involve fucking two or more sisters at the same time. Hiharu and Zakuro hog the your dick for themselves, while in another scene Sakura, Rika and Hinata decide to share you.
Each sex scene is long and highly descriptive with play by play from the sister you're screwing. The dialogue is cute and stimulating with each girl spouting lewder lines the more you fuck her. Being an ecchi slice of life, expect there to be the cliché hentai lines.
Imouto Paradise 3 goes out of its way to make sex as stimulating as possible. The sisters' boobs flop around while their pussies stretch in and out to accommodate your cock. This sight, combined with the ever shifting expressions makes the sex feel more immersive. Even cum sticking to character's hair moves around.
CONCLUDING WORDS
Imouto Paradise 3 is worth the price of admission. It's one of those few hentai games that manages to score high all across the board with great visuals, excellent music, lots of wild sex, and stellar voice work. While the plot doesn't matter, the game has a lot of content. If you don't mind some of the kinks involved, the content is thoroughly very enticing.
A superb hentai game, highly recommended for fappers worldwide! Download Imouto Paradise 3.
Graphics

Gameplay

Story

Music

SFX

Hentai