Hentai Visual Novel Review: Sakura Succubus
Hentai Reviews

>

Reviews

>

Hentai Visual Novel Review: Sakura Succubus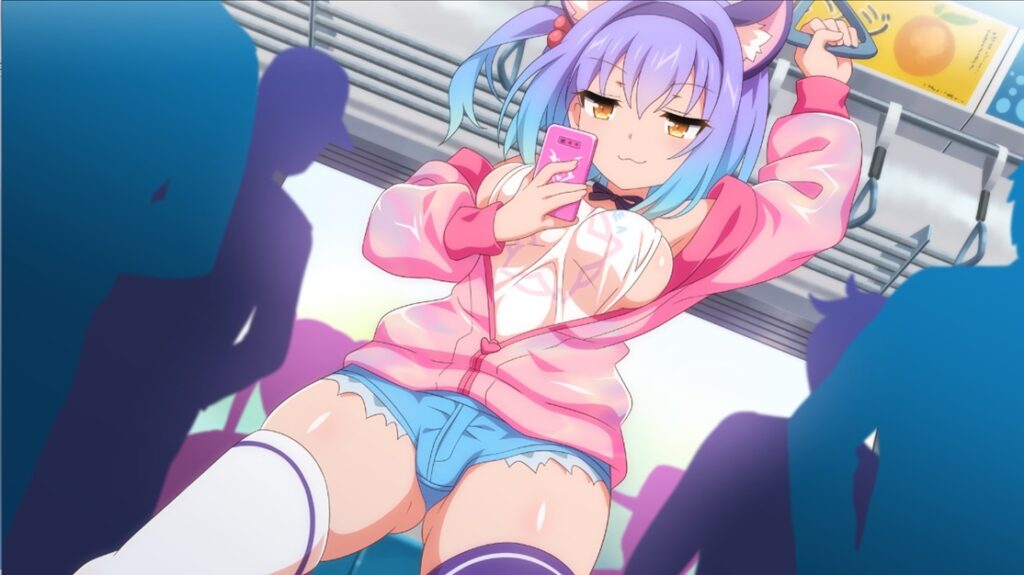 Written by Mistress Valentine, edited by Otaku Apologist
Sakura Succubus, a hentai visual novel game developed and published by Winged Cloud. Released 21 Apr 2020. Download on Nutaku.net for $7.50. For PC Windows. No voice acting. No genitals.
Ogasawara Hiroki wants to make a name for himself in photography. Down on his luck, he finally gets a chance to strut his stuff when his slave driver of a boss gives him an assignment to take pictures of Ikue Ayu, a celebrity. Ayu inexplicably into Hiroki, and two other celebs are too. All three of them are horny succubi who want his yummy dick juice.
Visit our perverted store for more hardcore porn games.
STORY
Your character is Ogasawara Hiroki. Hiroki lives on noodles and ramen. He is on the verge of getting fired from his job. His boss gives him one last chance; he must take photos of an idol named Ikue Ayu. He meets Ayu after her latest performance. One cliché leads to another and Ayu's crotch eventually lands on Hiroko's face. Hiroko's camera lands on the ground in pieces.
Later, Hiroko gives his photos to the editor but worries about the broken camera. He also drowns his sorrows in a bar where he meets a sexy business woman named Marina. Later on a train he spots another cute girl named Cosmos who wants to seduce him as well. Hiroko learns that these three are actually succubi who are attracted to him because hentai.
Each succubus gets enough screentime for the audience to get a feel for their personalities. Each girl falls into a specific anime trope: Ayu is the inexperienced tsundere idol who thinks she's better than everyone; Marina is the experienced, mature succubus who knows what she likes. Cosmos is the aloof girl with a cute appearance and an interest in strange fetishes.
With less than 2 hours of content, the game wisely chooses to focus on world building and properly introducing characters. This is chapter one of a much bigger and hopefully sexier story. Players who do not like to wait for sex may be turned off.
SOUND EFFECTS AND VOICE ACTING (SFX)
Sakura Succubus has no voice acting, or sound effects.
MUSIC
The game has nice music. All of the songs feel fresh and original compared to other Sakura titles. The tracks have a unique style to them and don't just feel like generic slice of life anime music. You feel like the composer was trying to do something different.
Most songs rock a casual beat that fits nicely in the background while characters discuss the plot. The music's tempo and silliness doesn't really increase when comedic or ecchi situations arise. Sakura Succubus has a good selection of songs that fit different scenes.
Songs fit the atmosphere of the events taking place onscreen. There is a strong balance between tracks that use synthetic instruments and real instruments. The piano, guitar and violin make up the bulk of the original instruments. Certain songs use synthetic instruments to create a dark and edgy vibe.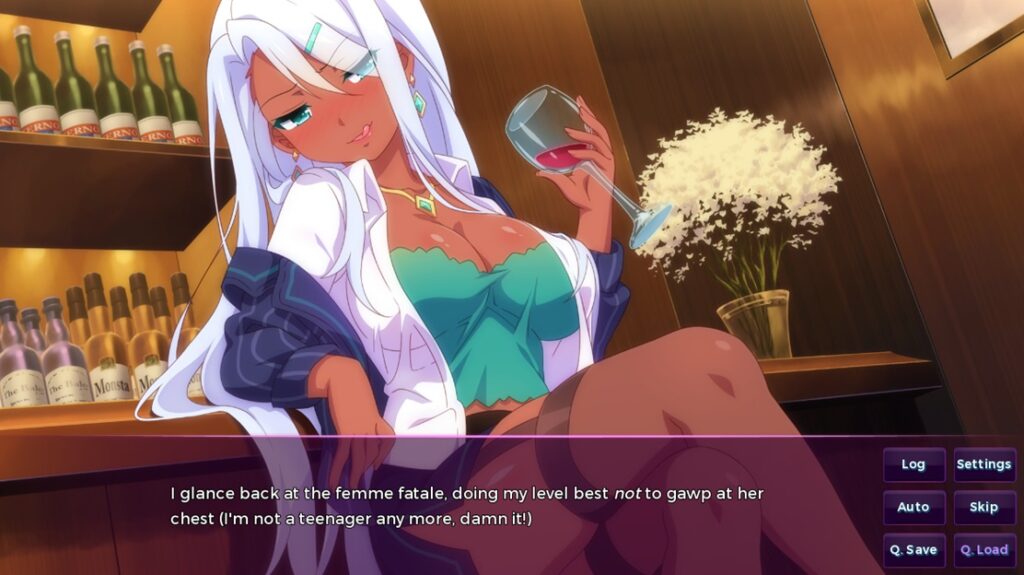 GAMEPLAY
Sakura Succubus is a visual novel. You click the screen to advance the story. Throughout the game you are presented with multiple choices at key points in the story. These choices have no impact on the rest of the game except for slight dialogue changes.
Sakura Succubus has linear storytelling and only one ending. It is the first chapter in what is presumably going to be a longstanding, continuous story. The game has tons of save slots. You can use 'auto' and 'skip buttons to automate the experience.
GRAPHICS
Sakura Succubus features cute artwork drawn by artist Wanaca who always puts out great content. The number of CGs has increased over the series, sitting comfortably at 15 which is impressive given the sheer quality of the artwork.
The visuals are great with simple but eye-catching detail. Each CG is rich with lots of bright and vivid colour schemes. Characters have cool clothing with lighting and shadows placed cleverly around their bodies that will make you drool.
Marina, Cosmos and Ayu continue the Winged Cloud tradition of having nice plump bodies with perk breasts that invite you to grope them. They are all very feminine and moe. The in-game sprites are super cute. There is a good collection of facial expressions and poses. Each character has a cute succubus form. The game uses thin edge lines. Unfortunately we don't get to see any of the girls naked.
The background art is well drawn and adds immersion to the game. Each character has a signature setting but the game spares no expense on backdrops for scenes which are short or have almost zero impact on the rest of the story. Every backdrop has a vibrant look, rich detail and fantastic color schemes.
HENTAI
Sakura Succubus puts world building and character introductions above sex. This title is not for fans who just want to fap to cute girls. There is actual plot in this game and a lot of setup for future installments. It's clear that the developers want to include sexier content in future installments. They don't want to overplay their hand. This is risky as most players prefer porn over plot.
Despite having a male protagonist, Sakura Succubus has no on-screen sex scenes and has fewer ecchi content than other titles. You degrade a willing Cosmos by taking her out for a walk in public with a leash around her neck. You also have sex with Marina, but all of it is off-screen and the game doesn't even let you read the good bits.
The game's ecchi content focuses on placing the succubi girls in compromising situations. You fall onto Ayu's crotch and get a few good licks in. In another scene Cosmos seduces you on a busy train, and later, Ayu is comically spanked by Marina on the beach.
CONCLUDING WORDS
Pick up Sakura Succubus if you like your porn to have a degree of plot in it. The production values are high, the story is interesting enough for hentai and the succubus girls are all super cute. The only downsides are the lack of proper sex and the lack of voice acting and sound effects that would have made the game world feel more immersive.
Recommended for fans of ecchi hentai. Download Sakura Succubus now!
Story

SFX

Music

Hentai

Graphics

Gameplay