Written by Rastafoo69, edited by Otaku Apologist
Making Lovers, a romantic visual novel developed by NekoNyan and published by Smee. Released July 28, 2017. Download on Nutaku.net for $30.00. For PC Windows. Full voice acting. Uncensored genitals. Available in English, Chinese, and Japanese.
Your parents demand you get a girlfriend! When your step-sister and best friend pressure you to meet women, you finally give in! Go on dates, fall in love, and lose your virginity to your favorite waifu.
STORY
You are a hentai gaming wanker who's never had a girlfriend. Find and romance a lovely lady before summer ends! Of course you're a hopeless romantic, so there will be plenty of dates before you truly commit.
The game has no overarching plot. It's a slice of life visual novel that progresses very slowly. The game can take up to ten hours to complete, mostly because of the realistic conversations where you kill time with your dates.
This game requires a walkthrough to get your perfect waifu. Random choices can lock you out of half the routes! I wanted to date Karen, but because I made the wrong choice, I had to restart my playthrough to do it!
There is no courtship period. Multiple routes will involve you dating one girl, then leaving her for someone else. It's sad and unnecessary if you ask me.
If you can look past this flaw, the dialogue has a lot to offer. Not only is it believable and fully voiced, but it's also hilarious! For example, when your mother demands grandchildren, she gets dramatic. She will try to guilt trip you into finding a wife, but all it does is make you laugh!
Another funny moment was when you wear a mascot outfit and harass your girlfriend! She says the mascot looks creepy and hates it, then she finds out it was you and gets so embarrassed!
The sequel to this game gives an epilogue depending on your waifu. From family visits to other relaxed plotlines, the sequel continues the slice of life narrative. It is currently being translated into English, so you can trust that this game is only the beginning.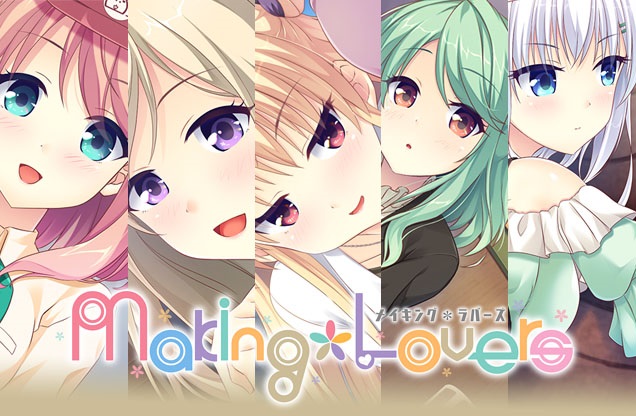 CHARACTERS
Takanashi Kazuma is the main character. He's been out of college for a year and is living on his own. He loves hentai games and pervy innuendo. His behavior and personality change a bit depending on who he dates.
Takanashi Ako is your step-sister. You met when you were ten years old and have been inseparable ever since. She's on summer break and loves you with all her heart. Just spend time with her and you'll be the cutest couple!
Kitaooji Karen is a girl you knew back in college. You were in clubs together and knew each other, but never got very close. Though she's prideful and hard-headed, she has a warm and kind personality for someone willing to give her a chance.
Tsukino Mashiro is a waitress at a local restaurant. Although she puts on a cheery personality with customers, she's actually a total gamer-girl! A bit eccentric, but you can be her first love and really know her like no one else does.
Naruse Saki is pretty much the default waifu. If you accept the blind date offer at the start of the game, you'll end up dating her. She's never talked to men before, and always tries with earnest to keep you happy.
Kanome Reina is the only girl who actively tries to seduce you. She wants to be a famous model someday, and is super energetic! Talkative and direct, she's the perfect girl for someone who always wants to smile.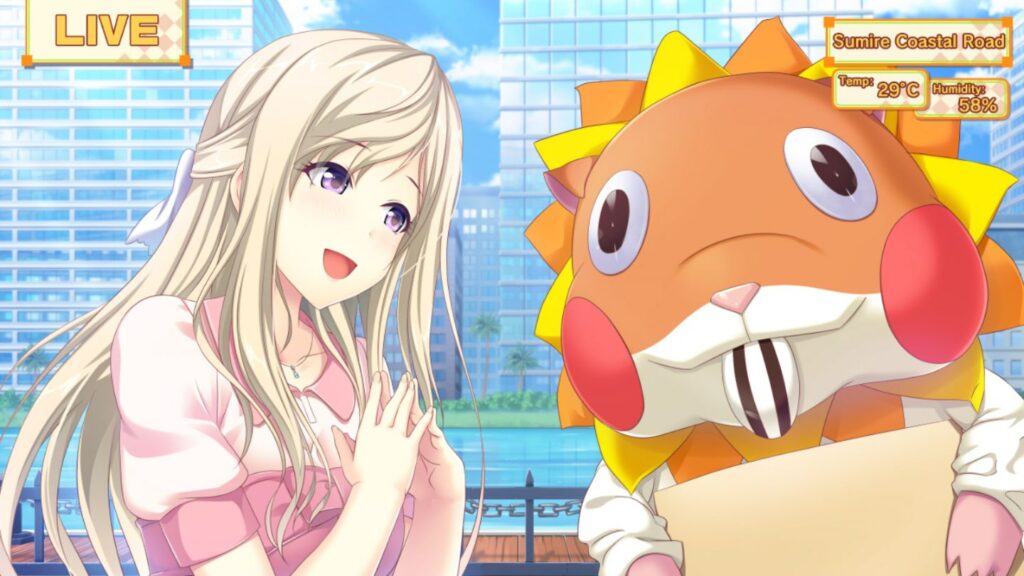 GAMEPLAY
Making Lovers is a visual novel. Click the screen to advance the story. Press CTRL to skip ahead. Press H to view the backlog. Press A to turn on automatic progression. Press O to view the options.
The options menu to this game is insane. You can customize the controls, the text font, the voice levels, and so much more. Very few games actually let you adjust text color, or mute cast members.
At the start of your file, you can input your own first and last name. The eight character limit was disappointing, but I enjoyed it.
Even the backlog is high tech! You can click on any line and warp to that point in the story! No other game I've played allows you to warp around like that. This game is the supreme visual novel.
Each girl has multiple dates you can go on. During special points of the game, you can choose the date spot and watch it unfold. This means the game has replay value when you try out all girls, and to make different choices to see different romantic dialogue.
My only complaint is how choices are few and far between. You'll often play for a full hour and never make a single decision!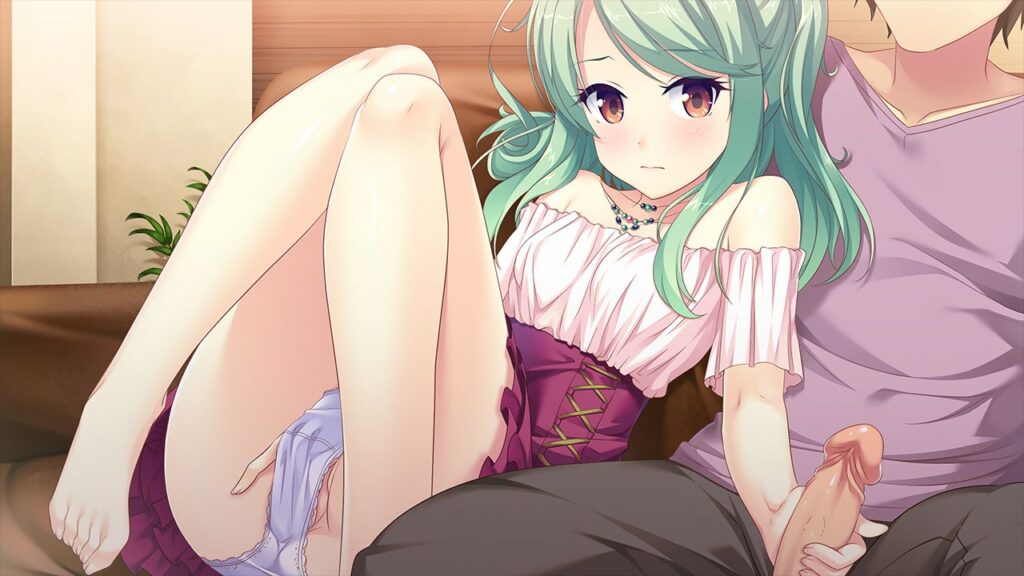 GRAPHICS
The art is in Japanese anime style. Each girl has a unique design, though some look alike. For example, Reina and Saki both have the same hair color while Reina and Karen have a similar eye color. Also, each girl has similar or identical bust size, further blending them together. A big titty milf character would really be distinct from all the rest.
The visual presentation of this game is fantastic. Characters blink and shake when they're emotional. Each girl has numerous outfits and poses. This variety of visuals makes the game more entertaining than other visual novels on the market.
Variation images are used frequently during CGs. These include hentai and slice of life photos, like sitting down for drinks with your girl. The game could use more CGs focused on day to day life. Like when Saki drops her magazine, a cut-in image or something would be far more engaging than a simple character still.
Characters are shown in a wide variety of situations. You can see your girlfriend in bed, in the kitchen, and even on television! Seeing my weather-girl waifu deliver the news made me so proud to be her man.
Once the prologue of the game ends, an anime opening plays to introduce all the characters. This animation was professionally made and high quality enough where you'd expect it on television. It was synced to the music, with moving visuals, and tons of personality.
VOICE ACTING AND SOUND EFFECTS (SFX)
Making Lovers features full voice acting for all five waifus and eight miscellaneous characters. This is one of the few games that actually voices the male characters, which was really surprising! And with over thirty hours of content, the sheer volume of voiced lines is insane!
Saki is a bit older than you, and her voice conveys that maturity. Meanwhile your little sister is quirky, young, and comfortable with you, which you instantly feel from hearing her lines. Then your best friend Kakeru, he's an overconfident man-slut, and hearing his voice lets you know immediately that's he's popular. Everyone has so much personality, you may just forget they're fictional characters!
The sound design is damn good! From punching your best friend jokingly, to turning on a hair dryer after a shower, every action has a realistic and unique sound effect to match. Not only that, but these sound effects compliment the voice acting without getting in the way!
MUSIC
There are at least 8 unique songs on the soundtrack. There isn't a music room, so you can only enjoy them in-game. The music is super chill, relying often on guitar and drums. Seriously, the drums in this game are fantastic for setting and maintaining the beat so well. They steal the show in most tracks.
The opening song and theme of the game is Girl's Carnival by Yuuka. It's super upbeat, with a pop rhythm hiding a fantastic bass guitar that keeps the beat. The moment you hear it, you'll be filled with joy and happy to meet girls and pick a waifu. For this track alone, I always come back to this game to relax and smile.
HENTAI
The hentai content is restricted to the second half of the game. This means that you'll be playing a minimum of two hours with no sexual content whatsoever. Making Lovers is primarily a romance game.
With five waifus to choose from, you'll definitely need a walkthrough to get your happy ending. It's annoying, but in this game a route can fail simply because you chose the wrong dialogue option.
Sex positions range from missionary to cowgirl, with tons of variation images and sexy dialogue. While at first she'll ask you to go slow and be considerate, after some experience she'll be a total fuckdoll waiting for your cock!
There are at least 20 scenes in total. You make your girlfriend wear a bunny outfit, fuck her in her business clothes, and a schoolgirl's uniform! You can choose whether you'll cum inside or pull out! Get kinky and blindfold your babe!
CONCLUDING WORDS
Making Lovers is a long and detailed visual novel. The artwork is varied and gorgeous, with tons of locations and setups to be found. The music is a joy to listen to, and sure to make you smile. Best of all, each girl is voice acted with tons of personality! Make sure you use a walkthrough though, because the choices in these games always have unintended consequences.
I highly recommend this game to hentai fans everywhere. Download Making Lovers.
Graphics

Gameplay

Story

Music

SFX

Hentai