Hentai Visual Novel Review: Yuuki's Party Night
Hentai Reviews

>

Reviews

>

Hentai Visual Novel Review: Yuuki's Party Night
Written by Mistress Valentine, edited by Otaku Apologist
Yuuki's Party Night, a visual novel game developed and published by Dharker Studio. Released March 12, 2020. Download on Nutaku.net for $12.99. For PC Windows. No voice acting. Uncensored genitals.
Yuuki is ready to attend the annual Halloween party. Her friend Melissa cancels at the last minute, leaving Yuuki to brave the festivities alone. Thankfully she meets a horny young man who helps her pussy cope with the loneliness.
Visit our perverted store for more hardcore porn games.
STORY
Yuuki prepares to attend a local Halloween party with her friend Melissa when the latter cancels on her. Yuuki decides firmly to have fun regardless of being stood up. She picks an outfit and plays with herself, and sets off.
At the party she runs into Robbie, a young man who hits on her. Because hentai, Yuuki is automatically impressed by the young man's charms and agrees to spend the party in his company. They dance, drink and watch fireworks on the beach. Yuuki rewards Robbie for the good time by spreading her legs, like good girls do.
The writing for Yuuki's Party Night is okay. Yuuki is a fun character while Robbie is dull and bland. Neither of their personalities is explored in depth. The scenarios they find themselves in will remind you of the stereotypical Japanese festivals you see in anime, only in this game, the decorations are Halloween themed. Yuuki spends a lot of time talking to herself or thinking about the situation she is in. The romance with Robbie feels more like a one-night stand than true love.
VOICE ACTING AND SOUND EFFECTS (SFX)
The game has no voice acting. The only sound effects you hear are of pages being turned every time you click something in the menu.
MUSIC
The soundtrack only includes a handful of songs. The game employs a combo of original and synthetic instruments. You hear the piano, keyboard and drumsticks most frequently. The synthetic instruments do not fit the romantic tone of the game at all. It sounds like these tracks were ripped from some unknown artist on Soundcloud giving their music away at a 90% discount.
Music in Yuuki's Party Night sounds generic and uninteresting. The songs are repetitive and blur into one after a while. The tracks do not mesh with what is happening onscreen and changeovers are very noticeable. Some scenes feature a clear change in mood but the music stays the same. The music fails terribly at being romantic.
GAMEPLAY
Yuuki's Party Night is a visual novel game. Clicking the screen progresses the story. You will be periodically presented with choices, such as what to wear, where to go, and what to do. These choices have little impact on the rest of the story as most of the story follows a linear plot with only a few tiny changes depending on your choices. You will always meet Robbie and only in one path do you go home with a dry pussy. The choices you make determine how much and what kind of sex you end up having.
The game has basic visual novel functionality with a menu that is recycled from Roomie Romance only with Halloween decorations. The game has enough save slots to save your progress. There is also an 'auto' and 'skip' option so you don't have to exercise your index finger clicking the mouse constantly. The game has a gallery where you can view all the CGs you've unlocked.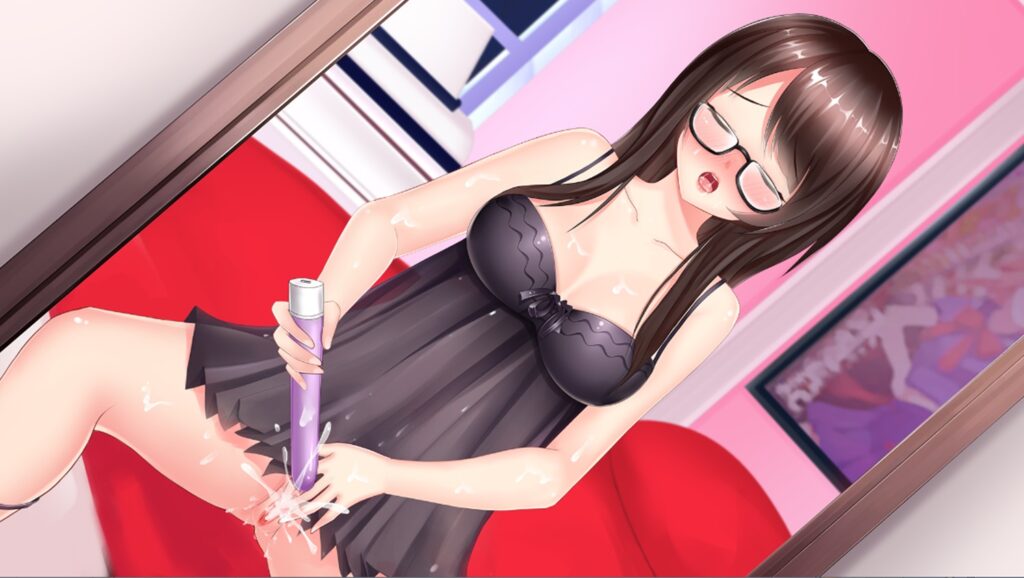 GRAPHICS
Yuuki's Party Night has some great graphics. Artwork is inspired by slice of life anime with a western twist. The menu interface is copy-pasted from other Dharker Studio's titles but decorated to look like a worn old tombstone. Yuuki's Party Night has unique text colors for verbal and mental dialogue.
Character sprites have lots of facial expressions. Poses are limited. Each sprite has a unique look and feel to them. Sprites have distinctively different facial designs with softer, rounder shapes for the women and pointier faces for the men. Yuuki personifies innocence with a cute face, big eyes and a realistic rack. Her soft lips and beautiful blue eyes are gorgeous. The glasses give her an extra layer of cuteness that makes her character pop.
The game's art style uses thin black lines with slightly jaded colours. The art style is in line with most of Dharker Studio's output. Yuuki has several possible outfits that she can wear throughout the game such as a bunny girl, a witch, or plain lingerie. Based on this decision she will spend the rest of the game in the chosen attire.
The background artwork is top tier with rich locations. The level of detail that goes into these settings is an absolute work of art. The background CGs feel fewer in number than what's normal for Dharker games. The story takes place in a couple of locations in a short span of time.
HENTAI
The game strikes a great balance between intercourse and interaction. Artwork will either depict Yuuki and Robbie having sex or show Yuuki in some kind sexy position. She may pose in her costume in front of the mirror, or sit back on the back and plunge a few fingers in her cunt for some pre-party pussy play.
Play your cards right and Robbie will whip out his dick and stuff it between Yuuki's tits before she can milk him dry. After that he takes his dick in her pussy and pumps the night away. The shot of her on the bed on all fours like an animal stalking its prey is very sexy. He also eats out her pussy while she returns the favour with a slippery blowjob.
The game features a lot of sex. Robbie is the Yuuki's only partner, but the size of his dong more than makes up for it. The length of the game makes it seem like he's only talking to Yuuki to get into her pants. However, the girl likes her right away and eagerly spreads her legs for him, so it's okay.
The dialogue during sex is passable. The sex scenes don't last nearly long enough to rub one out. Yuuki's facial expressions are non-sexy to look at. In some shots she just looks confused about why there's suddenly a dick inside her pussy. The developers opted to use their art budget on CGs where Yuuki and Robbie stare longingly at one another or being lovey-dovey instead of pumping out more sex artwork. This fuels the romantic aspect of the game but kills boners.
CONCLUDING WORDS
Yuuki's Party Night is a casual romantic comedy porn game for casual hentai gamers. The visuals are great and the sexual content is cute, featuring an attractive main girl who wears glasses and sexy outfits. The lack of voice acting and lackluster music drag down the experience, so I recommend you boot some soundtrack in the background while playing.
Recommended for stay-at-home hentai gamers who enjoy watching fictional bitches have meaningless one-night stands. Download Yuuki's Party Night now!
Story

SFX

Music

Gameplay

Graphics

Hentai