Harry Potter Porn Game Review: Witch Trainer
Hentai Reviews

>

Featured

>

Harry Potter Porn Game Review: Witch Trainer
Written by MilkMaster, edited by Rastafoo69 and Otaku Apologist
Witch Trainer, a Harry Potter porn parody game developed by Akabur. Visit the developer's Patreon page. Released September 5, 2016. Download for PC Windows, Mac OS, and Android. No voice acting. Uncensored genitals.
Hermione Granger wants to help gryffindor win the house cup! Give her points every time she does a sexual favor for you! Play your cards right, and you'll soon be the one to take her virgin pussy for a spin!
This game is a sequel to Akabur's "Magic Shop". This review covers the base game, with no mods or additional content included.
STORY
The Genie from the Aladdin movies has been teleported into the world of Harry Potter! Posing as Albus Dumbledore, the Genie abuses his position of power to seduce Hermione Granger and turn her into a total cumslut!
Hogwarts has a problem. All the slutty students are having sex with their teachers! It's a tight race to see which of the Hogwarts houses will win this year's house cup, so everyone's involved! To get some points for Gryffindor, Hermione is ready to do anything to please you!
While at first she stops at flashing, soon you can get a handjob and even fuck her tight pussy! And if you're a real deviant, you can whore her out to all her classmates! Make her suck everyone off!
There are two endings to the game. If you keep Hermione as your private sex slave, she keeps a good reputation and later tries to seduce the real Dumbledore. If you make her a public whore, the boys from Slytherin face-fuck her at the prom!
GAMEPLAY
Witch Trainer was created with the Renpy game engine. Press CTRL to skip dialogue. Scroll up to see previous dialogue. The game can be saved at the pause menu. Backtrack your choices by loading backup saves.
The game cycle is simple. Befriend Snape so he'll put House Slytherin in the lead. Then, make Hermione whore points to Gryffindor, as long as she makes you cum! Repeat this until she's fully corrupted!
Along the way you can also focus on money. Work at your desk to earn some, and you can spend it on books or gifts. Books will unlock more sex scenes and make you work faster, while gifts will repair your relationship with Hermione in case you upset her.
While fan-made expansions fix them, the original game has some flaws. You cannot customize your outfit. You can only order 1 item at a time. And Hermione often stays mad at you for absurd lengths of time. If you can look past the flaws, this game has 5-10 hours of solid content.
If you tried one of the fan mods like "Silver Edition", be careful! If you try to load a save from a different version of the game, it may not work.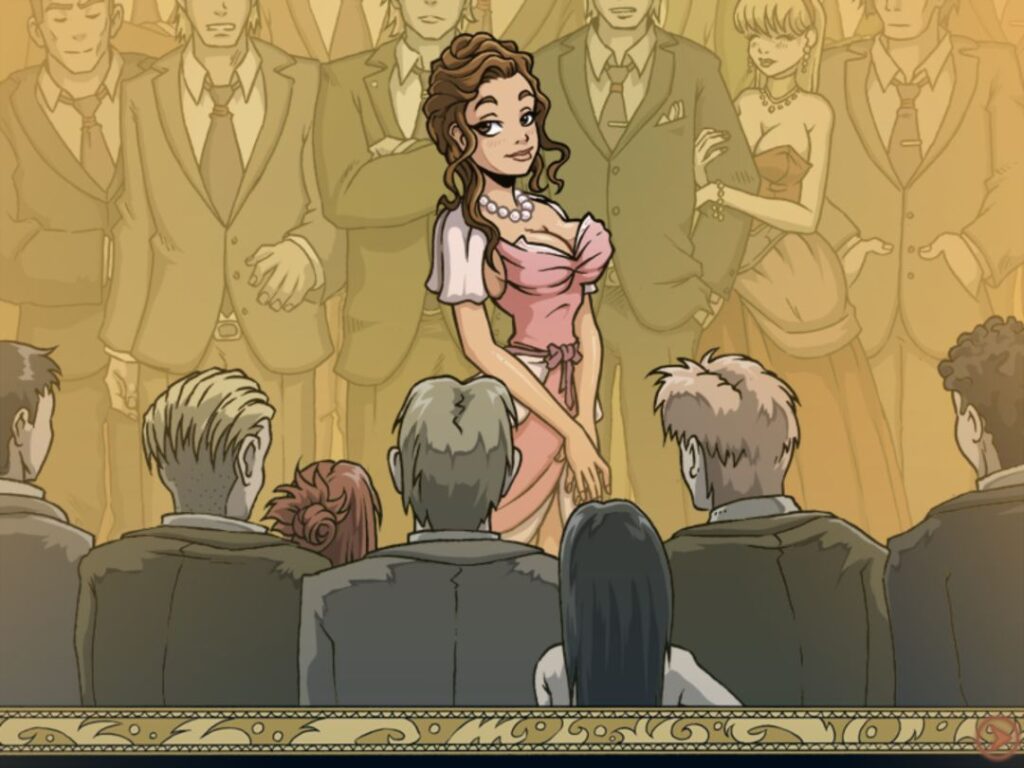 GRAPHICS
All visual assets in the game were hand-drawn by Akabur in his unique style. Because there is only one girl, Hermione, the art style is always consistent and detailed. Hermione has numerous character stills for every emotion and dress. Without a doubt, this is one of the most beautiful pornographic games we've ever reviewed.
There's an image gallery on the main menu, but you need to complete the game to find those photos. Many photos are disconnected from the story, and fit more into the genre of concept art that you can purchase at the in-game shop.
Sprite animations are often used to accompany character stills. During sex for example, the sprites will have sex while the character stills represent facial expressions in dialogue. If you love sexy little animations, this game will please you. My only complaint is, the fullscreen CGs are all packed at the end of the game! Spreading them out more would make this a more satisfying experience.
VOICE ACTING AND SOUND EFFECTS (SFX)
Witch Trainer has no voice acting.
The game has a few basic sound effects, like when a potion is used, or someone takes a step forward. However, there's very little action in the game, so the opportunities for the occurrence of sounds are few.
MUSIC
The music room on the main menu showcases multiple tracks, but only one track is used frequently. Brittle Rille by Kevin Macleod! The game uses a long list of licensed music. A great choice by the developer that let him focus on the artwork and gameplay. Still, you can only listen to Brittle Rille on loop so many times before you lose your mind. Akabur needed to vary the tracks more! He had plenty of music to choose from but simply didn't!
HENTAI
Witch Trainer has 11 base scenes, each with three variations based on Hermione's experience. From showing off her panties to hardcore anal sex, this game has it all! There are also 8 bonus scenes where Hermione tells you verbally about her sexual exploits. There are no artworks to accompany these.
The erotic dialogue is the best part of this game. The writing is realistic and made it genuinely feel like I was seducing Hermione Granger! All this talk about helping Gryffindor and stopping Slytherin with the power of sex made my dick rock hard!
Below is a scene list so you can see all available fapping moments. Sex is always over a table, there is never a cowgirl or missionary sex scene. Sprite animations are hot, but they loop frequently and could use a better variety.
CONCLUDING WORDS
Witch Trainer is a classic Harry Potter porn game known all across the web. Available on all operating systems completely for free, anyone can come in and enjoy the adventure of seducing Hermione Granger! There's also plenty of fan mods, so the fun never has to end!
Download Witch Trainer for PC Windows, Mac OS, and Android
Graphics

Gameplay

Story

SFX

Music

Hentai