Medieval Fantasy Hentai Game Review: Queen's Glory
Hentai Reviews

>

Reviews

>

Medieval Fantasy Hentai Game Review: Queen's Glory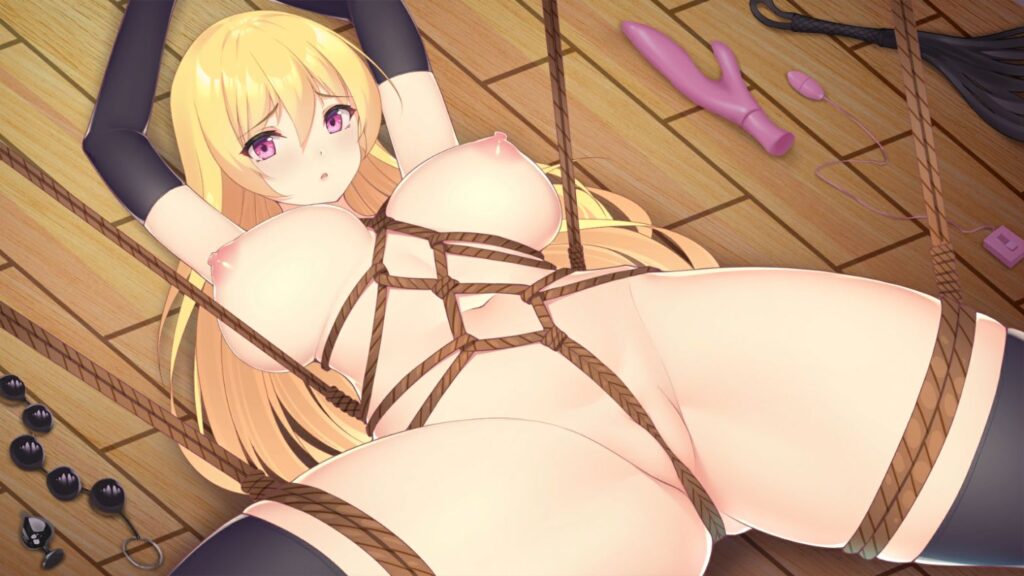 Written by Rastafoo69, edited by Otaku Apologist
Queen's Glory, a hentai game developed by Banana King. Released on May 1, 2020. Download on DLSite for $14.00. For PC Windows and Android. Full voice acting. Uncensored genitals. Available in English, Chinese, and Japanese.
Alisa is the new queen of the Norman Kingdom. After an attack by the Cesten Empire, it's up to her to rebuild the realm. But in exchange for loyalty, there are plenty of people who want to fuck the queen's tight blonde pussy!
Also visit our comic site for free original hentai comics!
STORY
The writing is built on the illusion of choice. You must agree to surrender at the start or you'll get a game over. You must agree to let the queen be deflowered in a gangbang or you'll get a game over. Make the choices the developer wants you to, or the game is over.
Alisa is queen and needs to rebuild her nation. This requires taking power away from the nobility, who are resistant to change. There are no story routes or dramatic twist endings, it's a very straightforward experience.
There are three endings in total depending on which adviser you prioritize. For example, the game explicitly tells you that getting the Sigrid ending requires agreeing with her at all times. This isn't really a meaningful choice, it's just obediently following the developer's chosen path of progression. Many choices in this game make no sense. I built a factory, and my economy was severely damaged. That's absurd!
Whether you're a whore or not, the endings are always the same. The protagonist, Queen Alisa, is completely inconsistent on her feelings about sex. Sometimes she's completely repulsed, and other times she begs for cock. The complete lack of consistency makes it hard to empathize with her. This game needs a complete rewrite.
Discover more medieval fantasy hentai games we have reviewed over the years!
GAMEPLAY
Queen's Glory was created in the Unity game engine. You only need a mouse to play. You can skip dialog by pressing the CTRL key, but without a backlog or rewind, you should be very careful using it!
The DLSite page claims this is a "Simulated life game of country operation and strategy simulation". It's not even close to fitting that description. The reality is, the game tells you exactly what to do. You need economy level 20, or you'll get a game over. So even though you have other choices, the only correct choice is to boost the economy. Later on, you need military level 40 or you'll get a game over. The constant threat of the game ending means you don't have any choice at all. Prioritize what the game tells you to, or you're fucked.
Many players have confused this with difficulty, but its not. The game provides you a scenario like "build farmland or build a military garrison". This isn't difficult! If you make the wrong decision, just load a save file!
Yes, the kingdom has stats, but they mean nothing because you're supposed to make the choices that the developer commands you to. Meanwhile, the Queen has no stats, and is a very hollow character.

GRAPHICS
The artwork is primarily drawn in the Japanese anime style, except some character sprites in a different style. This can be very jarring. You'll have the pointed chin and big eyes from the classic anime style, talking to someone with a rounded human face and realistically sized eyes. Honestly, it's embarrassing to see the art style change so randomly.
Queen Alisa has only one outfit, which is a huge downgrade from previous titles by this developer. Another disappointment is the loss of chibi artworks. The developer gutted this game of all the personality that his previous titles had.
The image gallery can be unlocked from the options menu. There are 32 base CGs with over 200 variations. Seven of these CGs are non-sexual, showing characters laying around and doing other normal things. This is great for making the world feel more realistic, but it's only used at the start and end of the game.
While other games build a main cast of characters with numerous expressions, this game has tons of characters who only get one appearance. This makes the characters feel like static images. The only one with any variation is Sigrid, and she doesn't appear as often as the cover art would make you believe.
VOICE ACTING AND SOUND EFFECTS (SFX)
Queen's Glory has full voice acting for Queen Alisa and her trusty maid Sigrid. Their voices are relatively similar and lacking in personality. Alisa is the generic anime blonde who shouts "yamate" whenever someone touches her.
Sound effects are nearly nonexistent. Although the game includes multiple "battles" where you hear the results from the royal court, there's never actually an action scene. Sound effects are limited to the beginning and ending of the game when people get killed.
MUSIC
Having already played and reviewed the other two games by this developer, I can say without a doubt, he's copy pasting music files over. The soundtrack is nearly identical to Nai's Training Diary with the exception of maybe one new song. If this is the first game you've played, the soundtrack will be mediocre at best. But if you're familiar with this developer, you'll be supremely disappointed.
HENTAI
The game begins with a mandatory scene of Queen Alisa losing her virginity in a gangbang against knights from a rival kingdom. There's nowhere else to go from there! Rather than escalation, the next scene is weaker, and is a simple blowjob to a nobleman. The game continues like this, tossing scenes at you that never seem to get hotter.
There are 25 scenes in total, ranging from doggystyle to cowgirl. The majority of scenes go to Queen Alisa, but her maid Sigrid has a couple too. Alisa often fucks the same men repeatedly, and it's pretty predictable. I wish she fucked some commoners or faced real humiliation. Without a clear fetish or love interest, this game is just a random compilation of hentai.
Even worse, there's no animations or well written dialogue to save these scenes! The artwork is nice, but moaning and saying an occasional "yamate" doesn't help. The lack of creativity here is obvious and disappointing.
CONCLUDING WORDS
Queen's Glory is advertised as a strategy game, but you're told what to do. It's advertised as a simulation, but there's no freedom, and only three possible endings. It's advertised as a hentai game, but the scenes are low quality. The developer released greatness in the past, but now he's fallen from grace. I was thoroughly disappointed.
Download Queen's Glory. If you like his art but want an actually good game, check out our review of Nai's Training Diary.
Graphics

Gameplay

Story

Music

SFX

Hentai