Hentai Visual Novel Review: Sexy Demon Transformation
Hentai Reviews

>

Reviews

>

Hentai Visual Novel Review: Sexy Demon Transformation
Written by Rastafoo69, edited by Otaku Apologist
Sexy Demon Transformation, a visual novel developed by Softhouse-Seal. Released February 25, 2011. Download on MangaGamer for $25.00. For Windows, Linux, and Mac OS. Full voice acting. Uncensored genitals.
After your childhood friend gets a job that you wanted, you decide to use spirit magic to fuck and impregnate her so she'll lose the job. Yes that is sociopathic and downright evil, but she secretly has a crush on you, so it's okay.
STORY
The author just throws you into the story without direction. It seems to be expected that you read the store page or a plot synopsis beforehand. If you don't, you'll be very confused.
You and your childhood friend Asuka were both competing to be the next boss of the Exorcist clan. But when she throws a flashbang to blind you, she wins the title. Now you want revenge, and plan to impregnate her so she'll be forced to give up her position as leader.
This game is pretty short, and can be beaten in under four hours. Its writing is very casual, as if the author didn't plan things out beforehand. While it's labeled a comedy, it's not very funny. The author labeled it "comedy" as an excuse for his casual writing.
The first rule of writing is to show, don't tell. This game breaks that rule. You're told that you saved Nurarihyon from death, told that Asuka is your childhood friend, and told that the current leaders of the exorcist clan are inept. Without seeing these things for yourself, it really has no meaning whatsoever.
The writer gives no motivation for the player to continue. Asuka is actually a really nice person and didn't mean to upset you. But she only finds out she did, after you force yourself on her repeatedly and ruin her life.
The characters in this game are all poorly written stereotypes. Shiori is the reserved and traditional girl while Airi is the bouncy and high energy girl. Asuka is your childhood friend, and Yukihi is the ice queen. Literally. She's got both a cold personality, and an ice spirit for a mother.
GAMEPLAY
Sexy Demon Transformation is a visual novel with some twists on the genre. In this game, you can choose which ghost spirits to take with you. You can also choose which location you wish to visit. Some locations yield dialogue and character moments, while others yield spirits and sex scenes. The fundamental problem is, a visual novel can never be a truly open world experience. While these open world elements are nice, the choices are not meaningful. They boil down to picking items from menus. In spite of this illusion of choice, most players will have identical playthroughs.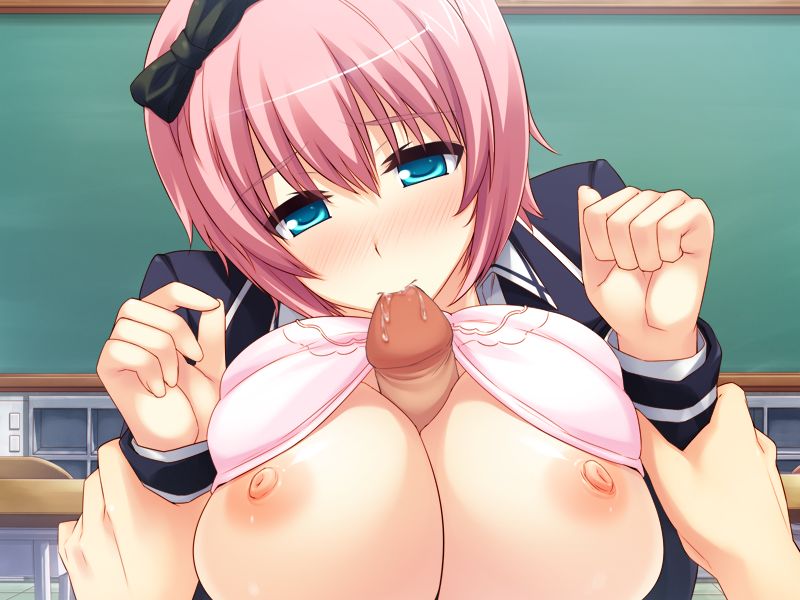 GRAPHICS
The art is classic Japanese anime style. Multiple sex scenes are animated.
There are four girls in total, but only two of them get emphasis. Shiori and Airi only get one scene each. It felt like a waste of a good character design. Airi is the green-haired photographer girl from the newspaper club. She's got a tomboyish but girly style. It's a shame she didn't get more scenes.
The backgrounds and locations in this game feel uninspired like they've been duplicated from other games. A dark hallway, a hidden forest, and a bunch of other generic locales. I wish this title offered something visually unique.
Often times, characters' facial structures get horribly distorted. During the footjob scene, Yukihi's face is incredibly thin and pointed. Meanwhile, in the blowjob scene she has a normal rounded face.
This game was originally censored, so the dicks look super strange. You can tell they were drawn onto the body after the game was already made. The pricks look completely unnatural and unappealing. And since only some scenes are animated, you can never trust that you're in for an exciting time.
VOICE ACTING AND SOUND EFFECTS (SFX)
All four of the main females are fully voiced to match their style. Yukihi has a calm but judgemental voice while Shiori has a sweet little sister voice. The voice acting is often modified for the circumstances on-screen, like a slight muffling to the moans when she sucks your dick. Outside of internal monologues ruining the flow, the voice acting makes each conversation much more enjoyable. Without it, the writing alone could not make these characters so beloved.
Often times sound effects won't play where you'd expect them to. For example, there is no sound for ejaculation. This would be fine if the visuals matched the low-key approach, but instead the entire screen blinks and fades to white during ejaculation. Without a matching sound effect it almost makes you think the game glitched or something. Players need clear indication that their actions have impact, which is why most games include sex audio.
MUSIC
The handful of tracks in this game cannot carry the story. From the moment you start your file, you'll be listening to the same background track for ten minutes straight. It loops every 20 seconds, and will irritate players who notice it. Rather than plan scenes to allow for a change of pace to keep players interested, this game is heavy on exposition dumps and long conversations that could have been shortened. As a consequence, music tracks loop repeatedly, and often.
On the plus side, the title theme was fun and bouncy. It reminded me of a gay night club. Still, a handful of good tracks don't make up for the constant and very noticeable looping.
HENTAI
Sexy Demon Transformation features 20 scenes in total. Some of these scenes are fully animated, and all of them include full voice acting for the moans of pleasure your partner will experience.
A big reason people play this game is because it's advertised as having the "tentacles" fetish and "possession" fetish. In reality, there's only one or two tentacles scenes. And you never possess people's bodies, instead you brainwash them into being horny, so they have sex with you. Your ghost powers are not body snatching, they're more like becoming a concrete wall and fucking a woman with a cement dildo.
Not only was this false advertising, but it changes things entirely. When a girl is brainwashed to be extra horny, you're not getting her real emotions. And when she has sex with a magic umbrella, there's no real chance for dialogue. The scenes in this game are visually appealing but mediocre.
By the way, in spite of the title, there are no sexy demons or transformations. And although the game carries a "pregnancy" tag, the content is practically nonexistent. It's just mentioned but not fully shown.
CONCLUDING WORDS
Sexy Demon Transformation is a decade old in the adult games market and forgotten by most hentai gamers. The basic writing and gameplay are a turn off for some, but the visuals and voice acting give this hidden gem a unique personality that few others can mimic.
Download Sexy Demon Transformation. If you love anime babes but want a better game, then check out Nutaku's NinNinDays.

Graphics

Gameplay

Story

Music

SFX

Hentai