Medieval Hentai RPG Review: Demon Sword Snakes
Hentai Reviews

>

Reviews

>

Medieval Hentai RPG Review: Demon Sword Snakes
Written by Rastafoo69, edited by Otaku Apologist
Demon Sword Snakes, a hentai RPG developed by EB. Published by Wasabi Media. Released December 27, 2014. Download on DLSite for $14.00. For PC Windows. No voice acting. Uncensored genitals. Available in English and Japanese.
Spica and Lulu are two gorgeous ladies. And all three of you suffer from the succubus curse! Keep their hungry pussies satisfied while you search for the succubus who cursed your bodies!
This review contains massive spoilers for the game. The English version of the game is exclusively available on Steam.
STORY
You and two random ladies were cursed by Vahala the succubus! Find a way to lift the curse!
The overall story of the game is very weak. First you fight Vahala the succubus. Then you fight her superiors named Paimon and Abarim. Lastly, you enter the demon realm to finish them all off.
These bad guys were led by a demon named Lucifage. He had a brother named Labal who died recently. Also, you have no memories of your past. And due to heavy foreshadowing, it's obvious after only a few conversations that your character is Labal reborn.
At the end of the game you regain your demon memories and kill Lucifage. Then you leave your friends behind to travel the world. This is the only ending to the game, and occurs regardless of your choices or sexual activities.
Discover more medieval fantasy hentai games we have reviewed over the years!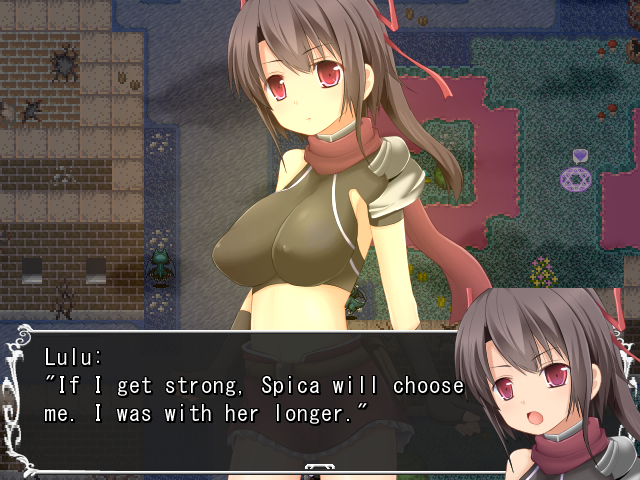 At least half the dialogue in this game is setting up a sequel. There's a cowardly king who never leaves his castle, which you cannot enter. There's a plan for the demons to invade heaven, but we never see Heaven or angels of any kind. Spica is revealed to be the daughter of a demon named Istarot, one of seven great demons that rule the land. Vahala survives the final battle and reports to her bosses named Medin and Deneb, who are far stronger than any dark force before them. At least half the content in this game is foreshadowing a sequel, which makes all of these interesting plot points go unresolved.
While the dialogue in this game has funny moments, they're sandwiched between numerous typos and bad writing. You fight Vahala and others multiple times, only for them to survive and return. No battle has any impact or meaning, because nobody ever dies.
At the end of the day the writing is painfully mediocre. A predictable plot, foreshadowing without payoff, and meaningless fake-out battles make this game a woefully forgettable experience.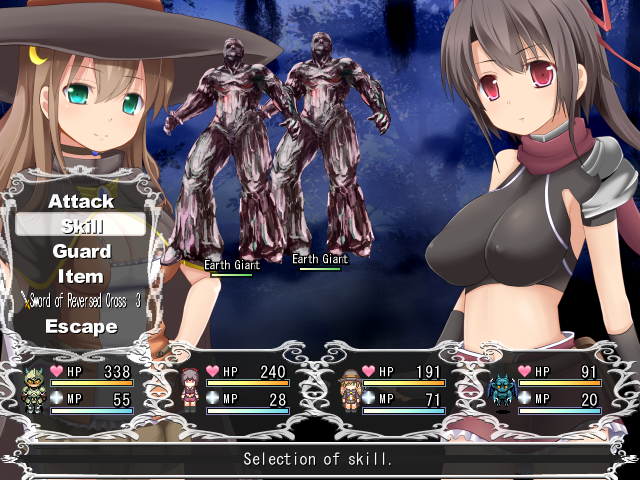 GAMEPLAY
Demon Sword Snakes was created with the Wolf RPG Editor. Move with the arrow keys. Press C to open the world map. There is no dialogue skip option or a key for hiding text boxes.
Rather than a typical RPG experience, this game makes crafting and equipment mastery a central part of it. As you defeat monsters and forage for materials, you'll unlock new crafting recipes for weapons and accessories. Equip these items to begin mastering them.
Once you've used some equipment long enough, you'll gain a new ability or mastery over the item. This encourages players to constantly gather materials to craft more items to master more gear and become a stronger fighter. It's a super addictive cycle.
Outside of the crafting and mastery loop, there are four battle styles to level up. Each maxes out at 10, so you can only rise 40 levels in total. Enemies scale to the map region and player achievement level. Whenever you complete side quests or battle new enemies, your achievement level will rise.
The achievement level is one example of the many great features this game has to offer. Raising your adventurer level unlocks new items at the merchants. When you're significantly stronger than enemies, the game allows auto-battle, which makes grinding much less tedious. Random encounters on the map with nuns and noblemen make exploring the world a joy.
But, there are numerous negatives. Like how items can only be crafted once, interesting quest lines are too short, and beating the final dungeon requires at least 40 holy potions to heal between battles.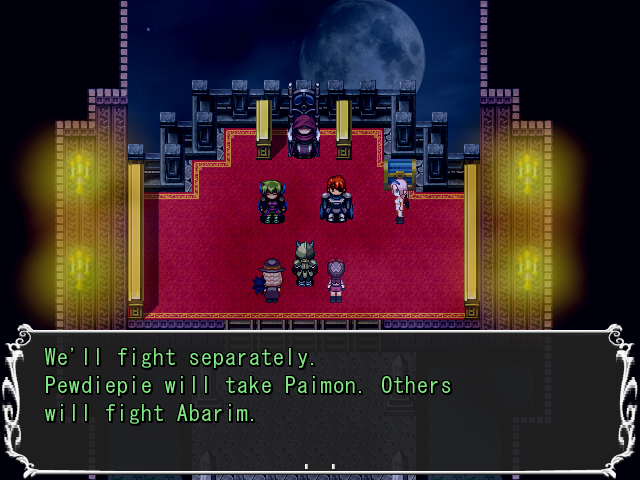 The game is ten hours long. It starts out incredibly fun, but gets bad over time. You hit max level way too early. Your achievement level also caps at 100, which is way too early. Numerous crafting recipes are restricted until right before the final boss, making it mandatory to do an hour of late-game material grinding.
While it's never explicitly explained, sex scenes give stat boosters to the player. They also raise your curse level, giving you stronger weapons. I completed the game without having sex even once, so feel free to ignore these boosters. They're basically a shortcut to get stronger.
Scaling enemy levels to the player keeps most of the game challenging but it doesn't always work. Sometimes, enemies are too powerful or they inflict status ailments, such as paralysis, that make them impossible to fight. The enemy level scaling definitely needed some tweaking.
Much like the story, the beginning of the game makes you excited and hopeful for what's to come, only for the late game to be a massive disappointment.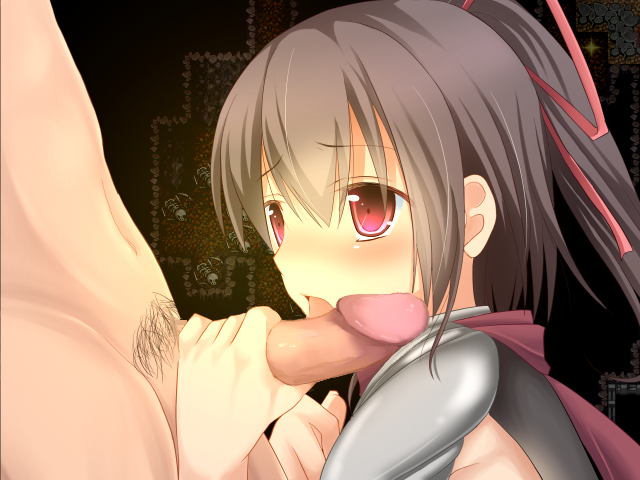 GRAPHICS
The game includes around 20 base CGs, available in censored and uncensored versions. The art is drawn in the Japanese anime style, focusing on Spica and Lulu. While Spica has a mage hat and potion on her waist, Lulu has a red scarf and an item pouch on her backside.
The game map is enormous. Press C the moment you leave town to check it out. From the sandy desert to the huge imperial city, the world is well designed and fleshed out. I was excited to run out and explore it all! And once I did, I felt satisfied that I had explored every building and landmark.
The sprite art is similar to the Super Nintendo game Chrono Trigger. Whether it's the gargoyle statues or sacks of wheat stacked high, so much of this game is clearly inspired by old RPG classics. The main menu is a perfect example, with a dark cliff and the heroes of the story gazing into the horizon.
Navigation is handled via two perspectives. On the world map, you're a small party of sprites that can run into large enemy sprites. Within towns and dungeons, your characters are zoomed in on, you see great detail and get a good look at the enemy sprites too. This constant switch in zoom signals to the player whether a moment is focused on story or exploration.
A huge negative to this title is the battle screen, which has both of your female partners standing on either side. Also, neither of them ever change their clothing. For a short game this is understandable, but a 10-hour experience ought to have some visual variety!
VOICE ACTING AND SOUND EFFECTS (SFX)
Demon Sword Snakes has no voice acting.
The sound effects are largely stock assets common to Wolf RPG Editor. While the combat sounds are fitting enough, the sex sounds are severely limited. There's a super watery "squish" sound that plays for every scene. There's blowjobs, pussy poundings, and even basic kissing! The audio design is not perfect, as you'll hear some sounds unfitting of the actions.
MUSIC
The soundtrack has over 80 songs in total. Much of the music was created by Hirokzau Akiyama. My favorite track was the final dungeon theme entitled "The Justice and Lost Emotion".
One track is similar to the tunes of a music box. Another is heavy on violins. But the most memorable is the song for Walna village, which plays at both the start and the end of the game. It's both tranquil and nostalgic. Truly great music has that effect, conveying so many emotions in only a few short minutes. Whether it's harp during travel, or rock and roll in the Palace of Oblivion, the music was orgasmic.
HENTAI
Demon Sword Snakes has only 22 scenes across the entire ten hour experience. The scenes weren't very creative.
If you ignore the tentacles, slime, and futa scenes, the rest of the game is super vanilla. Kissing, groping, a nip slip, and finally some good old vaginal sex. Lulu is a virgin, but without period blood or heavy dialogue to emphasize her first time with you, there's little to get excited about.
Most sex scenes are in the missionary position. Dialogue always boils down to "It's so big and hard", without anything unique being said. And flashing the screen white during a creampie is the closest it gets to animation.
Sex scenes do not affect the ending. Feel free to watch and rewatch them to your heart's content.
CONCLUDING WORDS
Demon Sword Snakes is a hentai RPG known for being one of the first to ever make it onto Steam. The graphics are gorgeous, the gameplay is engaging, but the lack of a good story holds this game back from perfection. The music and comedy are both unforgettable.
Download Demon Sword Snakes. If you liked this game but want a higher quality title, then read our review of Niplheim's Hunter.
Graphics

Gameplay

Story

Music

SFX

Hentai