Written by Haruka Nami, edited by Otaku Apologist
Kamihime Project, developed by DMM group. A turn-based JRPG for internet browsers. Launched on Nutaku in February 2017, it's been their most played game ever since. Why is it rated number one? It has everything! Adventure, hentai, actual strategic gameplay, demonic anime cuties!
It's one of the most beautiful hentai games I've ever played. You can start playing Kamihime Project right away.
STORY
A long time ago, an advanced civilization lived in peace, and prosperity. Then, a disaster called Ragnarok wiped them out. This mysterious destruction event is cyclical, and the next Ragnarok is on its way. You play as a male protagonist, that is chosen by God to stop the impending doom. You side with your childhood friend Alyssa, to save the world. This plot is very original.
While you and Alyssa are out monster hunting, you meet Lancelot, from the tales of King Arthur. Yes, a knight of the round table has anime boobs. Lancelot has been genderbent into a sexy anime girl. She's not the only one either, as this game shamelessly rips ideas from existing mythologies. While talking to Lancelot, you faint. You wake up to meet Nike, a busty girl in a blue dress, with short hair and a nurse-like hat. She is one of the chosen Kamihime made by God. She is sleepy, cute, a really dandy water element Kamihime that plays support.
Shortly after meeting Nike, you meet Diabolos, a feisty demon girl, formally dressed in a red and purple dress. She has a small, super cute hat. She is an Eidolon ruler, also created by God. Eidolons are basically demons, but not evil. Diabolos is a spoiled rich-kid brat followed by her horned serenity maid, named Amon. Diabolos is a reliable ally, and even though she never gets herself directly on the battlefield as a unit, she still joins combat. She's basically your mega nuke special ability, you can call her to summon a big demon that deals massive AOE (Area of Effect) damage to enemies.
After the main group is together, you start chasing plot devices, killing monster girls en masse, in a happy atmosphere of goofy anime tropes! While the non-stop murder is contextualized fine, the sex scenes are often set up by blatantly cutting corners; girl is alone, surrounded by brigands, and thus a gangbang rape ensues.
The fully voiced story is straightforward with the mixture of action, adventure, sex, and comedy. You will detect some misspells and bad spacing.
HENTAI
There are more sex scenes than story scenes. The visuals are fappable stuff, with sharp lines, and lots of flesh on the girls. Everything looks smooth, and clean. The animation is very slick when the girls are being penetrated, or performing oral sex. Their boobs shake in a nice motion with their bodies.
In true hentai fashion, the characters describe in arduous detail what is happening to them. They tell you what they feel during sex. The girls talk, and talk, and talk some more, when they're not moaning. The adult characters moan a lot, while the younger characters just shriek.
In order to see their hentai scenes, you have to obtain the characters first. The first scene is never a hentai one. Once they reach a certain high level, you access the anime porn. If you like gangrape, regular rape, fat men raping young girls, or tentacle rape, this is your game. If you don't want to see rape porn, there is always the skip button.
You can replay the rapes in the game's "harem" menu. The harem menu is accessed on the game's main menu.
The sex scenes feature multiple positions. So far I've seen the 69 position, spooning position, different oral sex positions. My favorite sex scene was in the 69 position, featuring Gawain. She wants you to take off her boots that were stuck. You bang her senseless. The scene gives a great view of her big butt.
GAMEPLAY
The game is sequenced into levels. After the story sequence, you enter battle. The meat and butter of Kamihime Project is the fighting. The combat is turn-based: you choose which enemies each of your units individually attack. These choices matter, as different enemies pose different threats with their abilities, and sustain more, or less damage before death. You have to choose which enemies to prioritize, as the ones you leave alone, will be attacking you. Your healing spells have long cooldowns. Your characters can also use powerful damage spells like fireballs, to quickly take out enemies. Your kamihimes have multiple spells, each with a different cooldown timer. The special abilities become available again after a few turns. Wipe out the wave of enemies, in comes the next wave, until you've beaten the very last enemy.
When farming lower level story missions, you can set the combat on auto-mode. Let your harem wreck havoc hands off. You'll need to farm some, to keep progressing. The difficulty of levels ramps up.
You choose Kamihimes in your team from the pool of girls you acquire from your adventures. You have to place them in the team, in places that fit your strategy. On the front line, Kamihimes get damaged more often, but they will attack before the back row. Some Kamihimes are less effective on certain quests. The girls are divided into different elements, and each element attacks are super effective, or less effective against enemies of certain elements. Basically; fire takes extra damage from water, water takes extra damage from thunder, etc.
Each Kamihime also has a special move called 'burst'. You fill up a Kamihime's power meter by receiving, and dealing damage. The burst is a powerful attack, which you can release once the power meter is full. If you activate the burst attacks of more than one Kamihime, you unleash a combination attack.
You fight mostly female monsters, like fox girls, and cute bug girls. They don't really look like monsters. They're humanoid, to be more fappable maybe.
The game has a stamina system, but I honestly didn't pay much attention to it. A stamina system sets a limit to the number of levels you can play in one game session. You spend energy points, to start levels. If you win the level, you gain experience. When you gain enough experience, you level up, and your stamina bar is filled again. If you keep beating levels, you won't run out of stamina. The stamina also regenerates slowly during the day, even while you're offline. This system ties into the game's business model: you can refill your stamina with real money. Unless you're playing all day, you won't need to, ever.
GRAPHICS
The art is the best asset in Kamihime Project. The character designs are pretty, creative, and despite plenty of detail, very defined. The 2D sprites are beautiful, you can see the endless hours that the artist team poured into each. Just as pleasent to the eyes are the in-game sprites (in combat). The in-game sprites have slick idle animations, and attack animations. When the units are heavily damaged, they display their wounded state, by kneeling down, with an anguished expression. It adds to the fun, that the characters aren't just eye-candy. They don't just tease you, wiggling their tight butts and tits in revealing clothing, you also have sex with them outside of the battles.
I found the art really professional, with no signs of jaggedness, or marks of shoddiness caused by rush. The color choices are great, nothing is too bright, or dark that hurt the eyes. The artstyle is inspired by anime, where the eyes are really big and pretty. You can expect some beautifully juicy fan service. The sexy, detailed dresses showcase the real talent of the artists. The art reminds me of Fate Grand Order. Like Kamihime Project, Fate Grand Order is a popular Japanese RPG, for mobiles. The art goes into great detail with the clothes too, and the variety of girls.
VOICE ACTING AND SOUND EFFECTS (SFX)
The Japanese voices actresses do a wonderful job lending their sexy voices to the game. It's the same content you hear in anime; professional acting that conveys the right tone and emotion for each scene. You have a good variety of ages, and personalities to enjoy listening to, although that variety is limited to younger women. If your fetish is old ladies, and you're obsessed with diverse media representation, you should become a game developer, make games that feature older ladies. Bring more representation to the markets, see if there's customers for sex games that feature old, ugly women.
My favorite voiced character is Nike. She's a healer with big boobs. The actress made her sound super serene, like I was hearing an angel's voice. Unfortunately, I was unable to identify the actress after some quick online research. The game's credits don't seem to be available in English.
The game has a variety of cute sounds. There's sword clashes, chinks, explosions, all the medieval fantasy audio you expect to hear in this kind of setting. Most sounds seem unique, not something the devs grabbed from one of those websites that offer free stock sounds. The sounds don't obstruct the music, proof of good design. You can change the audio volumes in the game's settings, to fit your preference.
The menu buttons sound kind of futuristic when clicked. It's like you're striking a cord on an electrical piano. There's a mild echo that lingers, that gets a little jarring when the game lags. When there's lag, the audio cuts off for less than a second. It's noticable, and annoying.
Some of the sound effects are iffy. Thunder is supposed to sound like a loud crackle, but I usually heard just a mild shock. My favorite sound effect was the water, as it's always nice to hear water splashes. It's realistic, and must be one of the easier sounds for developers to get right.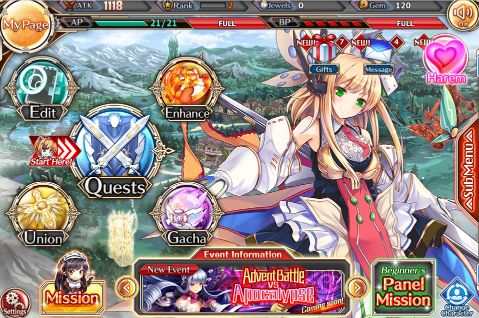 MUSIC
The game has several musical tracks for battles, story scenes, and the main menu. When there is a limited-time holiday event, the menu music, and the boss battle music, change. The musicians of Kamihime Project are seemingly always adding new event music. My personal favorite is the Kamihime Project OST Apocalypse, as it reminds me of Castlevania. Castlevania is a famous horror themed series developed by Konami. Castlevania soundtracks are well-known for dark themed music, with the usage of organs and operatic vocalists.
The opening theme, shown in the game's trailer, gives you a good idea of what you're in for: lots of fun.
BUSINESS MODEL
The game is free to play. As you can expect, it's monetized with "micro transactions". You buy Nutaku gold, the universal currency used in every game on the website. The gold is converted into diamonds, jewels, whatever the in-game premium currency for a game. You can spend the currency, in Kamihime Project's they are called jewels, for example, to resurrect your team that died to a boss fight. It's paying for cheating, yes. You can also spend your jewels in the gacha, the girl lottery: put in some jewels, you get random Kamihimes, and Eidolons. Premium gacha offers rarer quality girls, and equipment.
The game also has common gems, which buy rolls in the normal gacha. Common gems are obtained as loot from just playing the game. The girls in the normal gacha are much lower rarity, which makes their maximum power lesser than girls rolled from the premium gacha. Jewels are not just bought with money, as you always obtain some from the game's daily quests.
The gacha is never guaranteed to give you the Kamihimes you want. It's a luck-based system, and very addicting.
CONCLUDING WORDS
Kamihime Project is a fun, addictive JRPG for browsers. Well-recommended for fans of hentai, and fans of turn-based role-playing games. It's a streamlined gaming experience, that's easy to get into. Whenever you are bored, just boot it up n your browser, and have fun.
This game is really super simple; you go for quests, kill enemies, get loot. But there are many systems that make the game cycle not feel as repetitive as it actually is. The occasional spawns of "raid bosses", the side quests, the story, the massively convoluted menus, make this simplistic skinnerbox game seem like something more than an average JRPG.
I recommend this to hentai gamers everywhere. Start playing Kamihime Project.
Graphics

Gameplay

Story

Music

SFX

Hentai