Hentai Dungeon Crawler RPG Review: Escape Dungeon
Hentai Reviews

>

Reviews

>

Hentai Dungeon Crawler RPG Review: Escape Dungeon
Written by Towfu, edited by Otaku Apologist
Escape Dungeon, a dungeon crawler developed by Hide Games. Published by Cherry Hide Games and Lewd Formosa. Released on November 16, 2020. Download on Steam for $12.99. For PC Windows and Mac OS. Partial voice acting. Uncensored genitals. Live2D animations.
The human kingdom is under siege! Grand Mage Shalith sacrifices herself to save the queen and gets captured in the process. Imprisoned deep in the enchanted mines, it's up to Shalith to escape her cruel fate of becoming a monster cum dumpster and save her kingdom!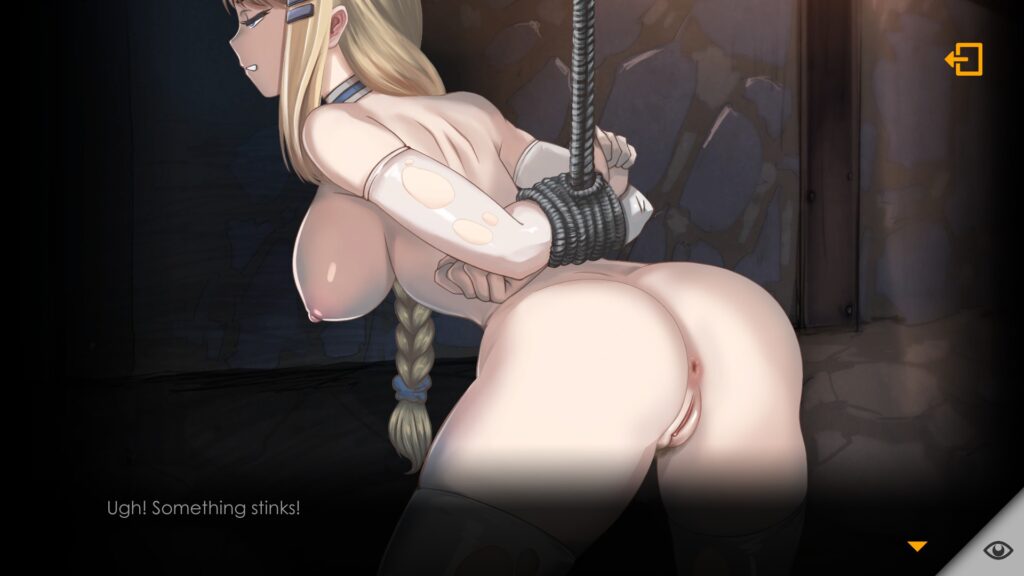 STORY
The human race is in peril. Demon Lord Qaron has invaded one of the final bastions of humanity, the Sundista Kingdom. Queen Illy has long ruled over this land, protecting common folk with her power to control time with her orgasms. However, now that her husband is dead, humans lack a trump card to prevail over the invading demons. All hope seems lost. However, Grand Mage Shalith won't let the kingdom be destroyed without a fight. As a last ditch effort, she uses the last of her mana to teleport Queen Illy to safety, and gets captured by the enemy.
Shalith wakes up deep within the enchanted mines. She is stripped of her abilities and enchantments, reduced to a mere helpless woman. Or at least, that's what the demons think. In reality, Shalith has an indomitable will that won't bend to any dick. In addition, it seems the flow of time is somehow being manipulated. Is it Queen Illy? How is she activating her powers without getting her pussy ravaged?
Other than the introductory world building, there isn't much else in the way of plot. Being trapped in the enchanted mines doesn't tell the player much about the human kingdom they're trying to save. At most, you'll get to read some interesting comments from Shalith as you help her find her way out. Like for example, how she curses at the monsters for robbing humans when she stumbles on some crystals.
Overall, the story is pretty much non-existent. If you prefer a story-driven hentai game, then you're better off with standard visual novels. What Escape Dungeon offers is delectable sex scenes and dungeon crawling fun.
GAMEPLAY
Being an RPG dungeon crawler, I expected a steep learning curve. Luckily, Escape Dungeon is easy to play. The mechanics are simple to pick up, and everything from movement to battling can be done with just the mouse. This hentai game is perfect for anime fappers who prefer onehanded play!
To move Shalith, just click on the area where you want her to go. If you come across any items, she automatically adds them into the inventory. Likewise, attacking enemies is automatic. Once the enemy comes into Shalith's range, the battle will commence. Clicking the left mouse button allows the battle to progress.
When you first start out, Shalith's overall stats are miserable. Her health, attack and defense are pathetic. With each loop, triggered by her death, you will get the chance to hoard crystals to upgrade her stats. A further downside is that there's no option to 'save' your progress while you're playing. Dying means restarting from Shalith's cell with zero items. Crystals are the only thing you'll retain.
It's important to note that sex scenes are triggered once Shalith's health drops to zero. Take the chance during the early stages of the game to die swiftly at the hands of an enemy, and unlock as many scenes as possible! Keep in mind the enemy that lands the final hit is the one who ends up shoving their dick into Shalith's tight pussy. If you don't want to get a sex scene involving a certain enemy, just don't let them kill her.
GRAPHICS
The game's artwork is drawn in a modern Japanese anime style. Shalith is a blonde bombshell with a bountiful figure. Her breasts are large and bouncy, and her shapely thighs look insanely erotic in her ripped knee-high tights. Unlike other hentai games, Shalith's expressions are mostly of disgust and fear rather than mind breaking ecstasy. Fappers who prefer their anime women to be slowly corrupted will definitely appreciate this tiny detail.
The 3D scenes are wonderfully animated. The monsters that pounce on Shalith are drawn to be grotesque and hideous, sharply contrasting with the attractive grand mage they're fucking. The character art is superbly detailed. For example, a goblin's body is shown to be wiry and muscular, while the undead hound sports slightly sunken eyes and bruised green skin.
HENTAI
The reason for the steep pricing of Escape Dungeon becomes apparent when you unlock the first sex scene. In visual novels, sound effects and good art can make and break the eroticism of a hentai scene. With Live2D animation, lacking one of those still makes for an orgasmic experience.
The very first scene players are likely to unlock is Shalith getting her holes filled by a monster rat. She's captured and tied up, waiting helplessly to be ravaged. The rat takes no time at all to stuff his dick inside her. The monster rat rocks back and forth, stirring her pussy to his heart's content. Shalith is utterly disgusted by the monster and constantly flinches with each moment, struggling to fight it off as it pumps its monstrous rod. Depending on which scene the player unlocks, the rat will also stuff its unwashed cock into her mouth for a good sucking.
Sex scenes lack the typical sound of balls slapping the female's juicy ass, but the smooth animation makes up for it. However, though the game touts a wide variety of hentai, most of the scenes are similar to one another. Aside from light bondage and monster sex, the scenes can get repetitive. The animation is a delight to watch, but it can start to feel stale the longer you play.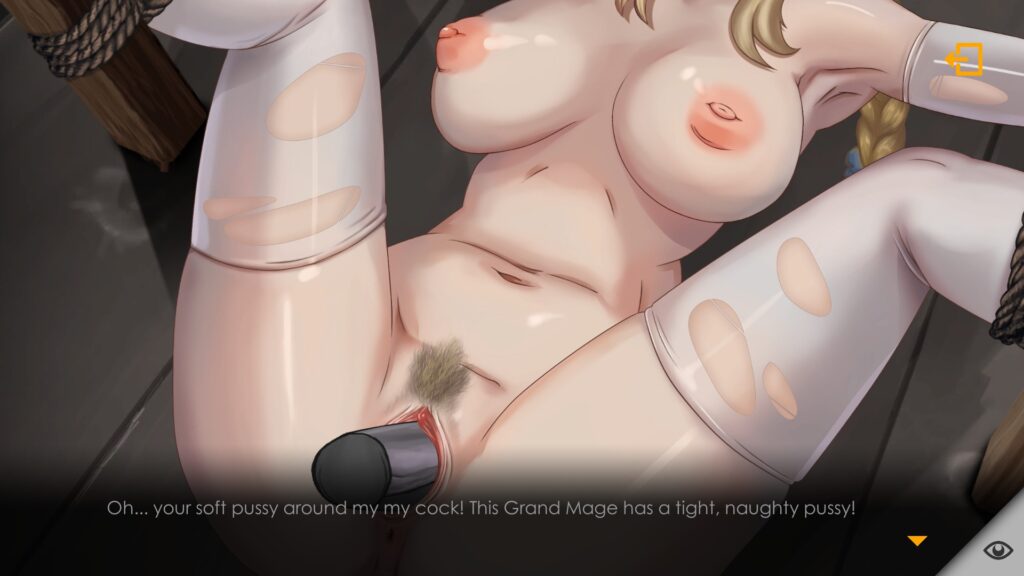 MUSIC
The tracks in Escape Dungeon are made primarily with the piano. The songs are generally slow-paced and calming. It's good enough that you could just boot the game, leave it on the menu and take a nap! The choice of a wholly acoustic soundtrack works out in the game's favour considering the grindy nature of it
As you progress, the music also becomes more complex. For example, once Shalith reaches the tenth level, a symphonic track begins to play. The cello and violins dramatize the atmosphere. This track completely overturns the hopelessness and dreadful feeling from the previous levels.
SOUND EFFECTS AND VOICE ACTING (SFX)
There are a nice variety of sound effects to help make the dungeon crawling immersive. There is a corresponding sound to the kind of item or skill you pick up. For example, attacking the enemy with a fireball triggers a sound like the bursting of flames from a blowtorch. Whenever Shalith unlocks a door with a key, you'll hear the heavy clink of the lock opening.
Unfortunately, you don't hear sound effects in the hentai scenes. You get a smattering of voiced grunts and sounds from Shalith and her lucky partner, and nothing else. The developers should have gone the extra mile to include the sound of flesh slapping together, or the squelch of a dick entering Shalith's wet pussy. It would have made the sex scenes twice as erotic.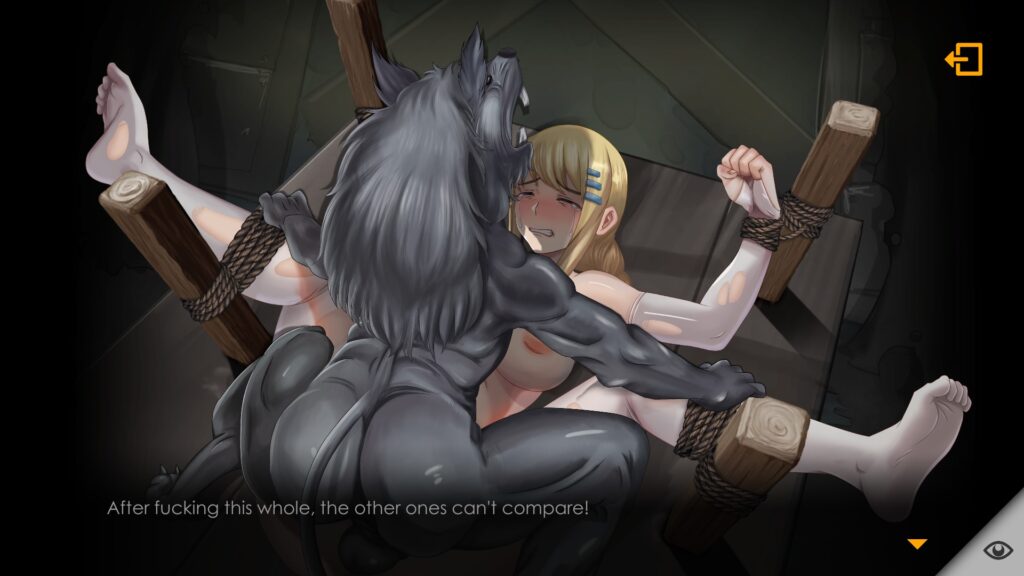 CONCLUDING WORDS
This game is very similar to other hentai RPGs on the market, but if you have a fetish for big tit blonde anime girls getting fucked in animated glory, then you'll definitely like Escape Dungeon. The Live2D animation is sexy, and though the game can get repetitive, I felt it had a decent sense of progression. If you're a fan of dungeon exploration and hentai, then I highly recommend getting the game!
Graphics

Gameplay

Story

Music

SFX

Hentai