Written by Mistress Valentine, edited by Sexy and Otaku Apologist
Hentai Story Cleopatra, a visual novel game developed and published by Pen in Apple Studio. Released for Windows on April 18, 2021. Download on Nutaku for $2.00. Partial voice acting (moaning only). Uncensored genitals.
We have also reviewed Sweet Story Bunny Club, Hentai Story Sweet Bottom Pie, Nurse Sofi.
STORY
Hentai Story Cleopatra's plot is bare-bones. The famous Egyptian queen is seduced by the lord of the dead: Anubis. You watch this seduction play out by playing through the stages and unlocking CGs. See one of the most beautiful women who ever lived become nothing but a starving sex doll for Anubis. The game has no text to read and leaves practically everything up to your imagination.
GAMEPLAY
Hentai Story Cleopatra is a puzzle game. Tiles flash onscreen only once before they are flipped face-down. You clear stages by matching two tiles with the same image together. Once all the tiles on the game board have disappeared, you unlock another CG. Art on the tiles vary from Egyptian scriptures and statues, sphinxes, pyramids, scarabs and sarcophagus among others.
You have to quickly memorize where all tile positions are and then flip them over in pairs to clear the board. You can cheat the game by holding down CTRL+F.
Much like Pen in Apples other titles Sweet Story Bunny Club and Hentai Story Sweet Bottom Pie, the game has a limited number of sequences. After a while, you will automatically begin to remember where tiles are positioned because the shuffling mechanic in the game is not randomized.
GRAPHICS
The game uses the same engine and format to save money. Hentai Story Cleopatra features improved artwork from its sister title. Cleopatra's onscreen sprite looks more realistic this time. The unique 2.5D visual pops when you look at it. Most of the game's art is influenced by a western style that makes you think of a comic book with thick lines and flat colors. Cleopatra's character design looks better than Jasmine with more striking features and a deliciously robust rack. She has more facial expressions and looks more invested when she is sucking or fucking Anubis.
Like Hentai Story Jasmine, this game features an opening animation. The characters are well drawn and the sequence makes you hunger to get into it. There are nine CGs to unlock. Each one depicts Cleo in a different sex position. She starts off annoyed but evolves into a beautiful sex kitten ready to swallow dick on-demand.
VOICE ACTING AND SOUND EFFECTS (SFX)
Hentai Story Cleopatra has no voice acting but periodically you will hear our Egyptian queen make "ha" and "ah" sounds. It gets irritating very quickly. Sometimes she will make generic sucking sounds when she has a dick in her mouth or sensual moans when she is being pounded by Anubis' fat meat rod. Other than Anubis' heavy grunts and slurping as he sucks out Cleo's juices, the game's sound effects are limited. When you unlock sex CGs, you will hear Anubis pumping Cleo's wet snatch.
The game features generic 'twinkle' and 'sparkle' sounds whenever you win or lose. There is lots of flipping noises when you turn over a tile on the board.
MUSIC
Hentai Story Cleopatra's music is limited to one song that plays continuously. It is a soft piano number that immediately relaxes you. It never feels intrusive but becomes repetitive very quickly since the song isn't very imaginative or long.
HENTAI
The game relies completely on the sexual artwork in the absence of voice over and text boxes. The entire game's plot is inferred through the imagery. Cleopatra sits in her throne room when Anubis appears and begins eating out her pussy. From there, he pushes her up against a pillar. His dick is rock hard and flopping about. It's a hilarious sight. Before he pumps her cunt with cum, Anubis has Cleo give him a wet blowjob. He fucks her for several CGs, cums on her tits for good measure and then fucks her some more until she is ready to devote herself to him forever.
The sex feels hotter than in Hentai Story Jasmine, but the game has the same issue of making the player work very hard for what amounts to jerking off to a GIF on your computer. The music doesn't change and Cleo's constant "hehe" and "ah" sounds take you out of the game before you've had a chance to cum.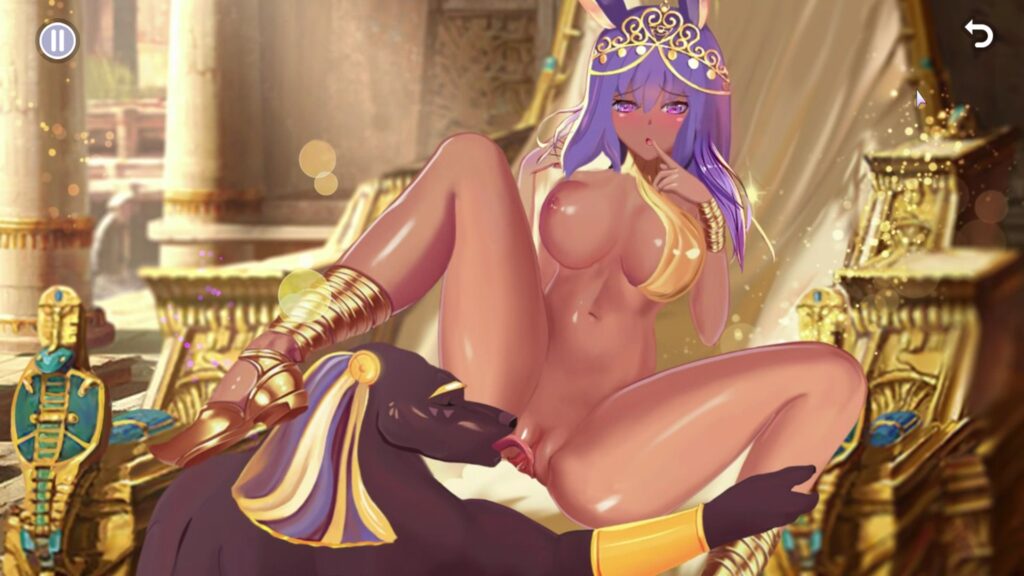 CONCLUDING WORDS
Hentai Story Cleopatra plays out exactly the same as other Pen in Apple games; it's a fun puzzle game with hot artwork and basic audiovisual goodies. While barebones all around, it's a very decent time-killer for a very affordable asking price. I recommend this to one-handed gamers who want to bone the legendary Egyptian queen! Download Cleopatra's pussy.
Graphics

Gameplay

Story

Music

SFX

Hentai