Written by Mistress Valentine, edited by Otaku Apologist
Tails and Titties Hot Spring, a hentai visual novel game developed by Miel and published by Cherry Kiss Games. English version released on April 1st, 2022. Download on Nutaku for $9.99. For Windows PC. Full Japanese voice acting. Censored genitals.
Once you were a vaguely defined activist trying to save the forest. Now you've died and been transported to an alternative version of the forest where cute animal girls want to suck your cock. Karma is a bitch – in heat.
PROMO: When you download games through links on Hentaireviews, you help produce original hentai media.
STORY
You assume the role of Toma, a generic slacker from Japan. Toma has never accomplished anything worthwhile in his life and has even gotten involved with the wrong crowd. One day, he stands his ground, refusing to follow orders to help destroy a local forest. After successfully holding his ground, Toma collapses for no apparent reason and dies, only to be greeted by four cute animal girls upon waking up.
Ruri, a bunny girl, Yuuna, a wolf girl, Hatsune, a cat girl and Shion, a dog girl. These girls praise him for saving their world and reward him with a sexy massage in their hot springs.
And then Yuuna rewards him with some private sex. And Hatsune also rewards him with sex. Ruri, feeling left out, also rewards Toma with sex. And surprise surprise, Shion also wants to have sex with Toma. The game's plot is left behind as each new scene exists to set up another sexual encounter.
The girls all conform to different, but generic anime stereotypes. We never learn anything truly meaningful about them. They are walking, talking cock sleeves waiting for their turn to praise Toma and his mighty cock.
The game dialogue feels padded in some scenes, but certain encounters accidentally manage to make you feel anything other than a sexual connection with the girls. Toma's info dump backstory is ripe for exploration but is tossed to the wayside in favor of sex. There is also a good opportunity for personal growth and development but this is swiftly dealt with in the first couple sentences of dialogue.
Some of the activities you do in the game involve relieving the girls of their virginity, picking berries and fruits in the forest with Hatsune, rescuing cats with Shion and then cleaning her body with your tongue.
GRAPHICS
Tails and Titties Hot Spring has 16 CGs with evolving artwork for each of them. The game continues Miel's exceedingly high production value record with breathtakingly lewd artwork. All of the girls have attractive designs with differing facial features, hairstyles, clothes and body types. There is someone for everyone.
Sprites have several different costumes including swimsuit, bathing suit, casual, wedding and sleepwear. Sprites also have different facial expressions, but only one pose. Sometimes the camera will zoom in on a character to make you think otherwise.
The background artwork is extraordinary. Each location has rich details that helps distract you from the seemingly generic setting. Dojo, forest, hot spring, river band and courtyard make up the handful of environments of the game world. The character and environment art are different in style, but compliment each other. There is no background variations for day and night cycles.
GAMEPLAY
Tails and Titties is a visual novel game. You click the screen to turn the page. The game has basic VN functionality, as well as the standard Miel menu layout. The Extras tab features several galleries where you can view CGs already unlocked, replay your favorite h-scene or play through your favorite chapter.
Being a VN game, you'll sometimes be presented with choices. These decisions have little to no impact. All you get to decide is where you cum and in which hole.
VOICE ACTING AND SOUND EFFECTS (SFX)
I really enjoyed the voice acting in Tails and Titties. The four leads each hand in a sexy performance that made me forget how two-dimensional their characters are. Their overall delivery is on point out of the sack but each girl excels when they have to moan for the microphone. Ruri was easily my favorite due to how adorably innocent she sounds at first. Hatsune also stands out, but mainly due to how professional and serious she often sounds.
The sound effects library is barer than the usual Cherry Kiss titles. Several sound effects are carried over from other games. You hear the usual generic water flowing, fabric rustling and nature ambience, but there are missed opportunities to include sounds. The game's sex sounds are also oddly bare. You can still hear the occasional squelching and thrusting. Sometimes there will be an audible orgasm.
MUSIC
More than a few songs in the soundtrack sound familiar. The composers were either very lazy and just used new generic songs that sound almost identical to one's they've used before or they were very lazy and simply copy-pasted songs from Miel's previous releases and hoped we wouldn't notice.
The musical selection is good. Songs fit the scenes and atmosphere. I easily felt myself become emerged and relaxing to the peaceful tunes. The soundtrack has quite the variety, utilizing music that is tranquil, intimate, foreboding and silly.
Songs use original instruments for the most part. You can hear electric guitars, pianos, drums and string plucking in most tracks.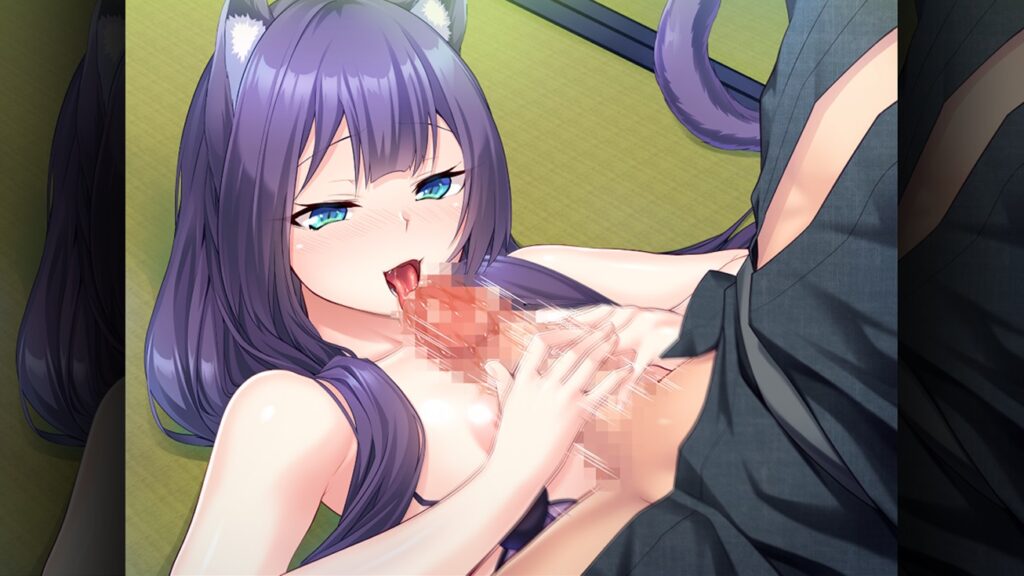 HENTAI
There is a total of 16 sexual encounters between Toma and the four girls. The first scene sets the tone for the rest of the game with all four girls using their wet bodies to massage Toma in the hot spring.
He then takes turns deflowering all the girls. His encounters with Shion stand out simply for the ridiculousness. In their second scene, she gives him a tittyfuck despite having the smallest rack of everyone. Toma having sex with Hatsune near the river was also very arousing because I like Japanese school swimsuits and Hatsune's tits are the perfect perverted size.
The developers at Miel have a well-documented pregnancy fetish. The third act consists of having sex with all the girls one by one, in the original locations you had your first sexual encounters with, but with their bellies swollen this time. Toma continues to shoot his cum inside them, sucking milk out of their titties and compliments their baby bump bellies.
The artwork really sells the lewdness of sex scenes. When Toma is having intercourse with Yuuna, the CG variations make it seem as though her breasts are heaving. Each CG is meticulously drawn to show off the girls in the sexiest position. The overall sex is tame with lots of vanilla positions and not a lot of creativity.
CONCLUDING WORDS
Tails and Titties Hot Spring is a fun vanilla romcom with plenty of cute girls to fuck. No new ground is broken here, but the dialogue is sweet and the encounters are wholesome. This is the perfect game to fap to after a long, stressful day at the office. I can recommend this, download this game at Nutaku.
Story

Graphics

Gameplay

Music

SFX

Hentai