Written by Mistress Valentine, edited by Otaku Apologist
The Invisible Man's Stealth NTR, a hentai visual novel game developed and published by Appetite. Released July 28, 2022. Download on MangaGamer for $13.95. For Windows PC. Full Japanese voice acting. Censored genitals.
PROMO: When you download games through links on Hentaireviews, you help produce original hentai media!
STORY
We are introduced to one of the most pathetic hentai protagonists ever: Takumi. He is a worthless, jobless incel who pines after a woman named Yuki, an aspiring news anchor. Takumi adores her because she maintains that she hates sex and is a virgin and admires her purity. His life is turned upside down when he catches her wandering off with some guy after work.
Stalking her, he realizes that she lied about hating sex and is actually in a healthy relationship. Instead of doing the adult thing and accepting that people put on a certain appearance in public, Takumi decides to kill himself. But before he can, an Old Woman conveniently shows up at his doorstep and offers a mysterious injection that will turn him invisible. The potion works and Takumi decides to take revenge on Yuki for lying to him.
The game takes turns following Takumi and Yuki, allowing players to learn more about each. Unfortunately, the more you learn about Yuki and why she does what she does, the more you hate Takumi and the less you want to follow his antics.
Takumi's sexual exploits cause friction between Yuki and her boyfriend. At the same time, her mental health deteriorates as she is fucked by a seemingly invisible force. The game tries to portray this as normal hentai behavior, but it left me with a bad taste in my mouth while playing. It comes across as petty and cruel and left my pussy dry as a bone. I am clearly not the target audience.
GRAPHICS
Yuki is the only character with a sprite. Her design is generically cute with huge tits and a deep cleavage. Her face is beautiful to look at. She has no other poses but does have a handful of alternate costumes; mostly naked and work wear. Yuki has enough facial expressions to not come across as a 2D fuck doll.
The backgrounds lack a lot of detail, but is, at the same time, incredibly detailed with only the necessary amount of work put into drawing the bare minimum items that make up each of the locations. The colors are vibrant and the environments do a good job of making this tiny game feel bigger than it is. Background artwork has alternate versions for day and night time. Lighting and shadows are expertly used and carry over to Yuki's sprite. The news station, Yuki's home and the city make up a few of the more prominent locations.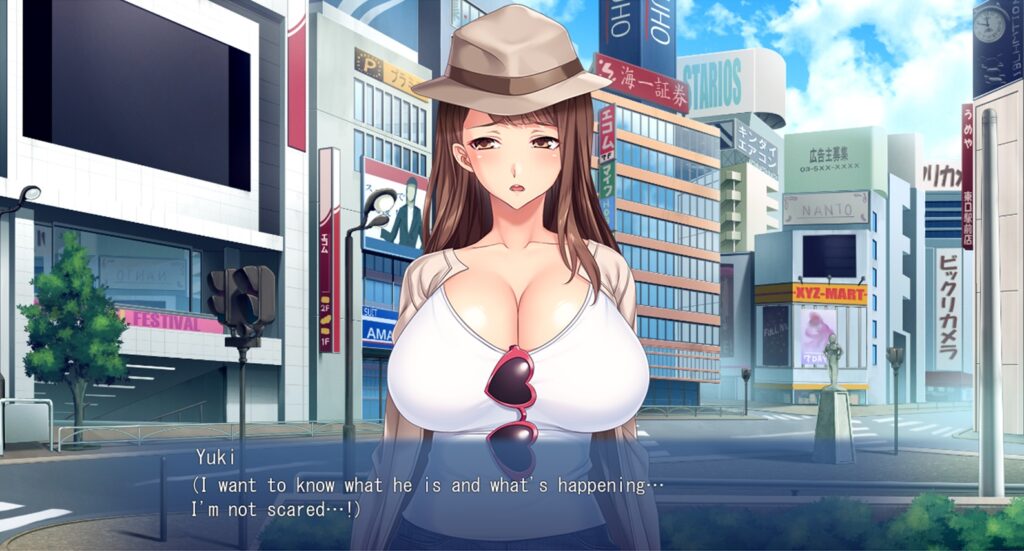 GAMEPLAY
The Invisible Man's Stealth NTR is a visual novel game. You click the screen to 'turn the page' and advance the story. The option to view CGs you've unlocked or replay your favorite scenes only becomes available after you have completed the game. The front menu is rather basic with only the bare necessities for players to save and load their game. There are no choices or branching story in The Invisible Man's Stealth NTR.
There are a couple of endings available and a few dead ends. None of them satisfied me. The two possible 'happy' endings are both shit. In one of them, Yuki falls in 'love' with Takumi and she devotes her life to having sex with him. In another ending, she takes advantage of Takumi's invisibility to have as much sex as she can without risking her reputation as a virgin.
VOICE ACTING AND SOUND EFFECTS (SFX)
Yuki is the only voiced character in the game. The actress delivers a beautiful performance that easily makes you sympathize with her. Her voice is soothing and her range deftly explored as she goes from prim and proper to terrified at the drop of a hat. Her sex scenes are well delivered, but unless you can ignore or relate to the male main character, the enjoyment is greatly reduced.
The game's sex sounds are horrible to listen to. I could forgive them if they were the same old generic squelching and thrusting noises you hear in every hentai game, but listening to Takumi pound Yuki was really distracting. It didn't sound like sex at all. It got so bad I had to mute the effects.
MUSIC
The game uses a combination of original and synthetic music. The soundtrack sports a good variety of tunes that cater to lighthearted moments such as when Yuki is presenting the news, or trying to live her life. You hear darker tunes, like when Takumi has his way with her.
During everyday events, you can hear classic instruments like the guitar, trombone, drums, piano and various wind instruments. During sex, the music relies more on synthetic songs that are faster but more morose.
HENTAI
The sex in this game flip flops between being acceptably sexy in a standard vanilla hentai kind of way and off-putting. I believe this scenario is designed to be enjoyed by men who want domination themes in their sex games, but unlike in normal NTR titles, I felt like there was special hatred towards women here. Was that part of the fantasy?
From the very first sex scene where Yuki is taken advantage of, I felt uneasy. I have often had fantasies about doing lewd stuff with invisible partners, but the delivery of her lines and the situation she kept finding herself in hit a little too close to home.
Some scenes would be objectively sexy had the protagonist not been a man baby. When he is touching her leg and fondling her underneath the table, it is both funny and steamy. In another scene, he finally lets go of his inhibitions and has sex with her. The encounter is fantastic with great camera angles and lewd dialogue.
The further you progress through the game, the more Yuki comes to enjoy Takumi's humiliation. He openly fucks her at the office, ruining her reputation. In another scene, he receives a sloppy blowjob from Yuki and smears her face dirty with cum. In one of the later scenes, Takumi invades her home while she is sleeping and helps himself to a tittyfuck with a happy ending.
CONCLUDING WORDS
I recommend this game to creepy guys interested in exercising their power fantasy over women from the comfots of their home while doing none of the self-improvement work necessary to become desirable to women. This game pissed me off, but it was clearly not intended for me. If the revenge plot line resonates with you, and you get off on fictional stalking and harassing, go for it. We all have our dark impulses, so go indulge. I'm done.
Recommended for horny creeps. Download this game at Mangagamer.
Story

Graphics

Gameplay

Music

SFX

Hentai