Written by Misstress Valentine, edited by OtakuApologist
Namaiki Dark Elf Sisters: Cocky Chicks Craving Creampies, a hentai visual novel game developed by Waffle. Released Sept 30, 2021. Download on MangaGamer for $34.95. For Windows PC. Full Japanese voice acting. Uncensored genitals.
The Pubs dark elf sisters have always treated Ober like a servant. Now in a surprise twist of fate, they have to bear his children or risk losing all their influence over the other elven noble houses. Karma is a bitch!
PROMO: When you download games through links on Hentaireviews, you support hentai comics.
STORY
Ober is a half-elf servant of the Pubs family. He is treated like shit by the three pure elves of the household, who are sisters. The elf sisters are Diano, the symbol of elvish elegance, Sheila, the aggressive loud mouth, and Supra, the young and easily excitable. One day, Ober's life takes a turn for the better when the head of the house, Lord Ambitio, reveals a Divine Revelation. Ober and his future wife will have children, and those kids will be the new leaders of the Dark Elves, who will bring the elves prosperity for thousands of years.
This news causes every noble family in the region to ask for Ober's hand in marriage, but Ambitio comes up with an excuse. The official story is that Ober is impotent. He then orders his daughters to have sex with Ober.
None of the siblings are happy about this, but go along with the arrangement. The race is on to see who Ober can impregnate first. The rest of the game turns into a sibling rivalry with Ober stuck in the middle. He gets the opportunity to live out all of his perverted fantasies.
The writing for Namaiki Dark Elf Sisters is saucy! Each sister has their own unique design. Diano has a disadvantage since her knowledge of sex is limited to what she reads in books. This results in certain instructions from Ober confusing her. Sheila on the other hand, who is strong and spirited, continually mocks Ober, but is slowly dominated by his crazy demands of her. In one scene, Ober transforms himself into an ugly goblin in order to mess with her.
Supra is the youngest and has the tables turned on her when Ober, who she tends to treat as a pet or toy, starts treating her like one instead. This involves taking her out in public, having her pee there, putting a collar on her. The game tailors its sex and plot interactions specifically to each of the three main girls. I found that very refreshing.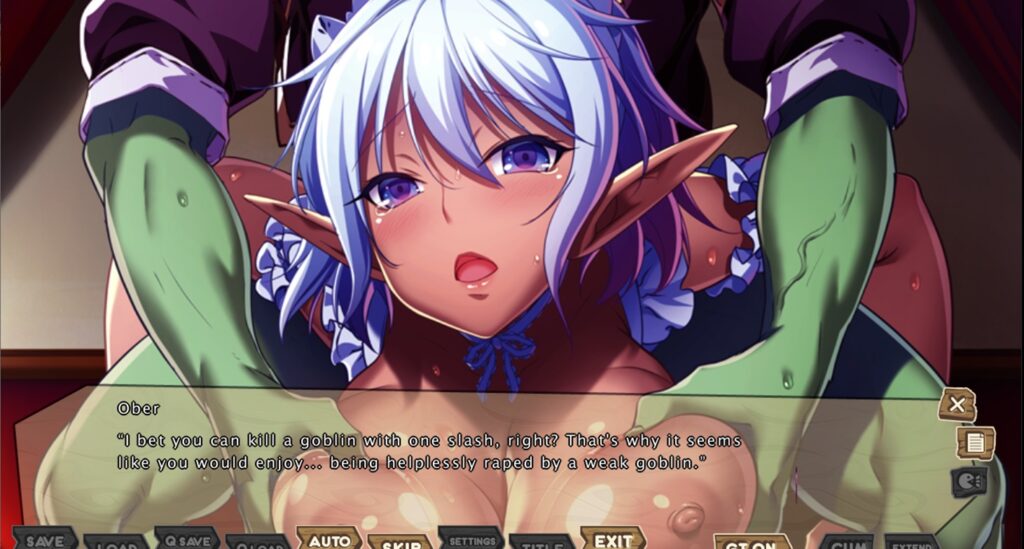 GRAPHICS
The artwork for the girls are top tier quality. Their designs are incredibly detailed, with soft, stylish features that make them drop-dead gorgeous in their own unique ways. Sheila and Diano have huge tits that are constantly trying to break free of the flimsy bra barely managing to hold them. Supra is the cutest of the three, with a beaming expression that makes you want to give her a hug!
The character sprites have a handful of facial expressions and barely any poses, but the camera work tricks you by periodically panning around the scene and creating illusion that there is movement. Sometimes the camera will zoom in on a sprite to make you believe you're seeing something new, but you're not.
I was less impressed with the background art. Compared to the character sprites, which use a different style, the background CGs look very plain. Each location is still very detailed with lots of content, but the way in which they are drawn never allows the CGs to capture the player's interest.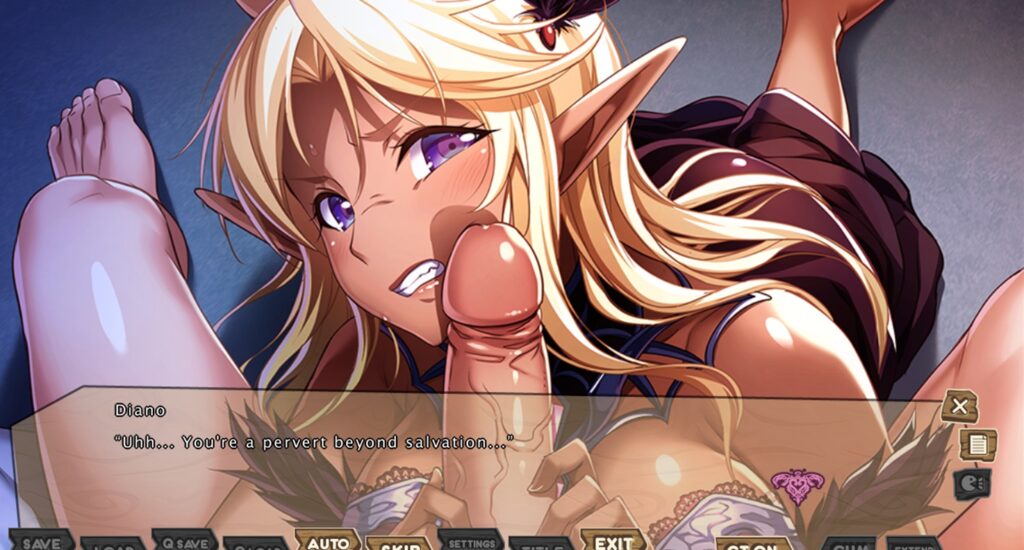 VOICE ACTING AND SOUND EFFECTS (SFX)
The game provides voices for Sheila, Supra and Diano only. The actresses give top-notch performances. My favorite performance came from Sheila. Her no-nonsense, aggressive personality reminded me of a dominatrix in waiting, eager to chop off a guy's dick and balls and use them as paper weights. Funnily enough, early in the game Sheila actually suggests castration over impotence and the voice actress puts so much sadistic pleasure in her delivery! 
Sex scenes are a highlight with each of the girls injecting their stock personality stereotype into the pleasurable act. Diano sounds like she is too good for sex while Supra takes to it like a fish to water. At no point did I feel like the game was regurgitating sex for generic faps. 
This game is so lively when it comes to sound. You can tell the developers went above and beyond to make their world feel immersive. Almost every other line of dialogue has some kind of sound effect attached to it. The game leans heavily on abstract anime reaction sounds. It made me feel like I was watching a genuine anime. Boinks, thuds, pings and bops make up a tiny amount of effects you'll hear playing this title. Other sounds include fabric rustling, fire burning, water flowing, slapping, dark auras, doors opening and closing and many others!!
MUSIC
The game's soundtrack contains nine songs. Namaiki Dark Elf Sisters uses both real and synthetic instruments, but favors the former. Guitar, electric guitar, drums, piano, keyboard, xylophone, saxophone, triangle, and several flutes are used to create nine distinctive tracks that are beautiful to listen to.
Music in the game leans heavily on the lighthearted side. There is at least one track that feels like it was inspired by 1920s jazz and another that feels right at home in a medieval fantasy title. Some songs are livelier than others, but every track embodies a fun spirit of wholesomeness. Musical selection is near perfect, but because the songs are so distinct, there is a risk of becoming sick of them, especially with how often they are used.
GAMEPLAY
Namaiki Dark Elf Sisters is a visual novel. You click the screen to 'turn the page'. The in-game menu has options for skipping and auto-playing text. Periodically, the game will present you with choices. These decisions decide which of the two endings you get.
The game's customization menu is littered with options. Almost every aspect of gameplay, ranging from text speed to when you cum, can be altered. The title also contains a CG Gallery, a song library and a scene library, where you can replay your favorite events. There is a space for you to see how much of each girl's route you have completed for those hardcore perverts who want a 100% fap completion score.
HENTAI
Be prepared for a lot of mind-blowingly lewd sex. This title does not skimp out on making sure your ballsack stays empty. Sexual encounters with Sheila, Supra and Diano check all the boxes. The CGs are incredibly beautiful with the girls posed in the sexiest positions. 
The camera work is stunning with several unusual angles showin off the plump bodies of our heroines. Artwork in the game evolves during sex. Sometimes the girls will shake their head up and down or back and forth because of the pleasure. In some scenes their bodies rock along with your thrusts. When Ober cums, it looks like a fire hose blasting hot sticky juices. This beta graduates to alpha with how much cum his cock squirts out. 
Each girl also has their own unique style of sex. Supra invites you to rub one out to her lewd body. From there, things escalate with you touching your cock between her beautiful ass cheeks. Sheila is more adventurous but a lot more aggressive. She wants to take charge early on, but the more sex you have, the more submissive she becomes. Diano is the least interested in sex with you. Fucking her feels like you're violating her. She protests and complains but eventually she gives in, like a good girl should.
There is also plenty of costume play. In one scene, Supra puts on some cat ears. In another, you stick a bushy tail up her ass. She behaves like a dog and pisses on the ground. Sheila dresses up as a maid and cleans Ober's cock with her pussy insides. 
Pregnancy fetish is also prominent. Once you've put your seed in the elf sisters, their bellies swell up like balloons, but that doesn't stop you from having a pregnant foursome! The erotic content is satisfying all around.  
CONCLUDING WORDS
I had naughty fun playing this. I was hooked after just a couple of scenes, seeing how much care had gone into making this lovely nukige. The sex makes up for the generic harem plot, but the music and the visuals ensure that you get your money's worth. I recommend this to lovers of busty elf girls, which is like every living soul on the planet, am I right?
Download this title on Mangagamer and you'll also support our original comics and other media production.
Graphics

Gameplay

Story

Music

SFX

Hentai