Written by MissValentine, edited by OtakuApologist
Stealing a Monster Harem, a hentai kinetic novel game developed by Miel and published by Cherry Kiss Games. Egnlish version released March 24, 2022. Download on Nutaku for $11.99. For Windows PC. Full Japanese voice acting. Censored genitals.
PROMO: When you download games through links on Hentaireviews, you help produce original hentai media.
STORY
Mea, the servant of the Demon Queen, attacks an unsuspecting village in search of rare items. There she meets Kozo who she plans to kill just for fun. Suddenly, the ground gives way and they both fall in. Kozo recovers and discovers the treasures and powers of a legendary thief called the Silver Rat. Mea finds him, but he uses his new powers to pump her pussy with his cock. Having gotten a taste of good dick, she falls in love with him and consents to be his sex slave.
Kozo discovers that his powers come with a lot of unwanted attention. Ymir, captain of the guard, looks down on him for being a vigilante, so she battles him, loses, gets fucked and becomes his slave as well.

If you're noticing a pattern, that's because there is one. The game's plot will introduce a new obstacle in the form of a cute girl for Kozo to fuck and turn into one of his allies. He does the same with Selma, who is the head scientist for the Demon Queen, as well as the two assassins sent after him, Beryl and Luciela.
The writing for the game delivers the goods. The has a natural-feeling progression with more girls introduced along with more problems. Not all the girls are immediately conquered, allowing players to get to know some of the other members in their party before new ones join. In certain parts, the game does feel like one big fetch quest made up of small fetch quests. Unlike many hentai titles, this feels like it has a beginning, a middle and an endgame in mind.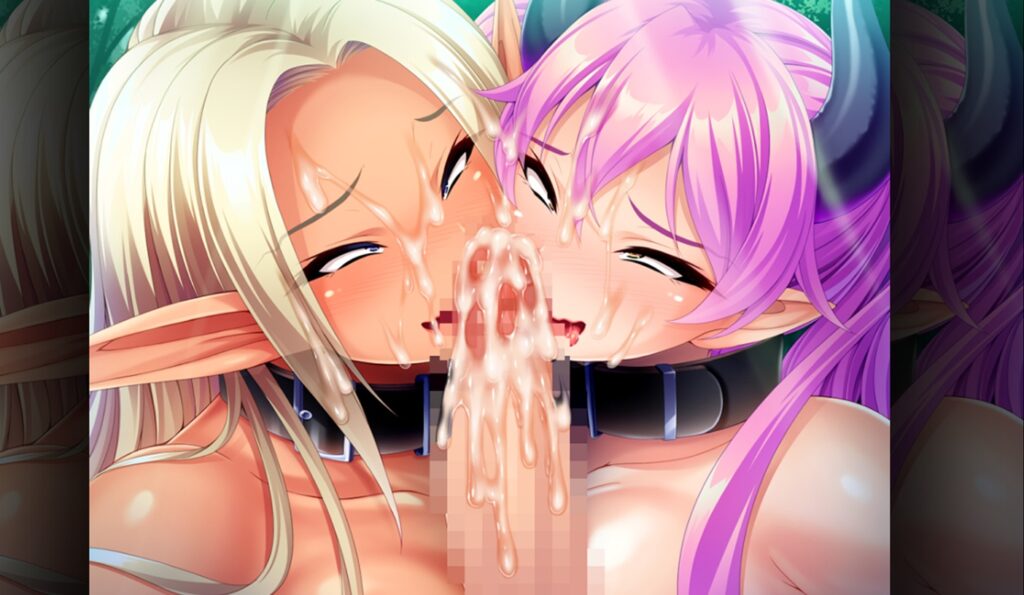 GRAPHICS
The backgrounds are beautiful. They look hand-painted with just enough detail to stand out, though they sometimes clash with the character art. The contrasting art styles compliment each other remarkably well. Backgrounds always show just the daytime, but with so many cities, caves, houses, hot springs, throne rooms, torture chambers, this issue is easily forgiven.
The artists have a real knack for driving up the sex appeal in the H-scenes. Throughout the game, we get a wide variety of sexy positions and camera angles. Artworks will evolve to include cum and piss. Sometimes a girl's insides will flash in the corner of the screen, showing a thick member inside.
There are loads of heroines, each with their own unique design. Colors, costumes and hair play a big part in distinguishing each girl. There is a cup size and a personality for every kind of player. Character standing artworks have plenty of expressions, but almost no alternate poses.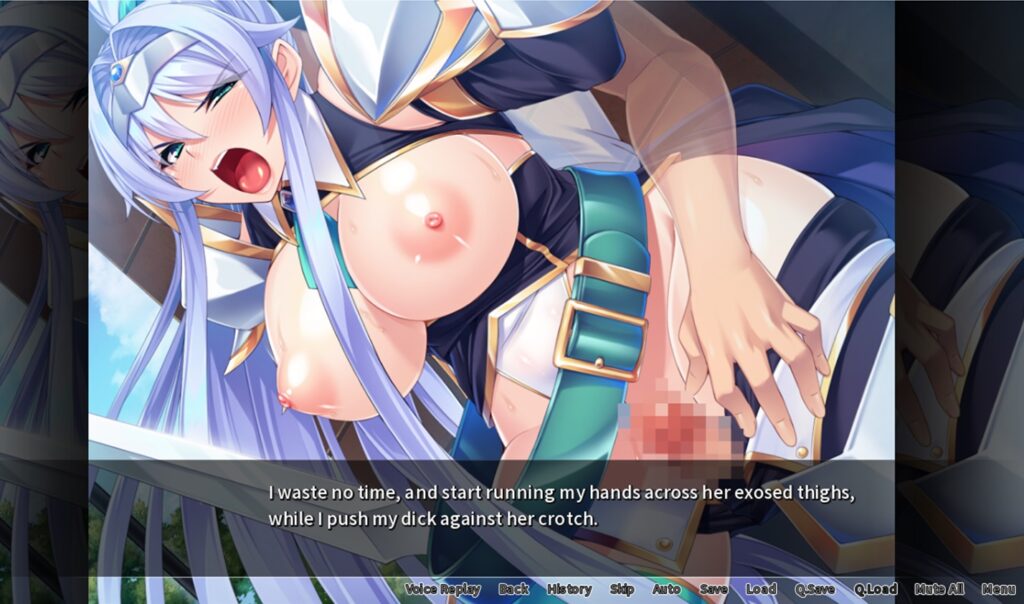 VOICE ACTING AND SOUND EFFECTS (SFX)
Stealing a Monster Harem has full voice acting for the female cast. Beryl, Rion and Selma stand out for giving well-rounded performances both in and out of the bedroom. Mea's voice actress sounds cute, but uncomfortably young. Luciela's emotionlessness came across more mopey than comically depressed. Selma and Ymir have some great lines that are delivered with the right amount of comedy to help you laugh as you fap.
The game uses a lot of sound effects in the early parts of the story. They are mostly explosions when Mea is attacking the city but there are other sounds like spanking, water flowing, sword strikes and other battle noises. Stealing A Monster Harem features audio from the same stock library that all of Miel's games use.
MUSIC
The music is hit and miss but left me mostly disappointed. A lot of songs feel familiar, as though they have simply been carried over from other games. I recognized at least one song I know for certain has been used in a previous title. While it is a good song, it was too recognizable and took me out of the moment.
The musical selection uses synthetic instruments. It feels out of place in certain parts, especially during the darker moments, or when there is a battle waging. More often than not, the music becomes white noise in the background that never really captures your attention. I had to specifically focus on what was playing to write up this review.
GAMEPLAY
This is a kinetic novel. You click the screen to advance the story. The game reuses the familiar menu from other Norn/Miel games. You can replay your favorite scenes or chapters, as well as view unlocked CGs in the Gallery. The game has no branching story or choices.
HENTAI
The game is packed with sex. Twosomes, threesomes and entire orgies. Each girl gets several opportunities to worship Kozo's cock, but the developers have a clear favorite in Ymir who is humiliated time and time again, often in public. I found Mea's character the cutest but she gets less screen-time the more girls you meet. Beryl and Rion receive the least amount of attention.
Some standout scenes include the very first time Kozo has sex with Mea and Selma. Mea is utterly disgusted to be having sex with a human while Kozo turns the tide on Selma. He straps her onto a bed in her torture chamber and has wild sex with her!
In some parts, it feels like the developers are aware that they have too many females. They will throw them together for a shorter group scene where Kozo spanks them, pisses on them or they blindly worship his cock.
My favorite scene is easily when Kozo humiliates Rion, the demon queen. He fucks her in public while she is suspended in the air, tied up. It isn't the raunchiest scene in the game, but the dialogue and humiliation factor elevate the encounter greatly.
CONCLUDING WORDS
Stealing a Monster Harem will empty your ballsack with its stunningly sexy visuals, great voice acting and kinky pumping scenes. While it isn't the best title the developers have put out, it manages to excel in the key parts that matter. As masturbation enhancements go, this piece of media is a fine one.
Recommended for anime fappers around the world. Download this at Nutaku today.
Graphics

Gameplay

Story

Music

SFX

Hentai