Written by Rastafoo69, edited by Otaku Apologist
ChuChu Succubus Rem, a hentai RPG developed by circle Triangle. Released December 19, 2017. Play on Erogames.com for $12.00. For Windows PC, Mac OS, and Android. No voice acting. Censored genitals.
Rem is a clueless succubus. She doesn't know how the world works. She's weak compared to her devilish sisters. In this hentai adventure, Rem must travel the land eating cum, so she can make herself a full strength succubus!
Visit our perverted store for more porn games.
STORY
Rem is a newborn succubus who is learning about her place in the world. Her older sister, Saatchine, advises Rem to go on an adventure to collect cum and grow her succubus powers!
Rem needs cum, but she doesn't care how she gets it! During a boss fight, Rem can choose to fight her hardest or give up completely! Will she be a submissive sex toy? Or will she dominate every man she meets?
The story is simplistic to the point of coming off as unimpressive. The developer mainly releases CG sets, and seems to have limited experience with writing. The focus is on the visuals. The story is near nonexistent.
There are a handful of minor uninteresting side stories. You do mundane things like find cat food for a hungry stray, defeat a monster that harasses the villages. The plot lines are very predictable.
The translation from Japanese to English was poorly done. Simple errors in grammar and spelling are constant. At one point, you speak to a female villager and the textbox says "You begin speaking to the pretty gorl".
GAMEPLAY
Chuchu Succubus Rem was created with RPG Maker. You move with the arrow keys and press spacebar to interact with people and objects. Press F5 to reset the game. Press Shift to speed up battle animations. You can also use a mouse.
The game cycle follows a generic dungeon crawler formula. Kill enemies, then return to town to heal and buy new equipment.
The battle system offers three standard combat styles. Direct attacks do a set amount of damage. Skill attacks like "double strike" cost TP. Magic attacks like "hypnosis" cause status effects in combat, at the cost of MP.
The game is incredibly easy, in large part because of the many ways you can heal Rem's damage. Having sex, casting spells, sleeping in bed, and using items heal your character. I would have appreciated intense combat in a wounded state.
Farming monsters for level-ups is not worth it. The new spells to unlock are all very similar to one another. Battles yield tiny amounts of loot, which is not satisfying. Even if you get all the items, the bosses are so easy, you'll never have a reason to use them. In fact, the entire game can be beaten by simply walking past all the small enemies and letting the bosses fuck you.
Completing the game will automatically restart the story. You start the new playthrough with all your equipment and levels intact. Players can quickly breeze through segments and try making different choices.
GRAPHICS
The art is Japanese anime style. The CGs in this game are absolutely gorgeous. Meanwhile, the user interface is terrible.
Rem is drawn with consistent body proportions. She looks both sexy and cute. It's the work of an experienced professional who knows what he's doing. I loved Rem's sexy costume design, the scenes with ripped pantyhose, the girly ribbons on her head, all the juicy details.
The game designer is an amateur. You will spot misspellings in text, missing features. The user interface has some serious problems. For example, in the shop menu, your gold total doesn't show. You have no idea how much gold you have, unless you exit the shop, pause the game, and do some math on paper.
There is a censored and uncensored version of this game. The censored version has flowers covering the nipples, and is completely missing all the sex scenes. I highly recommend you play the uncensored version!
VOICE ACTING AND SOUND EFFECTS (SFX)
Chuchu Succubus Rem has no voice acting.
The sound effects are mostly unique recordings. When you navigate the menu, you hear the sound of a phone dial tone. You'll spot standard fireball noises, and other very common audio. The sound design is good, but not incredible.
MUSIC
There are 25 unique songs on the soundtrack.
At first, you'll simply be listening to the atmospheric sounds of running water. But as the game progresses, the soundtrack gets more complex. From soft relaxing piano to an electric guitar, you'll hear a wide variety of instruments. At its peak, the music mixes a standard drum beat with a guitar that provides rhythm, and an electric piano to supplement the melody. I enjoyed the music very much.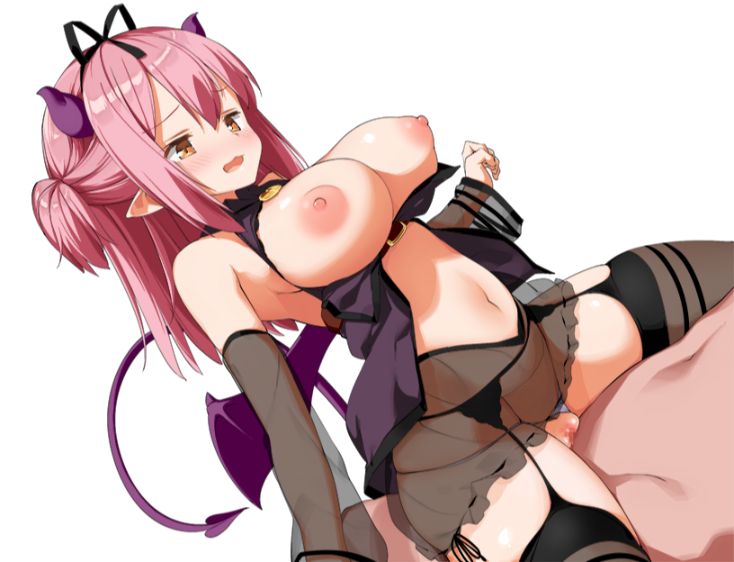 HENTAI
ChuChu Succubus Rem has 48 scenes in total, each with a unique scenario and multiple variation images.
Rem has two primary stats that lead to different sex scenes. Her Sadism level rises when she dominates men, and her masochism level rises when she's the one being dominated. Each sex partner has an "S" or "M" above their head, to indicate which trait will level up when you fuck. Choose your partners wisely to get your preferred ending.
Having sex leads to stat boosts for health or attack power. Leveling up your sex stats will unlock new men to sexually engage. The sex is standard blowjobs and vaginal intercourse. The content is mostly vanilla. The only crazy featured fetish is armpit licking.
CONCLUDING WORDS
ChuChu Succubus Rem is a medium-quality dungeon crawler, but the playable waifu is incredibly cute and well-dressed! The translation is hit or miss, and the interface is flawed. The game lacks challenge due constant healing keeping you up. If you can look past the flaws, you'll find many gorgeously cute sex scenes.
I recommend this to RPG fans looking for a vanilla hentai experience. Play ChuChu Succubus Rem.
Graphics

Gameplay

Story

Music

SFX

Hentai